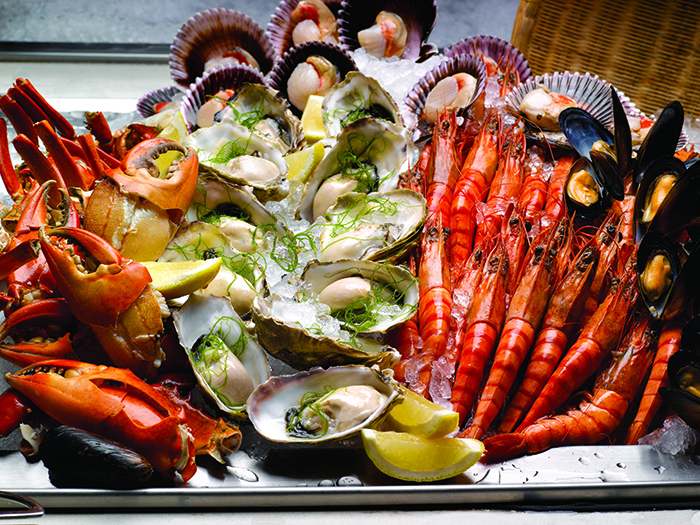 Seafood lovers get ready for a feast of unbelievable variety and proportions. Imagine crab, baked whole salmon, scallops, mussels, clams, prawns, sea bass, and stingray cooked in a variety of sauces and styles all ready for your indulgence in unlimited quantities. Sounds too good to be true doesn't? Well we found out it is all possible and those dishes are only scratching the surface.
During a visit to to Plaza Brasserie at PARKROYAL on Beach Road to try out their new Seafood Fiesta, my husband Tom and I were in for a night of decadence. We started with a superbly soft, baked sea bass that is cooked when you order it. Available in either Hong Kong or Thai style, it was so soft and fresh, I highly recommend it.
Ready for more we tried White Clams in Thai Chilli Sauce and Southern Bay Clams in Black Bean Sauce. I could eat a whole meal of just the clams in black bean sauce, it was that good. Besides a variety of clams, fresh prawns and green mussels are also available and are cooked in your choice of black bean, 'XO', black pepper and thai chili sauce from Monday to Thursday.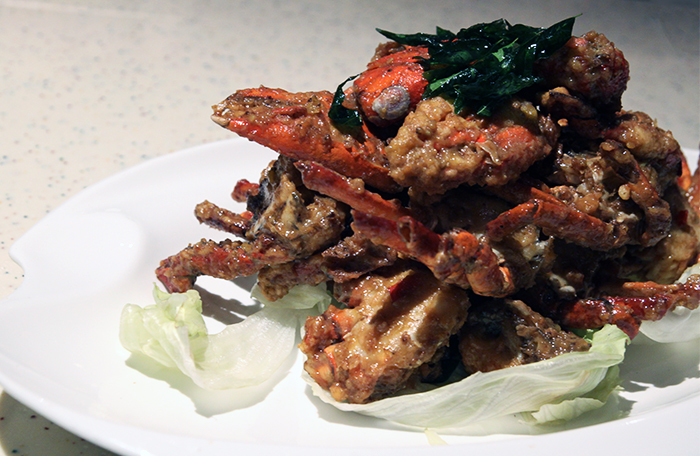 Then it was time to get our fingers dirty and dig into Stir-fried Crab with Egg Yolk. A bit of work to get the crab out, but for any crab lover, it's always worth it. I was surprised to walk around and see that there wasn't the average 1 pot of prepared crab ready to eat but 3 different types of crab available on this Friday night. Thai Style Green Curry Crab, Salted Egg Crab and Black Pepper Crab were part of the buffet for the night. With the selection always changing, some nights might also include Chilli Crab (one of my favourites).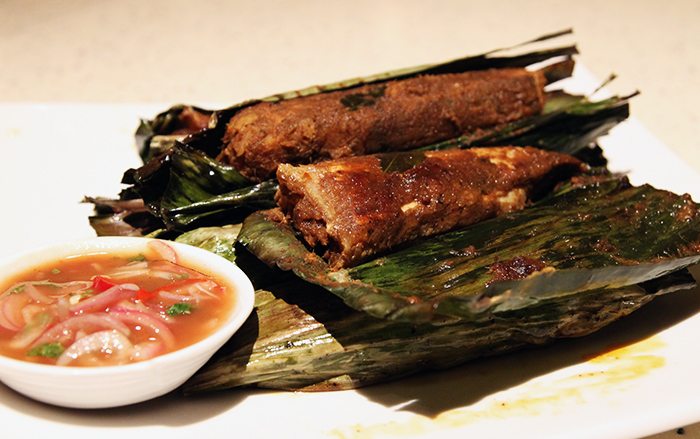 On Fridays to Sundays the Chef's "live" cooking station serves up a Teppanyaki selection of prawns, stingray, sotong and salmon cooked on demand. We tried the stingray served wrapped in a banana leaf and it was another hit. A surprise dish for us was a Fried Kway Teo served with cockles and prawns that we found out is made by their Penang chef that just joined the team. Do give it a try for yourself if you have a chance.
As I continued to explore the buffet selection, I found a variety of seafood salads; prawns, mussels and oysters on ice; and a row of hot chaffing dishes filled with more seafood delights as well as meat dishes including Braised Duck, Lemon Chicken and Beef and Ginger with Onions. For fans of the Plaza Brasserie staples Braised Sea Cucumber with Roast Pork and Mushrooms, and Crispy Soft Shell Crab with Tobiko Mayo, those were also available.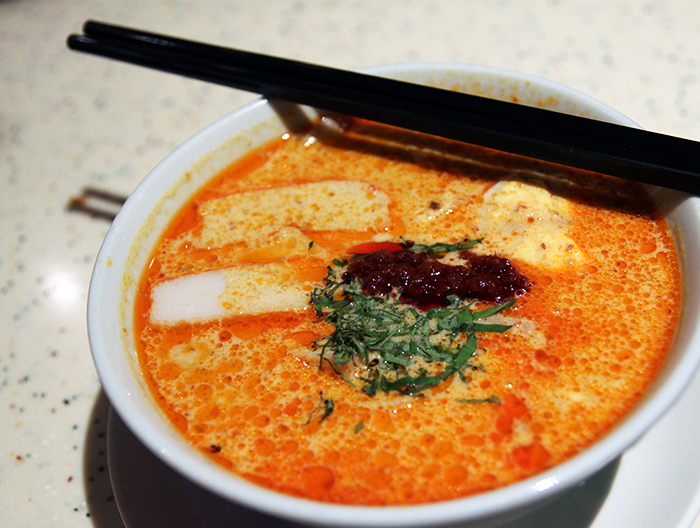 With my stomach almost filled to the brim and telling Dennis from Superadrianme.com how great I thought the food was, he insisted I had to try the laksa, even if it was just a taste of the broth since I was so full. I couldn't pass up the opportunity to try even more good food, and let him guide me through the ordering process since it's cooked fresh. I chose prawns, fish cakes, and egg in my laksa and topped it off with green onions and a dollop of chilli sauce on Dennis' recommendation. A taste of the broth and a spoonful of noodles and I was not disappointed. The chilli added just the right amount of kick, I might have to start adding chilli paste to my laksas from now on.
No matter how full I am, there is always room for dessert. I'm sure this applies to everyone. When it comes to dessert at Plaza Brasserie, Tom heads straight for the ice cream and I head straight for their cheesecake as Plaza Brasserie serves real cheesecake, not the spongy imitation kind. With a slice of cheesecake and a scoop of ice cream, it was a perfect end to an indulgent meal that is my idea of heaven. Try it out for yourselves and let us know what you think.
Seafood Fiesta at Plaza Brasserie
Available 8 March to 26 May 2013
Dinner (Mondays to Thursdays): Adult $53++ Child $32++ (excluding Easter and Mother's Day weekend)
Dinner (Fridays to Sundays): Adult $58++ Child $35++ (excluding Easter and Mother's Day weekend)
PARKROYAL on Beach Road
Plaza Brasserie
7500 Beach Road
199591, Singapore
T: 6505 5710
This was an invited food tasting. All opinions are our own.