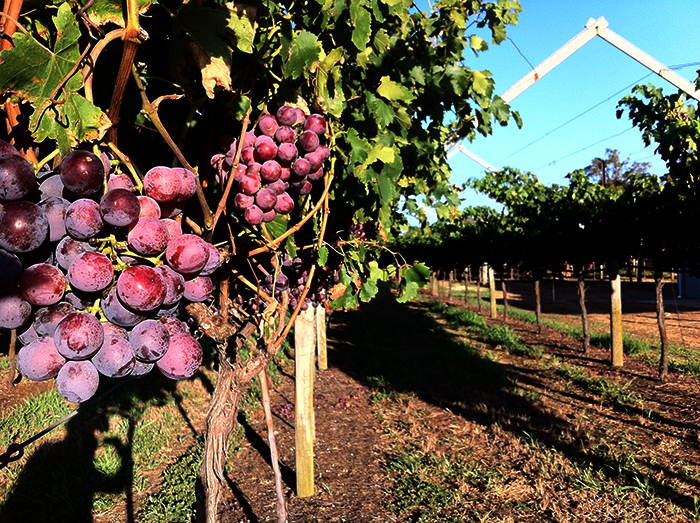 Western Australia is known for it's abundance of sunshine, nature and great wine, with Margaret River being the wine lovers ultimate destination. But for the wine enthusiast that finds themselves in Perth with not enough time for the 3-hour drive to Margaret River, we found a closer alternative that will still quench your thirst. Swan Valley makes for a great day trip from Perth and is home to over 40 wineries including the well known Sandalford Winery and best of all is only 25 minutes from Perth's CBD and 10 minutes from the airport.
A half day or full day wine tour will allow you to sit back and leave the driving to someone else, while renting a car will allow you more freedom, but also the task of finding a designated driver. We opted for a lesser known alternative, a self-guided bicycle tour of Swan Valley.
Wanting to set our own itinerary and maybe burn some calories while consuming them, we thought renting bicycles would be ideal. Little did we know, the one day we head out to Swan Valley on two wheels, the temperature is set to reach over 40 degrees celcius. Picking up bicycles in downtown Perth, my husband Tom and I headed to the main Perth train station cycling through the city's streets while getting a glimpse of the slowly warming air. We hopped on the red line to Swan Valley's closest train station Gildford East. A short 1o minute ride through a residential area brings us to the quaint town of Guildford that can be a destination in itself for a history walk or antique shopping. This is also the start of Swan Valley trail.
Refilling our water bottles at the information centre, we can start to tell it's going to be a scorcher. The wind that normally cools you off as you ride feels more like a heater blasting hot air. With no escape from the heat, just the occasional shade from a tree, we decide our tactic will be to cycle fast in full sun, then slow it down when passing under trees. A novel idea that barely made a difference.
Luckily there are lots of stops along the Swan Valley trail. For our first stop we decided to skip the wine and have a look at Margaret River Chocolate Factory. A smart idea since this chocolate shop is kept nice and cool and also serves ice cream. A few scoops of ice-cream, cold water and chocolates in hand, we were ready to try our first winery. Only a short ride up the street from the chocolate factory is the well known Sandalford Winery. Famous for it's fine wines, it's an ideal lunch spot with a beautiful restaurant and grounds. A tasting here is $3 and will have you sampling a variety of grapes. We fell in love with their 2009 Sandalford Estate Reserve Shiraz.
Feeling cultured with a bottle of wine in the front basket of my bike (all I needed was a baguette to complete the look), we continued along the trail past fields of horses, a variety of boutique wineries, cheese shops and art galleries. For our next stop we put the kickstands up at Elmers in the Valley. A restaurant and micro glass brewery that was the perfect place for us to recover as the temperature finally started to cool in the afternoon. With a band playing in the background, and brews in hand, the quiet restaurant quickly turned from relaxing atmosphere to party central as a bus load of stagette goers pilled into the bar. That's something we've noticed in many wine regions in Australia. You can be in a packed tasting room overflowing with people, then turn around the next minute and you are the only one there because the tour bus left. The key is to try to time it so you get the place to yourself in between tour buses and stagette parties.
Across the street from Elmers we found a truly precious winery called Little River. The French owner Bruno brings a distinctive flare to his estate with a small French café serving country style food of duck confit, pâté, and baguettes flown in from France. The baguettes aren't the only things from France, years ago he brought over Viognier vines to create his own unique wine mixtures.
As we tasted the selection of wines, we were impressed by every glass. Our wine educator told us about how the wines are created similar to those in France. No fining, no additives, minimal preservatives and vines that are non irrigated. Just writing this makes me wish I could pick up a few more bottles of their 2005 Shiraz, but that would require another trip to Swan Valley as their wines are only sold at their tasting room.
Tom now feeling the effects of the wine tastings (I was giving him my glasses to finish), and no we can't bring ourselves to spit, we were off to the next tasting room at Ugly Duckling. A family run winery serving wine by the glass as well as cheese platters and pie, it's a nice spot to stop for a snack.
As we headed back towards Guildford we managed to fit in a few more detours before everything closed including fresh fruit from the side of the road and stopping by a honey tasting room. Who knew honey could have so many different flavours? Everything from strong floral notes, to more subtle flavours. We left with a greater appreciation for the sweet substance and bottles to top off our morning muesli.
Riding past the Swan River with the breeze finally cooling us down in the afternoon, we survived the heat wave. Forty degree weather aside, riding bikes was definitely the best way to take in the Swan Valley sights. We were able to stop to pet the horses, take in the end of a cricket match, watch boys doing back flips from the bridge into the river below and the best part was receiving warm greetings and smiles from the residents as we cycled past on our bikes. We were able to really connect with the community and surroundings and fall hopelessly in love with the region.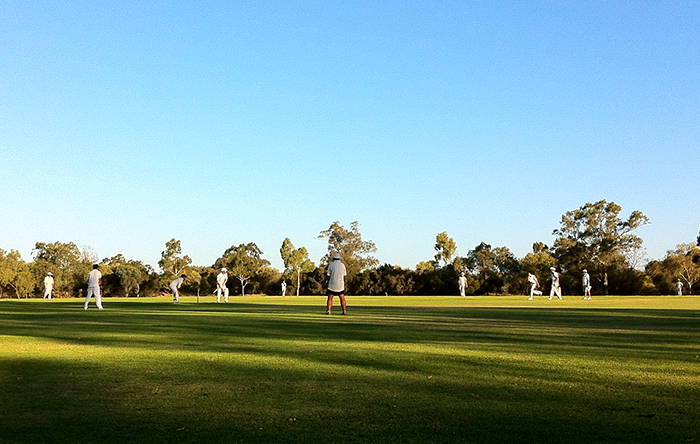 Tips
Bicycle rentals are available in downtown Perth from Cycle Centre
Bicycles are allowed on the trains with some peak hour exceptions so be sure to check the timings ahead
Look out for the family pass on the train that allows you unlimited rides until midnight
Don't miss Little River Winery, definitely a highlight of Swan Valley
Download the "Cycling in the Swan Valley" brochure for more information on cycling in the valley