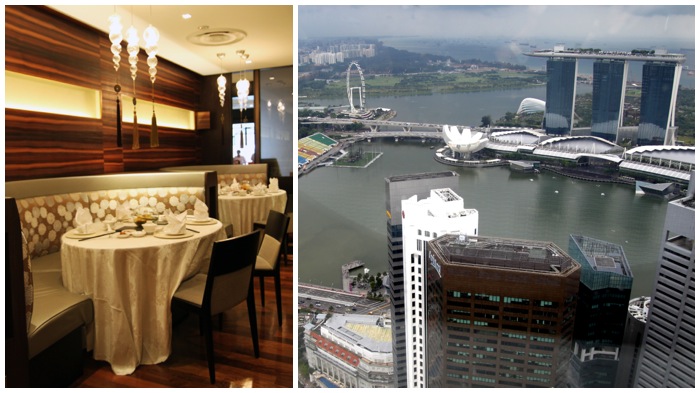 Sichuan cuisine to many translates to tongue-numbingly spicy dishes, or rather this is what we are told by another guest of The Petites Selection tasting session who exclaims "Sichuan cuisine is very spicy." My husband Tom and I arrive at Si Chuan Dou Hua at the top of the UOB Plaza, Singapore with no expectations, just ready to try a variety of great food.
On offer tonight is an impressive selection of 30 tapas-sized Sichuan dishes designed by Si Chuan Dou Hua's culinary team for their Petites Selection menu. The first dish we try is the Prawn in Spicy 'ma la' Sauce. One bite into a soft prawn almost the size of a golf ball and Tom and I look at each other while nodding in approval. Quickly followed by a "Oh wow, that's spicy." Followed a few seconds later by "Oh man, I just got another kick of spice!" Yes, this first dish reconfirms the warnings of our fellow dinner: knock your taste buds off kind of spice.
Proceeding with caution on to a few more dishes with mango juice in hand we are rewarded with a variety of flavours, not just spice. We try a Deep Fried Potato Fritter creatively shaped like a little pear, that is soft on the inside with crunchy bread crumbs on the outside. The mild flavours allow our taste buds to recover and gear up for more. We continue to try Deep-fried Pork Ribs with Salt and Pepper, Mushrooms in Onion Oil, Chilled Sliced Radish Wrapped with Sliced Carrot, Sliced Pork in Garlic and Chilli Sauce, and Scallops in Chilli and Sichuan Pepper Sauce.
All dishes have us enjoying Sichuan cuisine more and more with every bit. Flavours range from no spice, mild spice, sweet and some bitterness. By the end of the night my second favourite dish is the Scallops in Chilli and Sichuan Pepper Sauce. Tom's second favourite is the Deep-fried Pork Ribs. Our joint favourite dish of the night... Prawn in Spicy 'ma la' Sauce! The spice might have originally caught us by surprise but man are the flavours good and the prawns juicy.
We manage to get seconds inviting friends to try the prawns with us. We watch their faces. Just as expected. The first look, that of delight as they take a bite. Followed by a look of surprise. Then the look of defeat. "It's got a kick right?" we laugh. The prawns are our entertainment of the night.
If you want to try the prawns for yourself and see if you can handle the heat or play it safe with the many other dishes available, head over to one of the three Si Chuan Dou Hua restaurants in Singapore. The Petites Selection is available from now to 31 July 2013 for lunch, dinner and high tea from 11.30am to 2.30pm, 6.30pm to 10.30pm and 2.30pm to 6.00pm respectively.
Details
Si Chuan Dou Hua – leading ambassador of Sichuan cuisine in Singapore - offers two options friendly on both the wallet and palate for the enjoyment of Sichuan cuisine with The Petites Selection:
Wine-pairing
A great option for pre-lunch or pre-dinner nibbles, enjoy your choice of 5 Petites dishes and 2 glasses of wine at only $55.
UOB cardmembers exclusive: $48 for the above promotion; or enjoy a complimentary bottle of wine with every order of 10 Petites dishes, priced from $8.80 each.
Petites dishes can be paired with an Australian Shiraz Cabernet blend from the De Bortoli DB Family Selection or a French Chardonnay from Pierre Jean Columbard.
Tea-pairing with the Imperial High Tea
Relish a leisurely afternoon savouring handcrafted dim sum, premium Chinese tea and your choice of 5 Petites dishes at only $30++ per person.
UOB cardmembers exclusive: Start off your high tea with a complimentary glass of wine per person.
For dining reservations, please call Si Chuan Dou Hua Restaurant at:
PARKROYAL on Beach Road
7500 Beach Road
Singapore 199591
T: +65 6505 5722
PARKROYAL on Kitchener Road
181 Kitchener Road
Singapore 208533
T: +65 6428 3170
TOP of UOB Plaza
80 Raffles Place, #60-01
UOB Plaza 1
Singapore 048624
T: +65 6535 6006
This was an invited food tasting