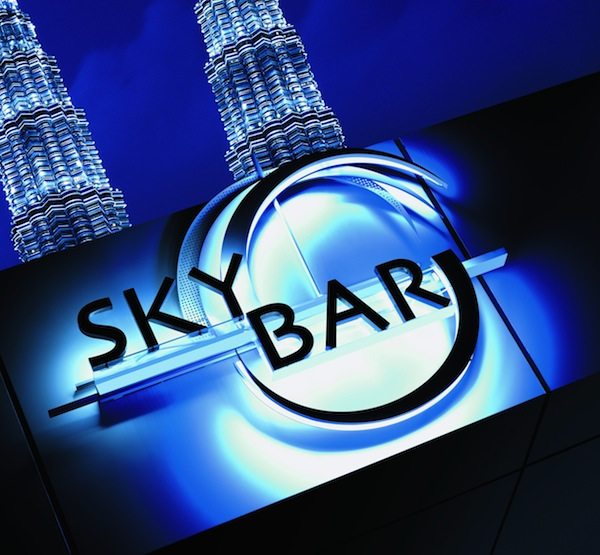 Located on level 33 of Traders Hotel, this cool lounge has stunning views of Kuala Lumpur, including the famous Petronas Twin Towers in the background. Here you can unwind in one of the coveted window seats, referred to as Cabanas, with the glowing Twin Towers behind you or in the seating set around the pool and balcony.
In an attempt to reserve one of the coveted Cabanas we called the reception in the morning to make reservations for that night only to be informed the Cabanas have been booked for two weeks, but as guests of the hotel they were happy to give us priority on the waiting list for the Cabanas.
With high heels on, and makeup done, I arrived at 10pm on the Saturday night with my husband in tow. We headed to the bar to order drinks while waiting for a Cabana. A look through the extensive menu of cocktails, wine, champagne and beer and I decided on a Midnight Garden cocktail while my husband had a Guinness. By the time our drinks arrived, a Cabana was available. Finally we could get a photo of the two of us at a SkyBar Cabana with the Petronas Twin Towers behind us.
It was no surprise that the waiter knew exactly what angle to take the photo, he probably spends half of his night taking photos of groups in the Cabanas. Settled in, a little food to go with the drinks was in order and we chose Fish and Chips from the bar menu along with a few more drinks. Although there is no minimum spend to book a Cabana, giving the amazing atmosphere it's hard not to keep the cocktails flowing.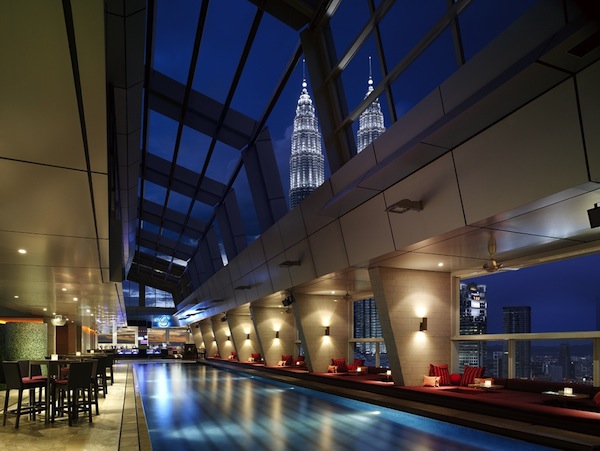 Details
Check out the SkyBar website for their latest promotions.
SkyBar
Level 33, Traders Hotel
Kuala Lumpur City Center
50088 Malaysia
Reservations T:+603 2332 9911
skybar.thkl@tradershotel.com