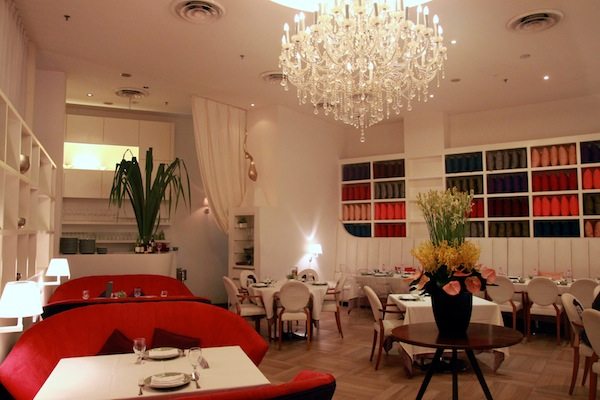 Passing what we thought was a furniture store, a hostess greeted us with "Sawadee ka", meaning welcome in Thai. A closer look through the doors and we could see a beautiful interior of chandeliers, sofas, and upholstered chairs but no arranged to be sold, arranged in seating groups so you could dine in a chic quirky environment of high end furniture store meets restaurant. We thought, what a fun idea, and Thai food for lunch sounds good.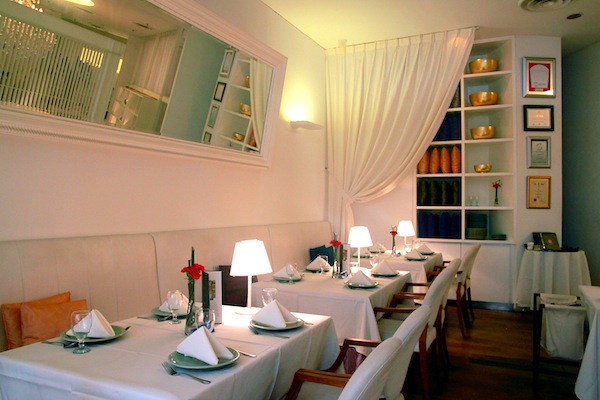 The restaurant is separated into two main dining areas and 2 private dining rooms. Each section is decorated like a home with table lamps on the tables, accessories in nooks, and pillows everywhere. An interesting way to add colour. We sat in the back dining area with banquette seating and a more intimate feel. The white table clothes and napkins make the restaurant feel very high end, which it can be depending on what you order. No matter what you order, we are sure it is as exquisite as our lunch.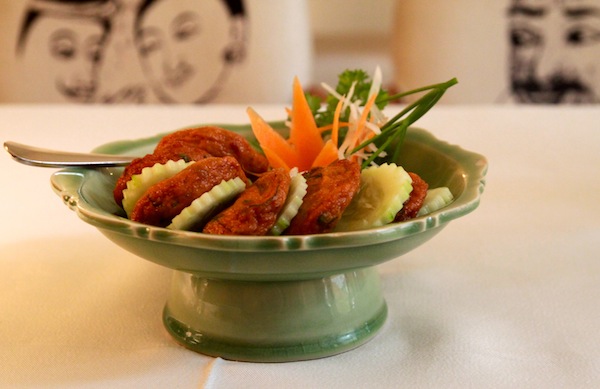 Thod Man Pla (Thai Fish Cakes) RM18.90/$6.00 USD
We started with Thai Fish Cakes that came beautifully presented on an emerald green platter and served with sweet plum sauce. The texture was perfect and the flavours amazing. This was no ordinary fish cake.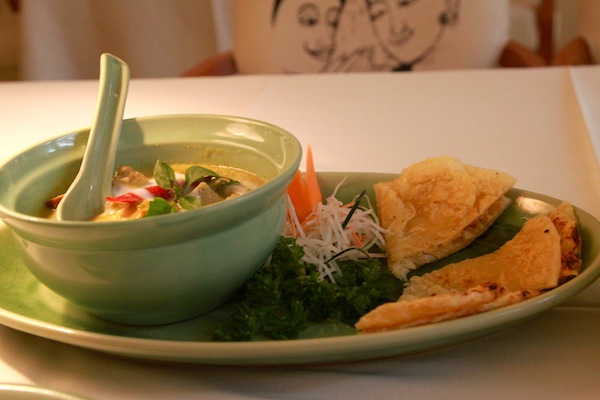 Gaeng Keaw Wann (Green Curry with Chicken) RM 22.90/$7.50 USD
Tom always likes to ask waiters for their recommendations. Our waiter without hesitation highly recommended the Green Curry. With the Green Curry you can choose your meat; either chicken, beef, fish ball or stuffed salted egg yolk. Tom chose chicken with a side of butter bread. The curry was full of flavour, a bit sweet and hints of the the coconut milk shined through.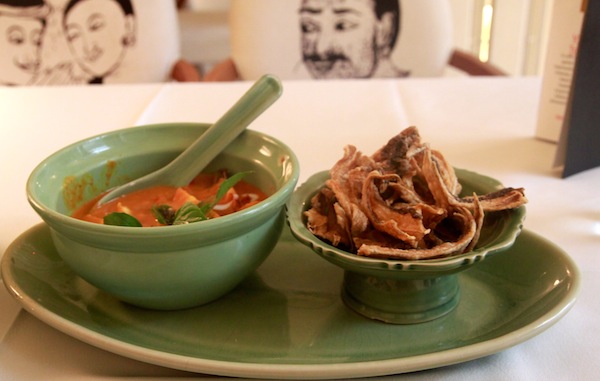 Gaeng Kua Sapparod Goong (Northern Curry Prawn with Pineapple) RM 29.90/$9.50 USD
I decided to try the Northern Curry Prawn with Pineapple and ordered salted fish instead of butter bread for my side. One taste of the prawn curry and I was in heaven. It was thick and spicy. With every bite even though my nose was running from the heat, I couldn't get enough. The prawns were big and the chunks of fresh pineapple eased the heat. The crispy slices of salted fish were like chips to snack on.
From the interior to the food our senses were on overload. It was all great. The service was impeccable and our food was brought out promptly and at the same time. Celadon Royal Thai Cuisine got every thing right and we can't come back to try more.
Celadon Royal Thai Cuisine
Pavilion Kuala Lumpur
Lot No. : 6.37.00, Level 6
T: 03-2148 8708