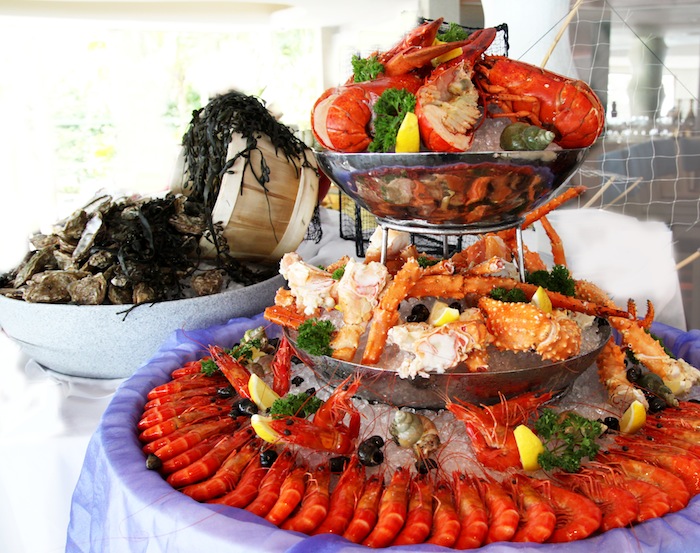 There is something about Sentosa that even though it's only minutes from Singapore's CBD, as soon as you step onto the island, it feels like you are far away in another country. The view of the beach, the sea breeze, tourists and locals enjoying the attractions - it puts me into beach vacation mode, even if it's just for the afternoon.
My husband Tom and I arrive at Shangri-La's Rasa Sentosa Resort and Spa to try out their newly launched Sunday Garden Party by the Sea - an offering of free flowing crab, lobster, barbequed meat, and much, much more. What adds to my feeling of afternoon vacation, is arriving at Barnacles with it's views over the sea. A step inside the restaurant, and my eye is immediately drawn to a seafood tower overflowing with easily 2 foot long alaskan king crab legs, lobsters, and prawns. Now this is my idea of a feast. As I continue to explore the food options I spot a table filled with cheese flown in from France, tiers of "amuse bouche" including Quail Egg with Caviar, Parma Ham with Melon, Tuna Tataki with Asparagus, Goose Liver with Figs, and a salad station.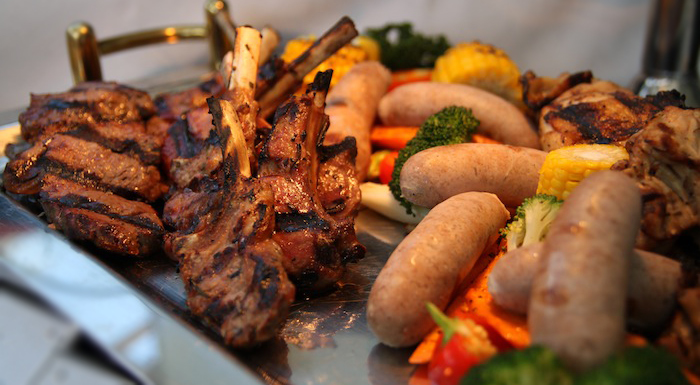 Outside a barbeque is starting and they are cooking up sausages, lamb, chicken, and beef steaks along with corn on the cob, broccoli and bell peppers. A row of chafing dishes is filled with Wok Fried Crab with Chinese Herb and Pepper Corn, Pan Seared Hokkaido Scallops Wrapped with Bacon and Wok Fried Pork Ribs with Pineapple Sauce. I can't believe the quality and presentation of each dish.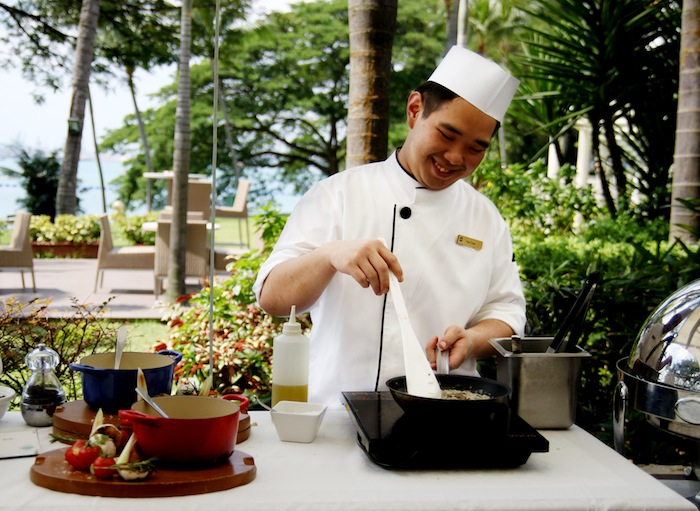 I realize I haven't named any carbs yet, and that comes in the form of freshly prepared risotto mixed with your choice of cheese, shrimp and smoked salmon. Yes, even your grains can come with more seafood if you would like. On one side of the cook whipping up risotto is a pot of Lobster Bisque and the other side Roasted Chicken and Rack of Lamb. Enough selection for seafood lovers and seafood adverse.
I start with my favorites - a piece of alaskan king crab and half a lobster. The crab leg is so long, it extends way beyond my plate and I get an exclamation of envy from my husband as I bring it to the table. A twist at the joint and a long piece of purely delicious king crab slides out. So fresh, soft and flavorful, no additional sauces are needed. Next, I try the lobster. The meat pulls right out and is soft and delicious. After these two pieces of heaven, I must admit I'm almost full. Not that it will stop me from trying more food. Next up, the scallops. As big as an Australian 50 cent piece (just over an inch), the flavor of bacon adds a little extra zing.
Evening out my protein heavy meal, I order up a plate of risotto and pick some veggies from the grill. The corn on the cob is surprisingly good. Surprising, because such a simple vegetable is seasoned to make it a delight on its own. I continue to try a variety of the other dishes, with every one being exceptionally good.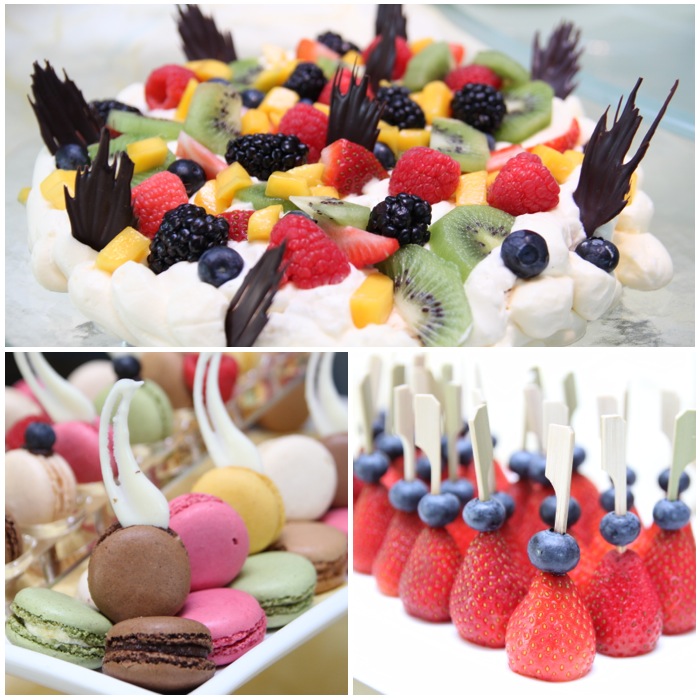 Then comes the dessert. A table filled with a strawberries to dip in a chocolate fountain, macarons, tiramisu, apple pie that was a table favourite, cheese cake, pavlova, creme brulé, chocolate pudding with vanilla sauce, and Raspberry Chocolate Mud Pie. Full from lunch I only managed a couple macarons and some chocolate dipped fruit, but man was it good.
As I let my food settle, I look around to see a variety diners. A few tables of adults, a couple families and one is celebrating a child's birthday. What a great idea to bring the children and friends along as they get their own food station of kid friendly food and are entertained by a magician and clown outside performing tricks and making balloon animals.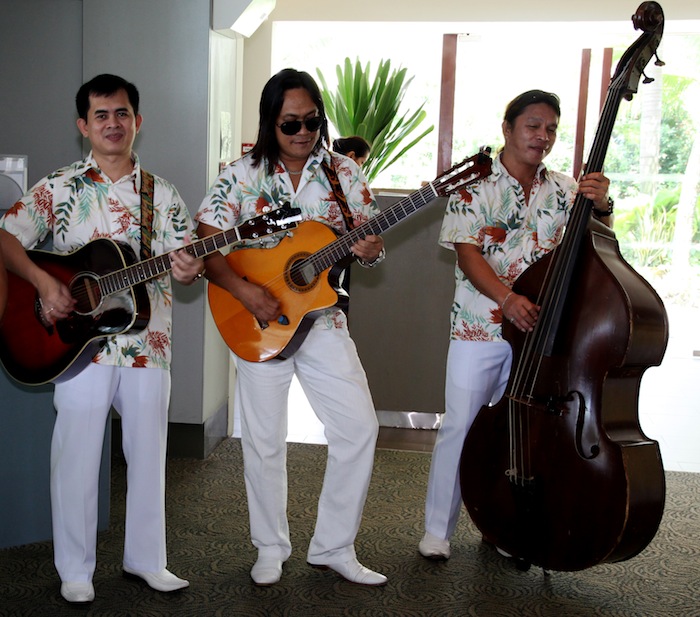 Sitting at my table perfectly content and slowly slipping into a food coma, a cover band serenades the room with Beach Boys hits and Bob Marley tunes. I think to myself, this is the perfect express vacation. No immigration, no luggage, just sun, sand and great food. What more could you possibly want from an afternoon getaway?
Details
The Sunday Garden Party at Atmosphere by the Sea is available at S$138++ per adult. One child 12 or under can dine free when accompanied by a paying adult; $28++ is chargeable for each additional child. Shangri-La invites you to spend the afternoon after lunch enjoying the swimming pool, children's slides and splash pad. Buffet lunch is from noon to 3 p.m
For reservations or enquiries, please call (65) 6371 1966 or e-mail fbreservation.sen@shangri-la.com.
Atmosphere by the Sea (Formerly Barnacles)
Shangri-La's Rasa Sentosa Resort and Spa
101 Siloso Road, Sentosa, Singapore
T: (65) 6371 1966
Food selection is subject to change. Check with venue on latest offerings. If something is now different from our article, please let us know so we can update it. This was an invited food tasting.