We think no visitor to Singapore should leave without trying Chilli Crab, so we often find ourselves taking our friends visiting from out of town to Jumbo. Not only do they get to try one of Singapore's signature dishes the Chilli Crab, they also get to try other Chinese seafood dishes and a unique to them dessert. Jumbo offers a huge variety of different seafood often displayed in glass aquariums in the restaurant, but to make the selection process easier we like to go with a set menu. On this occasion while visiting the Jumbo Seafood Restaurant in Boat Quay (Riverside Point) with my husband Tom and my sister and her boyfriend visiting from New Zealand, we went with the Set Menu B for 4 people.
Seafood Pumpkin Conpoy Soup with Freshly-peeled Crab Meat
To start we were served warm bowls of a seafood pumpkin soup. The creamy broth was filled with bits of seafood and string mushrooms. We all agreed it was delicious and was so hearty, it would make for a good lunch on it's own.
Fried Cereal Prawns
Fried Cereal Prawns are one of my favorite dishes. The prawns are fried whole with the shell, tail and head intact but cooked at such a high heat the shell is crispy and can be eaten whole. I have no problems eating the shell, I just can't bring myself to eat the head. Luckily Tom eats almost anything so nothing gets wasted. Our friends on the other hand, painstakingly peel the shell from the shrimp, missing all of the flavor from the shell and seasoning. Next time I will have to remember to ask our guests if they are okay to eat fried whole prawns.
Stir Fried Cuttlefish & Asparagus with X.O. Sauce
For a little greens in the meal our side of asparagus, mixed vegetables and cuttlefish comes in a crispy edible basket. The flavors are light and fresh and the cuttlefish is cooked perfectly.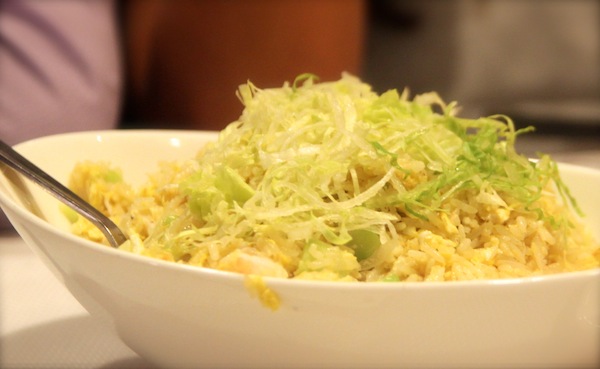 Seafood Fried Rice with Seasonal Greens
A large bowl of fried rice to accompany the meal is great for big eaters, but for our group we were full from all of the other dishes, we only picked out bits of the seafood. The rice is only lightly flavored, so does well with a bit of help from the Chilli Crab sauce.
Chilli Crab
Then comes the grand finale. The signature Chilli Crab. A whole crab served in a pot of thick semi sweet sauce topped with a bit of greens for color. This is where it gets fun and messy. With cooky Jumbo Crab bibs on, the work begins to get out all of the meat from the legs and joints. Everyone has a different strategy when it comes to eating crab, some like to crack then pull out with a fork, something I have learned from Tom that works quite well is just putting the whole piece in your mouth and forcing the meat out with your teeth. Surprisingly, very effective.
Mango Sago with Pomelo
Just when we thought we couldn't eat any more comes dessert, Mango Sago with Pomelo. A very sweet dessert with soft colorful pearls, ice, fresh pomelo (a sweet and sour fruit) mixed with a sweet thick syrup. A great way to end the meal.
The set menu will leave 4 people very full and satisfied. A variety of flavors and unique ingredients, it's a great way to try different dishes and introduce new dishes to Singapore newbies. Nothing is overly spicy so picky western taste buds shouldn't have any problems. With 6 locations in Singapore, it's a great way to enjoy the city while dining on cuisine Singapore is known for.
Set Menu B for 4 pax $168++ available at all Jumbo Seafood outlets except East coast.
Jumbo Seafood Restaurant
Six outlets around Singapore we visited Riverside Point Outlet
30 Merchant Road # 01-01/02
Riverside Point
Singapore
T: 6532-3435