With there now being direct flights from Singapore to Pattaya, and flights being really cheap (read starting at S$65 round trip on AirAsia), I figured now to be the perfect time to see what this beach town is all about. I've heard varying stories of the types of people that go there and that Pattaya is a popular weekend vacation spot for Bangkok residents. With this in mind, I was determined to put together a family friendly vacation to Pattaya. What I ended up with is the ultimate toddler holiday for my 2 year old son that was all possible on a budget. Here's what went into our Ultimate Budget Friendly Toddler Vacation to Pattaya.

Mercure Pattaya Ocean Resort
After lots of research, I found Mercure Pattaya Ocean Resort located at the North end of Pattaya beach, far away from Walking Street (families will want to stay well away). With two pools, everyone can be happy. On the third floor where the hotel's restaurant and gym are located is also a long infinity pool lined with loungers and cabanas and even a pool bar. Perfect for adults. Downstairs on the main level is where all of the kid fun happens. The large water play area has a mini water playground with a small slide, buckets dumping water, and all kinds of shapes spraying water that is perfect for little ones. Big kids will love the double storey water slide as well as the rock wall that you can climb up and jump into the pool below.
The Kids Club has a ball pit and a table full of dinosaurs and other toys as well as 2 computer stations. Funnily enough, one of my son's favourite parts of the Kids Club was the attached bathroom with a kid's sized toilet. Perfect for his potty training.
Outside, kids can run around and enjoy a game of footy at a mini football play area. All a dream come true for my toddler.

The Rooms
Rooms at Mercure Pattaya Ocean Resort vary from Superior King/Twin all the way up to an Executive Family Suite with 2 bedrooms and a living room and start around S$70 a night. All rooms have a balcony, free WIFI, in-room safe, refrigerator and tea and coffee-making facilities.
We stayed in an Ocean View Suite with a king-size bed and a separate living room. Our son got a cot next to our bed, but an interconnecting room would also be possible. The Ocean View Suites have an extra perk of free drinks in the mini bar, which made my little guy happy. Being right at his hight, he could grab a drink whenever he wanted and I also filled it with his favourite snacks for easy access.
The Area
One block down the street from Mercure Pattaya Ocean Resort will get you to Pattaya Beach. Lined with loungers, you can either rent a place to sit, or lay out your own mat and play in the sand and water. Every time we went to the beach there were always other families there with kids for my toddler to play with. Spend some time at the beach and everything you could need will walk past you. Forgot to bring sand toys? Just wait for the walking merchant carrying bags of beach toys. Feeling hungry? Look out for a variety of food carried out on platters ready for your choosing.
The North end of Pattaya Beach has lots of new developments. The Mercure Pattaya Ocean Resort only just opened in 2014, 1 block away is a new complex with a mini grocery store, cafés and a Teddy Bear Museum. The next block down, a huge complex is being developed with more dining and shopping options. It's really a nice area to be in.
If you want to explore Pattaya a bit more, hop on a Tuk Tuk for only 10 Baht and take a ride down Beach Road. I recommend heading to CentralFestival Pattaya Beach mall. Here you'll find lots of international retail brands, but most importantly since this is about the ultimate toddler vacation, head to the 3rd floor Food Village. The highlight here is not necessarily the food even though they do have around 5 different types of cuisine, but the play area with ride-on cars, slides and a play kitchen. The kids can be occupied while waiting for the food to be prepared. Anyone with children knows how important that is.
For ultra budget friendly eats, try the Thai street food that ranges from fried chicken for 20 Baht to a bowl of noodles or local pancakes for 60 Baht. There were always lines of tourists waiting to try out the street snacks and made for easy meals while enjoying the beach.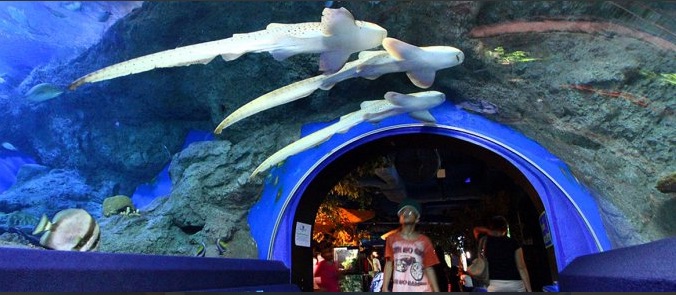 Kid Friendly Pattaya Attractions
Pattaya is great destination for family vacationss with the seemingly endless selection of family friendly attractions. To name just a few, there's Underwater World, Cartoon Network Amazone Waterpark, Pattaya Floating Market, Pattaya Sheep Farm and Silverlake Vineyard. The sheep farm and vineyard make for a great day trip on the way to U-Tapao International Airport bringing you past Buddha Mountain and will complete the Ultimate Toddler Vacation to Pattaya.
Getting to Pattaya
Flights straight into Pattaya's U-Tapao airport from Singapore are downright cheap right now on Air Asia. You can also check rates on Expedia.
Pattaya is only 90 minutes by car from Suvarnabhumi Airport, Bangkok's main airport or 2.5 hours from Don Mueang Airport (Bangkok) which AirAsia flies into. The drive from U-Tapao International Airport (Pattaya) to Pattaya Beach is still an hour drive, so if the flight times to U-Tapao aren't convenient for you, consider flying into Bangkok instead.
A car transfer from any of the airports will vary from 1,200 to 1,800 Baht depending on the airport and type of car. Unfortunately the travel from airport to hotel can take up a chunk of your budget.
There you have it, everything you need for the Ultimate Budget Friendly Toddler Vacation to Pattaya: a well priced family friendly resort, kid friendly rooms, a beach, family friendly restaurants, lots of kid focused attractions and cheap flights. What more could a toddler and parent ask for?
Mercure Pattaya Ocean Resort was nice enough to host us so we could bring you this unbiased article on Family Friendly Vacations to Pattaya.