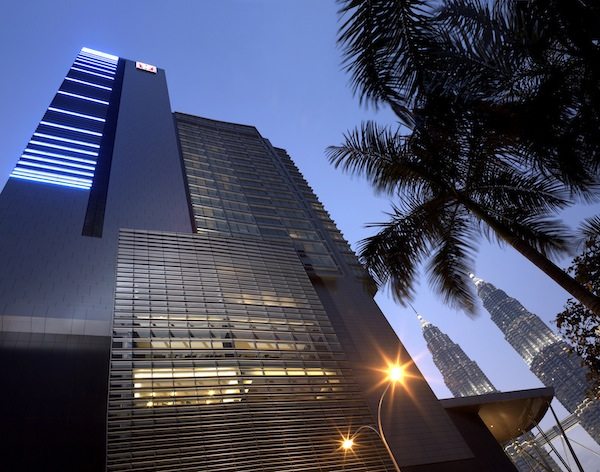 From the moment we pulled up to the Traders Hotel in Kuala Lumpur, we were greeted with smiling faces and helping hands. Before we could lift a finger, our luggage was scooped up from the trunk of the taxi, and we were informed to head straight to the 5th floor to check-in, our luggage will be taken care of. A heart felt "Welcome to Traders Hotel" by the reception desk staff and we were checked-in in no time and on our way to our room. Every staff member we passed took the time to greet us and acknowledge us. As we sat in our room, my husband Tom and I looked at in each other in shock, we had just come from another 5 star hotel, but immediately we could tell the Shangri-La/Traders difference.
Rooms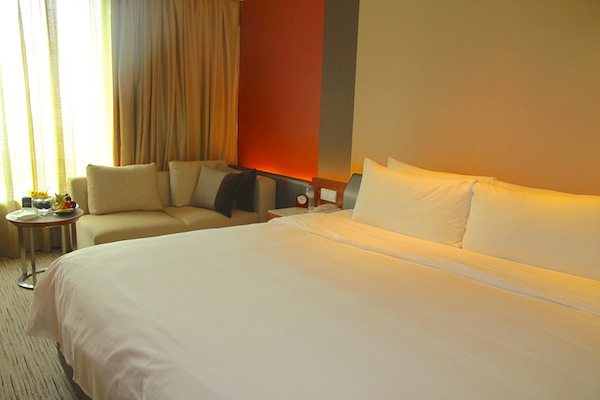 The 571 rooms in the Traders Hotel are made up of different categories including: Deluxe Rooms with varying views, Traders Club Rooms with extra perks like complimentary breakfast, afternoon tea and evening cocktails, and luxurious Suites. During our visit, we stayed in a Deluxe Twin Tower Room, which means we enjoyed unobstructed views of the Petronas Twin Towers.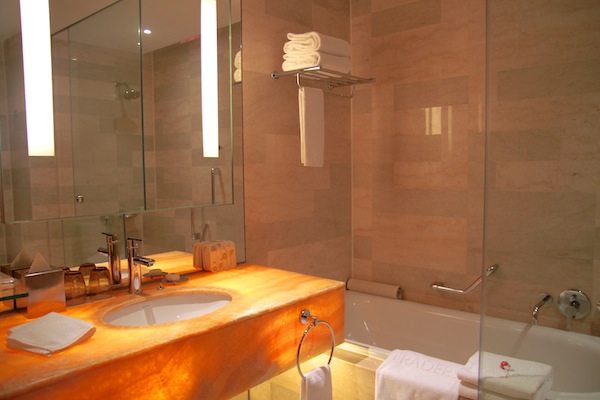 The attention to detail in the room was exceptional; enough space for 2 suitcases on the luggage cabinet, an ergonomic office chair with all of the necessary plugs within reach at the desk, under-lit counter tops in the bathroom and a chair and sofa to put your feet up. As a former interior designer, I must say Brian Chan from BC&A executed the room design perfectly.
Amenities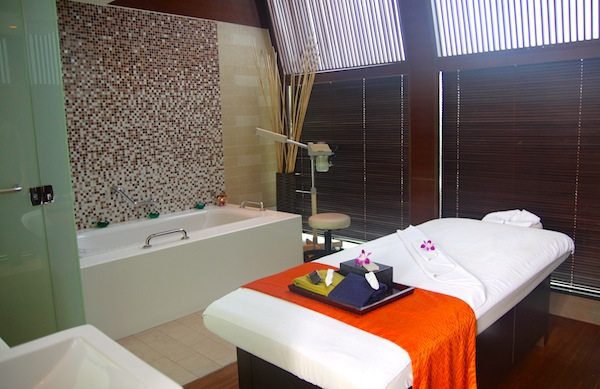 Business and leisure travelers will find all of the amenities they are looking for with complimentary wireless internet in all rooms, a fully equipped state-of-the-art Business Center, extensive gym, spa and a pool that turns in the popular SkyBar at night.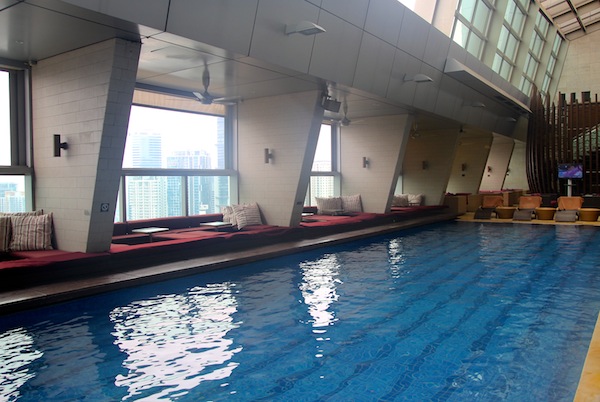 Breakfast
Breakfast is anything but ordinary at Gobo Chit Chat, one of 3 of the hotel's food and beverage outlets. A greeting of "Would you like to start with coffee or tea?" at the door is exactly what we caffeine addicts like to hear as soon as we walk into a breakfast buffet. At the reply of "Oh thank goodness, coffee please" the hostess picked up a large carafe of coffee and showed us to our table. With milk and sugar already at the table, we could wake up before delving into the buffet.
I'm one of those people that likes to examine the whole buffet line up before picking out any food. As I scouted out my options: hot station with a Western breakfast lineup and Asian rice, noodle and curry dishes, fruit and vegetable station, baked goods and juices, I found some items that stood out. A gluten free corner for the seemingly growing number of people that are either gluten intolerant or are on a gluten free diet. Fresh juices, but more than just freshly squeezed orange juice, there were exotic blends and different varieties plus a large selection of other drinks to choose from. A yoghurt station with natural yoghurt and separate fruit flavorings like mango and cherry so you could flavor to taste.
With my selections in hand of fresh fruit, yoghurt, and a few pastries I sat down with my breakfast, while Tom arrived a few minutes later with two plates piled high with waffles, beef brisket, hashbrowns and fried eggs. Isn't that the great thing about buffet breakfasts, that everyone can get what they want?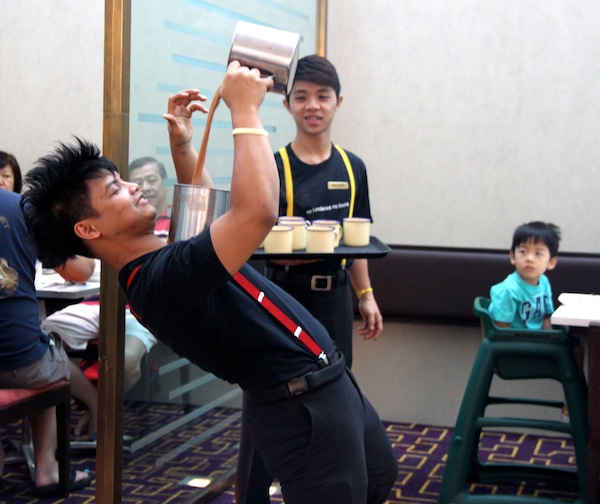 As we enjoyed our meal, all of the sudden we could see a staff member mixing tea from one metal canister to the next, then spinning around while pouring tea from a canister above his head to another below his waist, and for the grand finale, resting a canister on his chest while pouring tea into it. The whole restaurant broke into applause. Next time, I might have to order tea as well.
While finishing our meal, which my husband tells me the waffles were amazing, and the beef brisket was possibly the best he had ever had, the same tea slinging staff member was making a toy koala bear disappear and performing magic tricks. Tom leaned over and said "This is the most fun I've ever had at breakfast".
Location
Perfectly located in the heart of Kuala Lumpur City Center (KLCC) on the edge of KLCC Park, a walk out the back of the hotel brings you to an unexpected sprawling green space. The park offering a break from cars and skyscrapers has a running trail that brings joggers past a water park, playgrounds, and trees glorious trees. A real novelty in KLCC. The Petronas Twin Towers and Suria KLCC mall where there are lots of food options and a Light Rail Train Station (LRT) is only a 10 minute walk from the hotel or a 5 minute ride on the hotel tram.
Our Say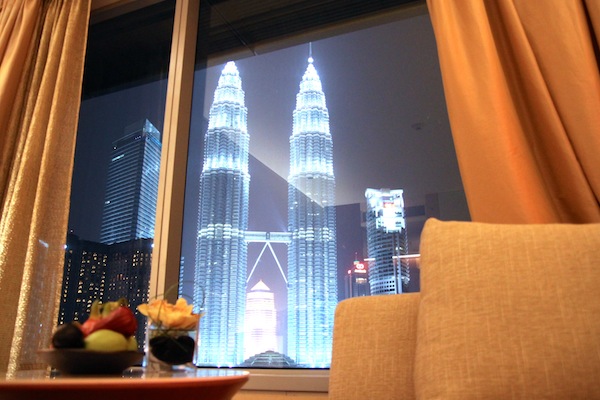 With an unbeatable location in the city, a park at your doors step, the Petronas Twin Towers in the background, and exceptional service, Traders Hotel in Kuala Lumpur is hard to beat. Stay here to be in the center of the city while still having easy access to other parts of Kuala Lumpur via the LRT. This hotel is now at the top of our list for future visits to Kuala Lumpur for it's location, service, and quality of hotel.