If you're looking for an easy beach vacation where you can rejuvenate in a stylish resort, look no further than Veranda Resort Pattaya M Gallery. Located just over half an hour from Pattaya's U-Tapao International Airport, you can spend more time relaxing and less time travelling.

The Resort
As soon as you arrive at Veranda Resort Pattaya, you realise you're in for something special. Elegant water features and dramatic architectural details draw you down to the reception area where round seating pods and an undulating wood ceiling greet you. The pool is the real draw with cabanas on either side, views straight out to the ocean, and so many different spots to relax, you'll want to try them all out.
Next to the pool is the hotel's own stretch of beach with chairs and umbrellas for relaxing. For a deeper sense of relaxation, head to Veranda Spa Pattaya for a large selection of treatments delivered in beautifully decorated rooms.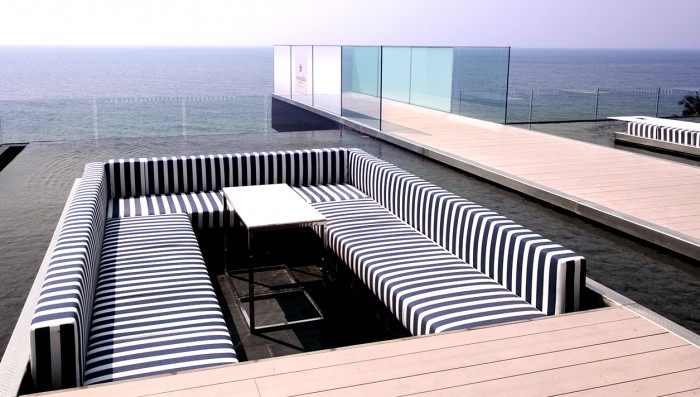 Drinking and Dining
For an intimate resort of only 145 rooms, there are enough dining and drinking options that you'll never have to leave. Veranda Resort Pattaya's main restaurant The Deck where the daily buffet breakfast is located, not only serves up a high quality breakfast selection, it also delivers fine cuisine that can easily compete with international restaurants.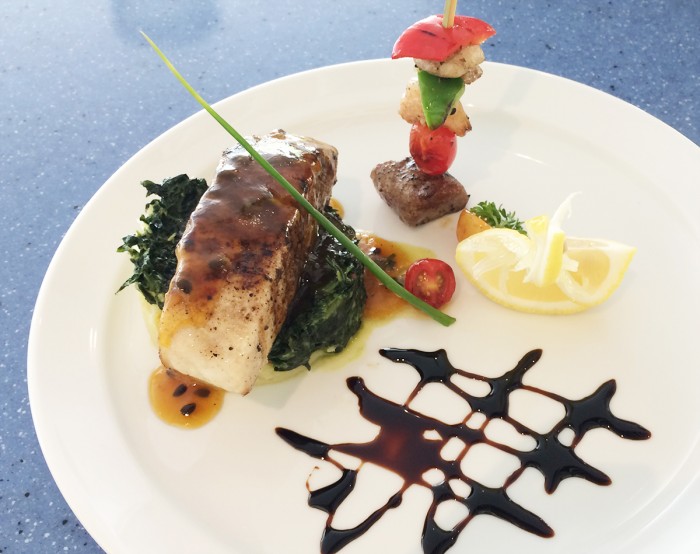 Dishes to order and devour are the Pan-Seared Sea Bass with Ahi Tuna as well as the Tom Yam Consommé. The flavours will make any western food lover swoon, while having just the right amount of Asian fusion. The Tom Yam Consommé has the added bonus of an incredibly cute fish shaped ravioli.
For an afternoon pick me up, or morning snack, the resort's café Bake n' Look has a unique concept where you can go in, poor yourself a cup of coffee, grab a piece of cake, and pay for your selections at a self serve station.
For the best sunset views and the perfect spot for a signature cocktail, head to the rooftop where The Jetty offers picture perfect scenery. Just below is the restaurant I Sea Sky for more food and drink options.
As if these weren't already enough to keep you occupied for a few meals, next door at the beach are a couple pop up food options including a food truck selling burgers and fries and a waffle and ice cream shop with another rooftop spot to relax. Both with very reasonable prices.
The Rooms
All rooms in the resort offer a stylish retreat with oversized beds (think of a king bed that could easily fit 5 people!) and beautiful, modern bathrooms. For the best views of the ocean and an opportunity to watch the sunset from your bathtub, book an Ocean Front room.
Families will love and never want to leave a Family Pool Suite. With a separate master bedroom, parents get privacy, while kids will love their bunk beds. Best of all there's a large lounge area to play and a private plunge pool.
The Area
Located at the end of family friendly Jomtien beach, you get the luxury of a resort and beach that's only accessible to guests, while still being close to the shops and restaurants of Jomtien. Walk up the street to catch a Tuk Tuk to explore the area or rent a bicycle from the front desk to explore at your leisure.
Close to the resort are the popular attractions Pattaya Floating Market, Underwater World Pattaya and Cartoon Network Amazone Waterpark. One of Pattaya's best restaurants The Glass House is also a short drive away.
Our Say
Veranda Resort Pattaya is an ideal romantic getaway for couples while families will thoroughly enjoy the resort too. It's nice to find a piece of secluded paradise in Pattaya, while still being close to hot spots. This resort will make you rethink what a vacation to Pattaya is all about.
Veranda Resort Pattaya
211 Moo 1, Na Jomtien Soi 4
Pattaya, Chonburi 20250 Thailand
www.verandaresort.com