If luxury is what you're after, Dubai has more ways for you to splurge than the dessert has sand. Ok not really, but Dubai is an ideal destination for luxury travellers. Here are 6 great ways to to live large in Dubai.

Dine at Al Mahara
For an over the top dining experience, dine on fine seafood inside Dubai's most famous hotel - Burj Al Arab - at Al Mahara restaurant. Here your meal is set to a lavish backdrop complete with a floor to ceiling aquarium. Dishes include Alaskan King Crab and Foie Gras Ravioli as well as Line caught Sea Bass with Jus Piperade.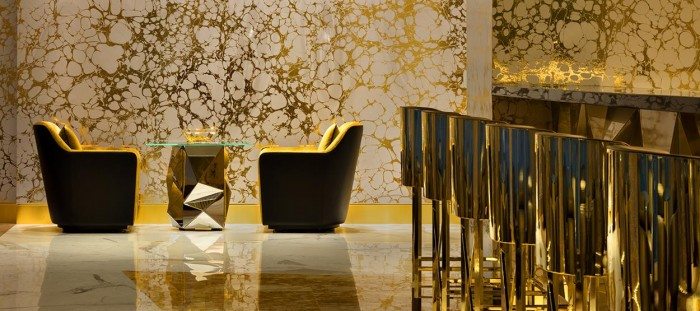 Sparkle at Gold on 27
Shower yourself in gold at the stunning Gold on 27 bar at Burj Al Arab Jumeirah, Dubai's self proclaimed 6 star hotel. This cocktail bar takes bling to a whole new level with gold leaf decor on almost every inch of this dazzling space. Carefully crafted cocktails and an endless parade of Dubai's most elite with have you sipping and people watching the night away. Read more about Gold on 27.

Stay at Armani Hotel
Dubai might be home to the world's most luxurious hotel - Burj Al Arab - but if palatial decor is not your thing, sleek and minimalist Armani Hotel will be a better choice. Here you can enjoy views of the famous Dubai Fountain from certain rooms while living the Armani lifestyle. The hotel boasts 8 chic drinking and dining options, a spa and of course an Armani retail shop.


View Dubai From The Sky
Sure, you could go to the top of Burj Al Khalifa for a great view of Dubai, but when doing Dubai like a boss, head to even greater heights with a helicopter tour over Dubai. Take in views of Dubai icons The Palm Jumeirah, Burj Al Arab, and Atlantis The Palm from a vantage point only the skies can offer. Read more about a Dubai helicopter tour at thislifeintrips.com

Travel in Style
With marked speed limits going up to 120 km an hour, but speed cameras only working up to 240 km an hour, we hear you either go 120 or over 240 km an hour. What better way to speed around Dubai than by luxury sports car. You can rent them from a few different places including VIP Luxury Car Rental that even offers chauffeur service if you want to leave the driving to someone else.
Party at Nikki Beach Dubai
Nikki Beach clubs are known for attracting celebrities and VIP guests to its international locations. With its latest beach club now open in Dubai (March 2016), Nikki Beach Dubai is set to continue this trend. Located on Pearl Jameira, next to Nikki Beach Resort & Spa, you can enjoy globally-inspired cuisine while keeping the champagne flowing.