Laos is a magical country known for its natural beauty of towering limestone cliffs, turquoise falls, and lush jungles. It's a country rich in culture with friendly locals, unique cuisine, ancient ruins and some of the most scenic and untouched landscapes around Southeast Asia. Here are 7 reasons it's time for you to visit Laos:
Luang Prabang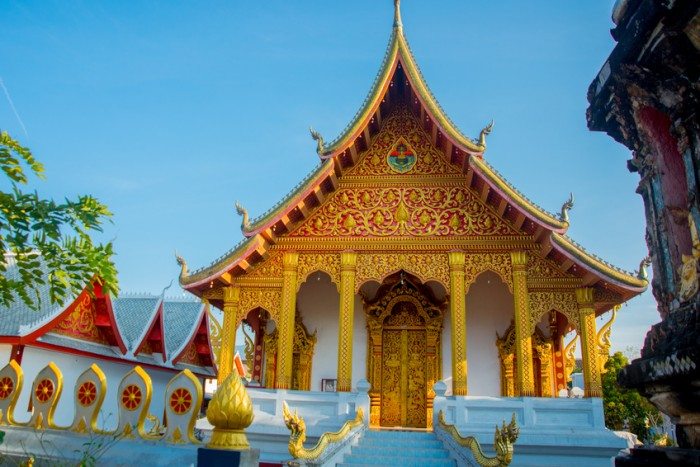 This Unesco World Heritage site is a charming town filled with a mix of traditional and French colonial architecture. It's situated along the Mekong river and offers up vibrant Buddhist temples, stunning waterfalls and a landscape that begs to be noticed. Here you can dine on local and foreign cuisine, explore the countryside and take in the colourful culture of this country.
Luang Prabang is also home to a great selection of fine hotels and resorts including the exclusive Belmond La Residence Phou Vao.
Kuang Si Falls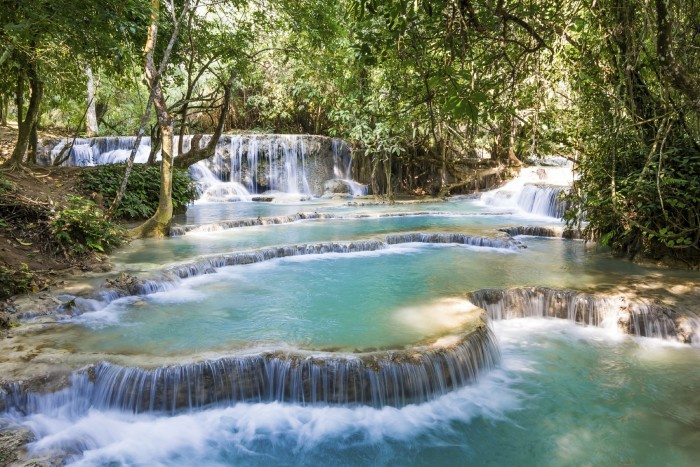 Twenty nine kilometres outside of Luang Prabang you'll find the beautiful falls of Kuang Si. These azure falls are made up of tiers of pools that lead to a large 50 meter drop. For a small admission fee you can swim in the natural pools and walk the trails nearby.
Pi Mai Lao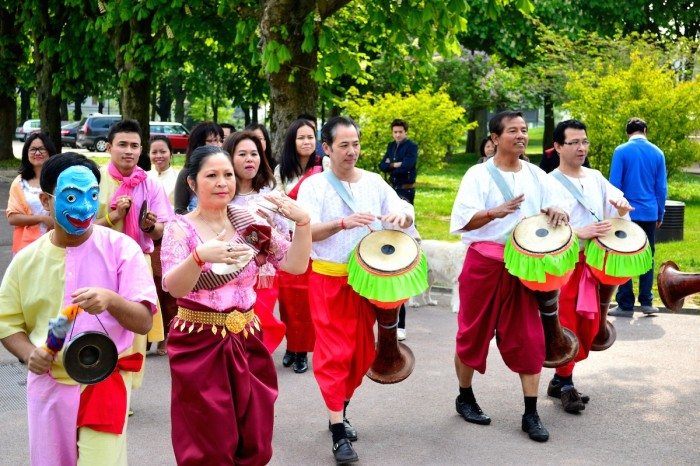 Photo by Rdghalayini
Pi Mai Lao is one of Asia's top cultural festivals to experience. The celebration of the Lao New Year celebrated from April 14 to 16, the hottest part of the year. Celebrations take place all across Laos but are especially spectacular in Luang Prabang with the 3 day festival stretching out to an extraordinary week long event. Here you can see crowds take to the street to pour water and blessing on their elders and a parade of music, dancing, traditional dress and costume.
Vang Vieng
A nice place to break up the journey between Luang Prabang and Vientiene (the capital), Vang Vieng is known as a bit of a party town. Made famous for it's riverside revelery and tubing. Although this is the main draw to this region, it still offers the not so enthusiastic partier some beautiful scenery and landscapes that are worth exploring by scooter or bike. A few notable sites are Tham Poukham (Blue Lagoon), Tham Nam (Water cave) and a hike to Lusi and Pha Poak Caves.
Xieng Khuan-Buddah Park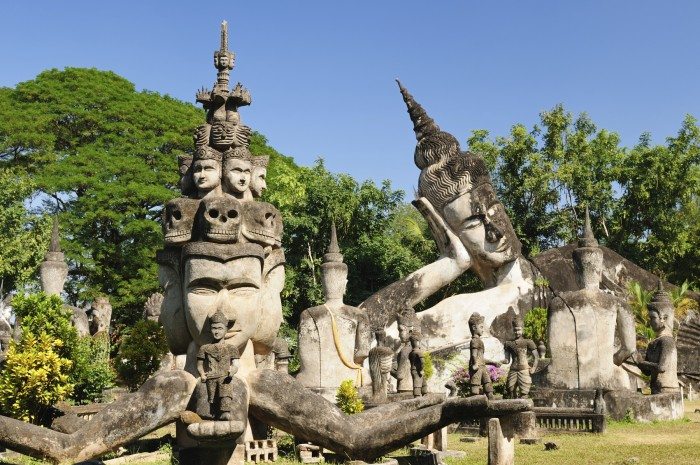 During a visit to the Laos capital of Vientiane, hop on a scooter or grab a tuk tuk and cruise out to the countryside to visit the impressive Xieng Khuan Buddah Park. Here you'll find over 200 religious sculptures dating back to 1958 when a monk who studied both Buddhism and Hinduism built the park.
Phu Hin Bun National Park
Formed into a National Park in 1993, this lush and diverse area of Central Laos is one that will leave you in awe. The natural surrounds of jungle, towering limestone cliffs, rushing turquoise rivers and wildlife are less visited by tourists which makes it a pretty special spot. It's a great area to organise a trek and visit small traditional villages. Here you'll also find a natural wonder called Tham Kong Lo Cave where you can hire a boat to take you through the mouth and into the darkness to explore the 7.5km phenomenal cave system.
Bolaven Plateau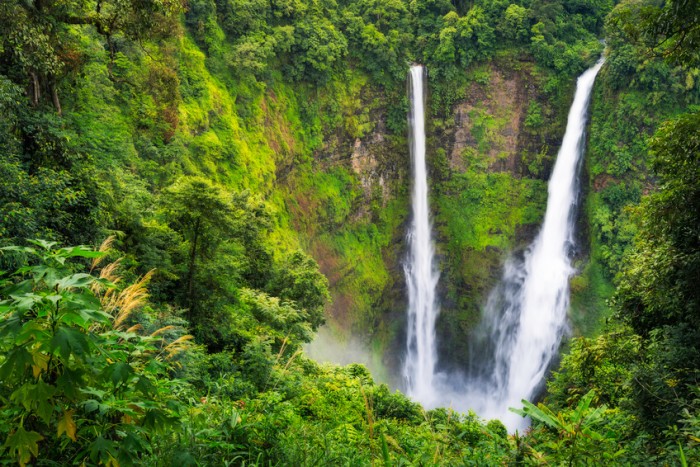 A beautiful area rich with nature in the South of the country. Here you'll find a national park filled with lush rainforest and towering waterfalls. The most popular falls to take a day trip to are Tad Fane and Tad Nguing (Yuang) which are easily accessible by motorbike from Pakse. The rainforest here is also home to many animals such as tigers, elephants and monkeys.
4000 Islands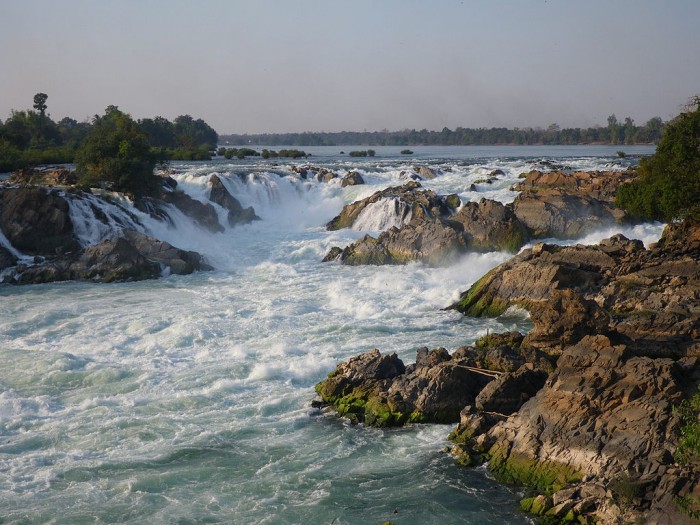 In Southern Laos on the boarder of Cambodia, the Mekong river splits into thousands of waterways to form the islands this impressive region is named for. It's an area that is secluded, serene and wonderfully relaxing and is the perfect place to escape and spend your days lazing on a hammock, reading a book and taking in its natural beauty. Besides coming here to kick back, another big draw is the Khone Phapheng Falls and the rare Irrawaddy dolphins. The most popular islands to visit and stay are Don Khong, Don Det and Don Khon.
Getting to Laos
There are four international airports in Laos in Vientiane, Luang Prabang, Savannakhet and Pakse. The majority of flights to Laos are through Bangkok, Thailand with Lao Airlines which operates most of the flights in and out of the country. Laos can also be easily accessed by over land either by slow or fast boat along the Mekong from Northern Thailand or over land from its surrounding countries.
Exploring Laos
You can get to the different sights in Laos by bus or private car or join one of the many private or public tours available.