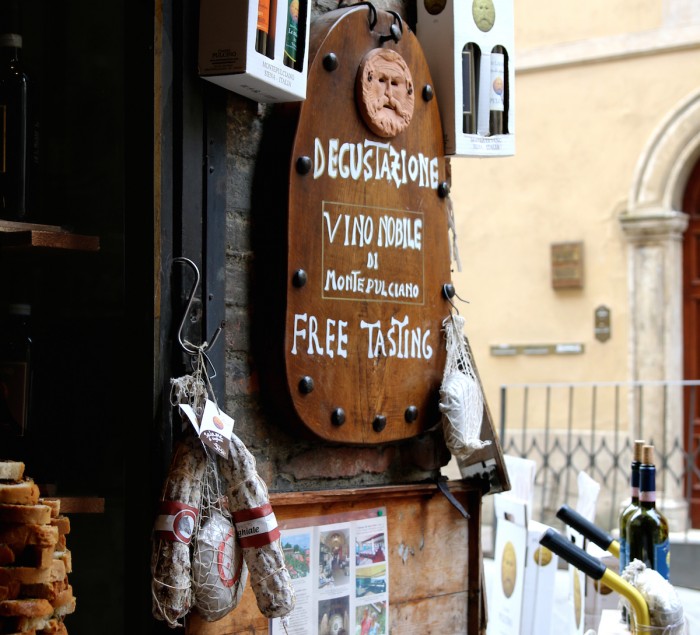 Tuscany is where the sun shines brightly on hills covered in grapevines, medieval towns dot the country side and olive oil finds its way into pretty much every dish. When visiting Tuscany, bring your appetite and prepare to taste some of the world's most incredible wine and cuisine.
We start our quest for Tuscany's best wines in Montepulciano, staying the night in the ground floor apartment of an old Tuscan villa we found on Airbnb. In the morning our group of 4 wake up before the roosters. My husband, 8 month old son and I are still on Singapore time and my mother still on Canada time. It's my husband and my's first overseas trip with our baby boy Liam so we enlisted the help of Liam's grandmother who lives in Canada to join us on the trip. What grandmother could possibly pass up the chance to spend 2 weeks with their grandson in Italy?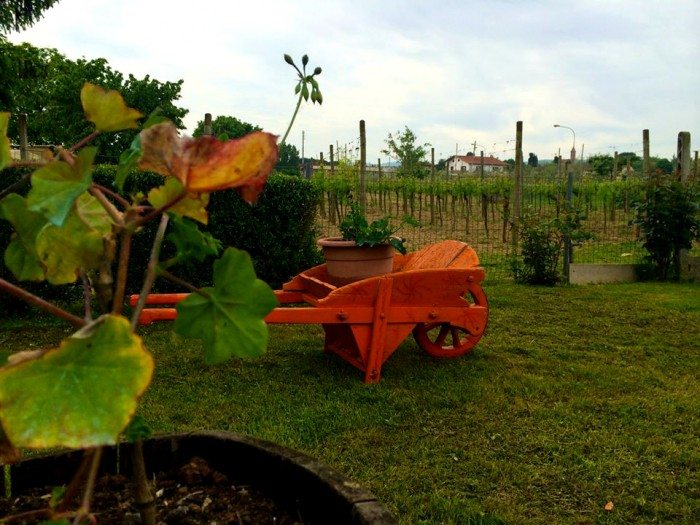 As we pack the stroller, travel cot and 4 suitcases into the back of our station wagon, we ask our hosts where we can find breakfast and a good cup of coffee in the area. It's our first "clueless North Americans" moment as Mario looks at us puzzled and explains "We Italians don't eat a big breakfast, maybe a pastry and a caffé latte. That is it." "That sounds good too, where can we find that then?" I reply. He points us in the direction of the local "bar" that we quickly realise coffee shops are called bars around here.
Three caffée lattes and cornettos (Italian pastries) later and we are off to see what the area has to offer. Only 10 minutes into our drive and we pass a row of wineries. It might be 10 in the morning in Tuscany, but as the old saying goes, it's 5 o'clock somewhere in the world!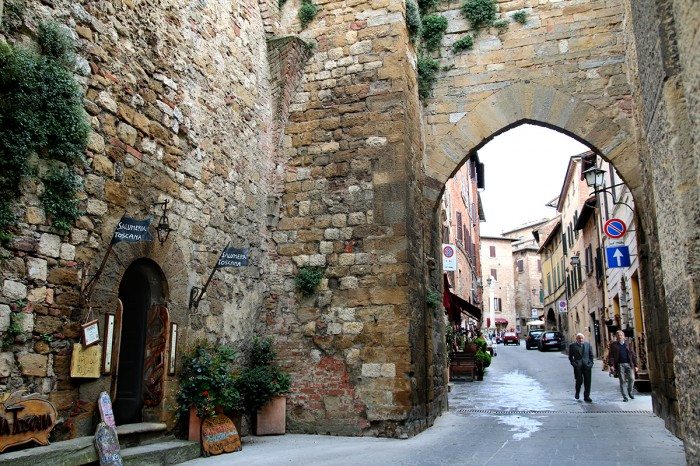 Montepulciano is home to the beautiful red wine Vino Nobile, so we couldn't pass up a tasting. A couple samples of Vino Nobile and Rosso later and we start making our way to Montepulciano's medieval hill town thanks to our designated driver, a.k.a. grandma.
Walking along the main road in the old town of Montepulciano, we are surrounded by centuries old stone buildings filled with shops selling everything from leather goods to Italian delicacies. We are lured into a shop by a lady promising us samples of their spreads, wine, cheese and meat. There is no way we could possibly pass that up, even though it's not even noon yet and we're starting feel like borderline alcoholics.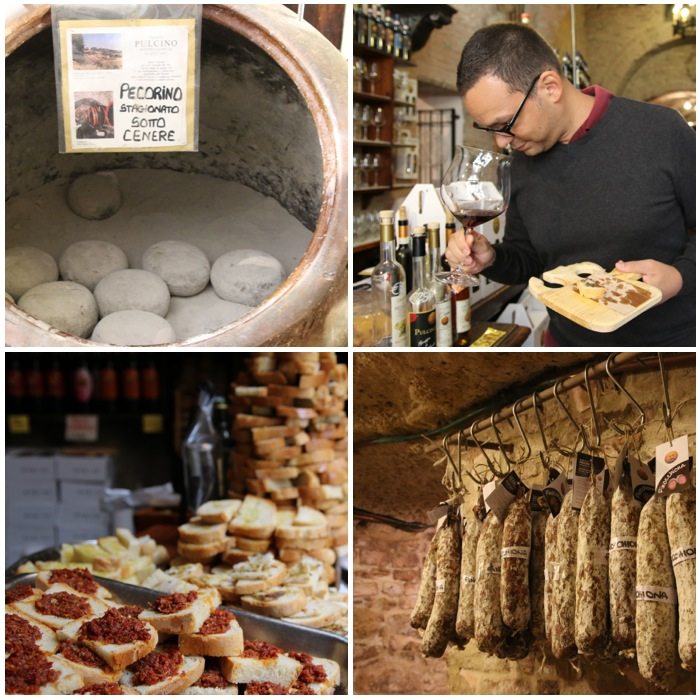 We spend an hour sampling a Pecorino cheese covered in ash, bread drenched in olive oil topped with truffles, cured meat and 4 different wines. A food and wineaholic's dream morning.
We continue our journey along Tuscany's winding roads past some of the most beautiful scenery that has been the back drop to many famous movies. Our next stop is Montalcino for a late lunch and tastings of the famous Brunello. Join us for a tour of Montalcino, Italy in Part 2 of "Wine Wanderings in Tuscany".
I recommend the travel guides Lonely Planet Italy and Lonely Planet Florence & Tuscany for more details for getting around Italy and Lonely Planet Italian Phrasebook & Audio for anyone that doesn't speak Italian.