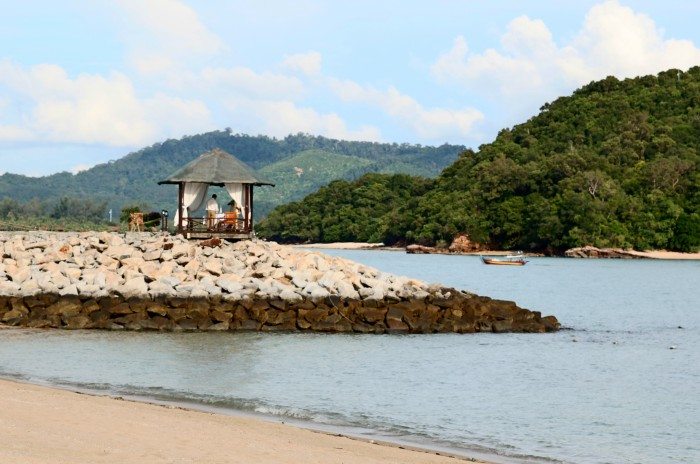 Sometimes you just need an island getaway, but sometimes, you need an island getaway on a private island with a pristine white sand beach and a jungle at your doorstep. While looking for suitable shelter for a 3 night getaway to Langkawi, I found Vivanta by Taj on its privately owned Rebak island.
Fifteen minutes from the airport and my husband Tom, baby Liam and I are at the dock ready to board the resort's speed boat. As our luggage is balanced between a moving boat and pier, I can't help but wonder how many guests' suitcases have landed in the water. Now, that would be a wet start to a vacation!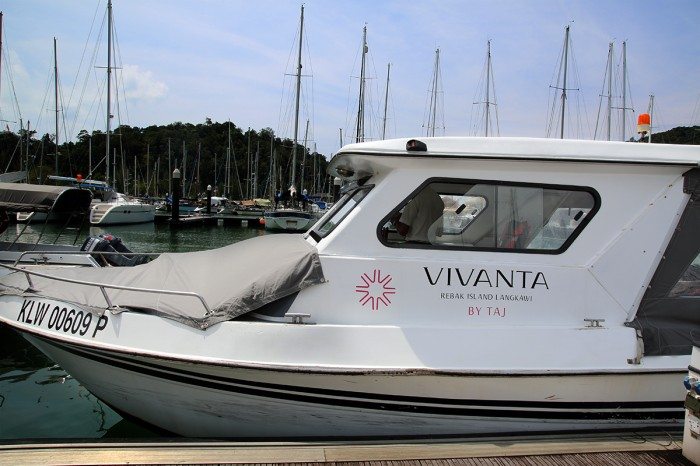 With luggage loaded, I pick a seat on the side of the boat and look out at the surrounding islands. I can already see Langkawi's appeal. As the boat skips over waves, I point out a stretch of white sand beach lined with loungers to my husband "Wow, look at that beach!" That fabulous beach ends up being our secluded sanctuary for the weekend.
While pulling into the marina, we pass yachts of different sizes and jet skis lined in a row. Steps up the ramp and a golf cart arrives to take us to the reception. This being a Taj, there are big smiles all around, including our own.
Our room has that beach cottage charm. Wood floors, a little wood balcony with rattan chairs and of course a marble clad bathroom with rain shower head. As Liam explores all corners of his new space as babies do, I explore all of the resort's activities. Yoga or guided nature walk in the morning, cooking class in the afternoon followed by beach volleyball, and an option of a movie or jungle trek in the afternoon. I can see that this secluded island getaway will be anything but boring.
We all change into our beach getaway alter egos - Tom with his straw fedora, golf shirt and linen shorts, me with my flowing kaftan over bikini and Liam is his insanely cute bright orange matching shorts and button up shirt covered in palm trees. The resort ready Abbotts have arrived.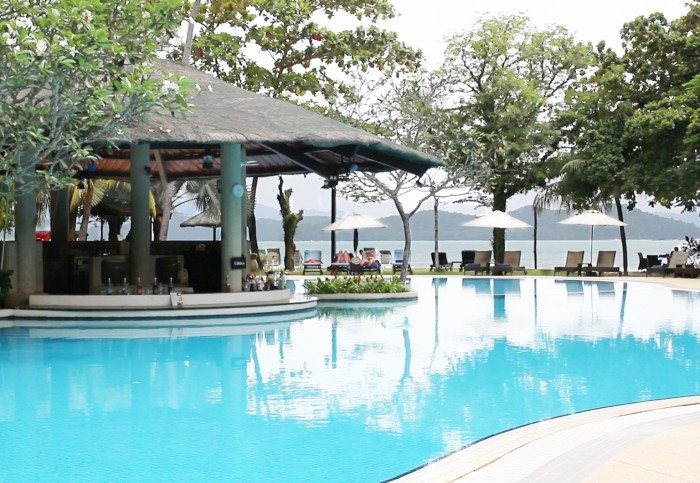 Starting with loungers on the beach and a playhouse behind us, the whole family gets to enjoy their favourite activities. I stroll along the beach seeing tiny crabs darting across the sand and test a toe in the sea. The water is like bathwater. We follow it up with a dip in the pool and dinner at the resort's restaurant Senari. After over indulging on a buffet of Indian, Malay and Western cuisine we find ourselves drawn to the board games at the Minum Minum bar. I slyly request a high chair in the bar, and am rewarding with a family with a 2 year old taking up a seat next to us. If you're not the only one doing it, it can't be so bad.
While Tom and I enjoy a game of Janga and fruity cocktails, Liam quickly makes friends with his fellow under age rule breaker and they hit the dance floor. It's a good vacation when parents and kids can do what they love. Before anyone judges, Minum Minum is more of a lounge with open air seating and a jazz band playing softly in the background.
In the morning as we walk to breakfast, a group of guests are gathered around a couple birds on the ground. A closer look, and they are Oriental Pied Hornbill. A beautiful bird commonly found in Langkawi. After breakfast we initiate our own nature walk along the nature trail as we missed the 8am guided walk. Taking us through the grounds of the hotel, we are rewarded with beautiful views of the sea and surrounding islands, as well as a sea otter passing by our trail.
For lunch we decide to take the boat to the mainland followed by a short taxi ride to Langkawi's main beach district Pantai Cenang. The area is decidedly sleepy, but I'm sure it picks up during holidays. We find a local cafe and settle on Nasi Campur (a Malay mixed rice dish) followed by coconuts on the beach. On our rented lounge chairs, with coconuts in hand and ratty sun umbrella over us, we realise we could be doing all of this on our private beach back at the resort.
Sometimes you need a secluded island getaway and sometimes you need an island getaway from your island getaway to realise how good you have it.

How to Get to Langkawi
We flew direct from Singapore on Air Asia. Tiger Airways, Singapore Airlines and Malaysia Airlines also fly to Langkawi. The flight is less than 2 hours from Singapore.
Where to Stay in Langkawi
Besides the mid range Vivanta by Taj, are many luxury hotels that make Langkawi a sought after destination. Look for Four Seasons and The Datai Langkawi for luxury and read the reviews very carefully for anywhere else as many of the branded hotels are now old and rundown. We are looking forward to seeing the St. Regis Langkawi once it opens in 2015.
What to Do in Langkawi
Visit Pulau Payar Marine park for snorkelling and diving
Do an ever popular island hopping tour
Take a ride on the cable car for stunning views of the islands
Take a walk on the beautiful suspension bridge which is scheduled to reopen in December 2014
Need a travel guide? Take a look at the Lonely Planet Discover Malaysia & Singapore Travel Guide