It seems as though every year more and more hip, stylish bars are springing up in Asian cities, making it very hard to pick Asia's best bars. And these days, party-goers and cocktail-afficionados are truly spoiled for choice. There are chic rooftop lounges, bars offering phenomenal craft cocktails, beachside bars with gorgeous sunset views, and even uber-cool speakeasies.
Read on to discover our 10 favourite over-the-top bars in Asia.
Vue Bar - Shanghai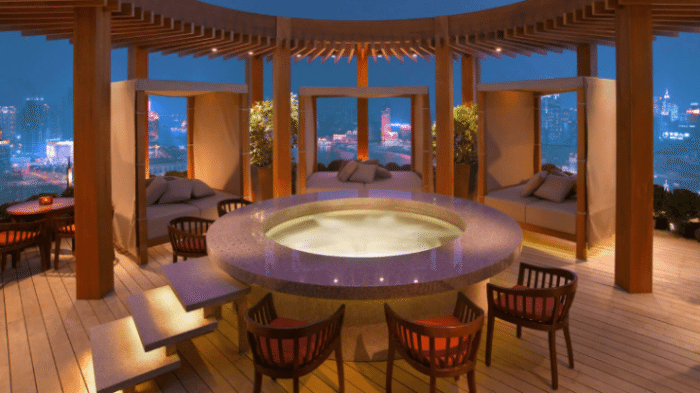 You're sitting in a Jacuzzi, cocktail in hand, and gazing out over Shanghai from the 33rd floor of a high-rise hotel. No, this isn't a dream: it could be reality if you go to Vue Bar in Shanghai.
Situated on the 32nd and 33rd floors of the Hyatt on the Bund, Vue offers stunning views of both the historic waterfront and space-age business district Pudong. Vue Bar is part of a unique dining and bar complex that takes up the top four floors of the Hyatt's west tower; it was conceived by renowned Japanese design studio Super Potato. Vue features a rooftop terrace; a large selection of premium spirits, cocktails, wines and champagnes; a resident DJ providing tunes in the evenings; and a variety of seating options, including day beds, and, of course, that Jacuzzi.
Jicoo - Tokyo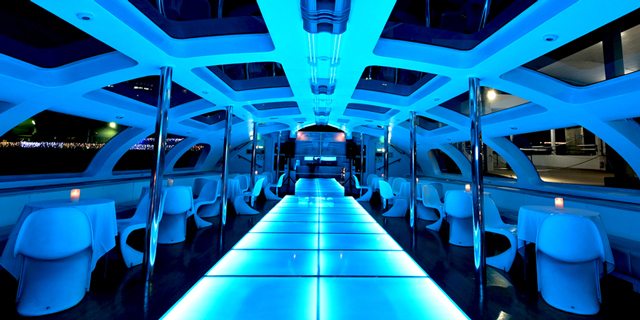 Land-based bars are so last year. Get with (or perhaps ahead of) the trend and head to a bar on the water.
Jicoo is a bar housed on a futuristic boat which offers cruises on Tokyo Bay on Thursday, Friday, and Saturday nights. There is a DJ, dancefloor, multi-colored lights, and views of the panoramic skyline of Tokyo. Thursday and Friday nights are more laid-back and perfect for relaxing at the lounge bar. Saturdays attract more of a party crowd, and entertainment events are scheduled for Saturdays, as well. It takes an hour to go between Hinode Pier and Odaiba, but once you're on the boat, you can stay on until the evening ends at 11pm.
Bon voyage!
Barcode - Taipei
If you find yourself in Taipei, be sure to check out Barcode, one of Taipei's classiest drinking establishments. Barcode is located on the fifth floor of Neo19, a huge shopping complex and home of many popular nightclubs, making it a great spot to either grab a drink before hitting the clubs, or a great place to settle in for the night with some friends.
Barcode features elegant, modern design; a chill-out zone which includes a pool table; a rooftop terrace offering views of XinYi District; and a large variety of cocktails and relatively quick drink service. They also have semi-private booths, a private room, and even a hidden VIP bar called The Den. Oh, if only we were so cool…
1 Altitude - Singapore
Afraid of heights? You may want to stay away from the edge here. Perched on the 63rd floor of One Raffles Place, 1 Altitude is the world's highest alfresco bar. As if being 282 meters up wasn't cool enough, the bar offers a 360-degree view of Singapore. And for those who like a good adrenaline rush, there is only a thin glass panel preventing visitors from tumbling over the edge.
Offering a variety of cocktails, a live DJ or band, and a slightly more casual atmosphere than other sky bars in Singapore, 1 Altitude is a fantastic place to take in the views and relax—and, of course, take some very cool pictures.
Read Singapore's Best Rooftop Bars
Rock Bar - Bali
For a bar much closer to the ground yet with spectacular views nonetheless, head to Bali's Rock Bar at the Ayana Resort and Spa. Situated on natural rocks 14 meters above the sparkling Indian Ocean, the open-roof Rockbar is one of Bali's best sunset and evening destinations. It's also been named one of the best bars in the world by CNN and The New York Times.
Aside from the gorgeous ocean views Rock Bar offers, the bar itself is beautiful to look at. Rock Bar features a minimalist design conceived by Yasuhiro Koichi of Design Studio Spin; the bar itself, created by glass artist Seiki Torige, was built using thousands of layers of recycled glass canes. Sip on the bar's signature cocktails including their popular martinis, and enjoy awesome beats curated by resident musical director Martin East. Rock Bar also attracts world-class DJs and musical acts.
Sky Bar - Bangkok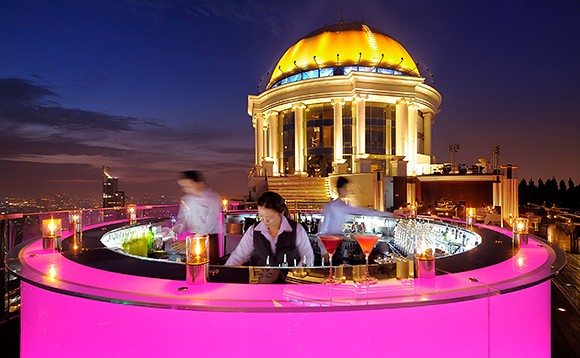 The Bangkok skyline at night is a thing of wonder, and one of the best places to view it is from the aptly-named Sky Bar, located on the 63rd floor of the Lubua hotel. Sky Bar is regarded as one of Bangkok's best rooftop bars, which, in a city of dazzling bars-in-the-sky, is saying a lot. From the bar, which offers a 360-degree view of Bangkok, guests can enjoy beautiful views of the sun setting over the Chao Phraya River.
Aside from its stunning visuals, Sky Bar is also known for its innovative cocktails, including their "poptails," a combination of a popsicle and a cocktail. But these days, Sky Bar is probably most famous for being "The Hangover Bar," after having hosted the boys of The Hangover II. They even have a popular cocktail called the "Hangovertini."
Cloud Lounge and Dining - Jakarta
Peer down on Jakarta from the 49th floor at Cloud Lounge and Dining, located in the Plaza Tower in the heart of Central Jakarta. It offers 360-degree views of the city, an extensive cocktail and wine list, and a lounge food menu. Cloud Lounge even has a Vodka Room, giving customers the unique opportunity to drink vodka in a 0-degree room. Cold yes, but it might just be a welcome respite from Jakarta's heat!
Chill - Ho Chi Minh City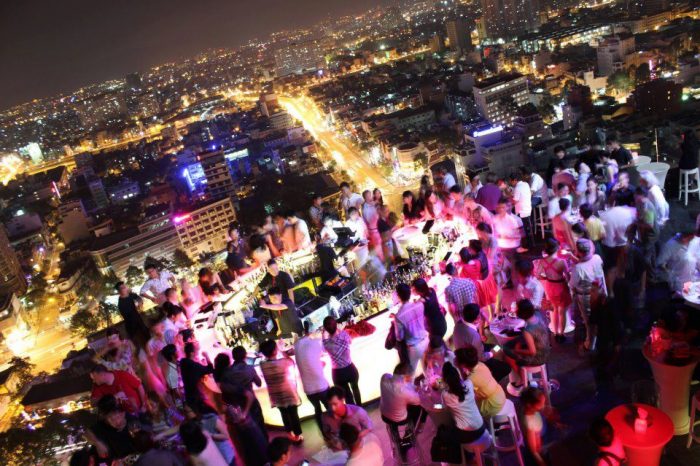 Chill is one of Ho Chi Minh's most popular and most sophisticated party spots. Located on the 25th floor of the New World Building, the bar and club offers panoramic views of the city. For a more, well, chill experience, head over in the early evening for down tempo, chill-out music; if you're keen to dance, the DJ starts playing popular hip hop and dance music around 10pm. Chill also attracts some big-name DJs and brand ambassadors.
Want to grab a bite to eat before you dance the night away? A short walk up the stairs from Chill is Chill Dining, regarded as one of the best steakhouses in Ho Chi Minh.
SkyBar - Kuala Lumpur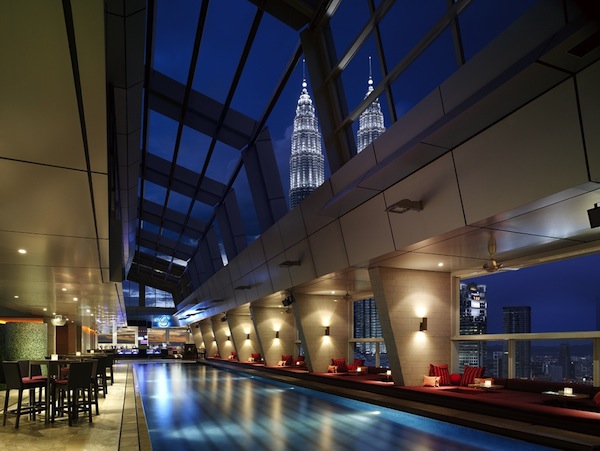 Sultry, splashy SkyBar, located on the 33rd floor of Traders Hotel in Kuala Lumpur, remains one of the coolest spots in KL's nightlife scene. The focal point of SkyBar is a pool surrounded by "cabanas" on one side and high tables and barstools on the other. Try to snag a cabana, as they give you awesome views of the city and the iconic Petronas Towers from the large windows next to them.
SkyBar has some fabulous cocktails, including signature drinks such as the Selangor Sling and Mata D'Or (see what they did there?). And, if you're in a dancing mood, on select nights SkyBar's resident DJs spin techno; on other nights they play everything from jazz to soft rock to current pop hits.
Sugar - Hong Kong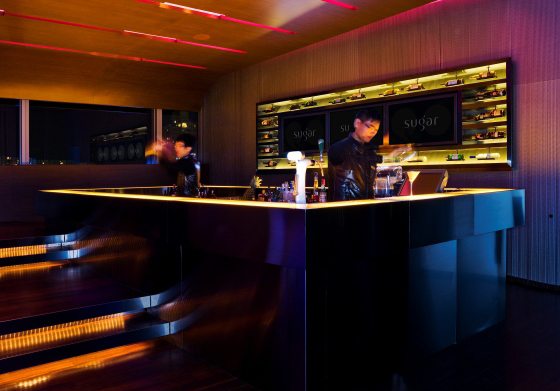 Enjoy a sweet afternoon or evening at Sugar in Hong Kong, where you can sip on drinks while taking in Hong Kong's spectacular skyline and harbor. A combination of lounge, bar, and deck, Sugar has a sleek and breezy interior, with both indoor and outdoor spaces and comfortable seating.
While most of Hong Kong's rooftop bars are found around Central and Tsim Sha Tsui, Sugar is situated in the Tai Koo District of Hong Kong Island, offering a different view than bar-goers are used to. And, 32 floors up, the views are pretty fantastic. In the evening, Sugar glows and pulses with energy; the floor panels and ceiling are illuminated with LED lights, resident DJs set the mood with some tunes, and, of course, there's that breathtaking view of Hong Kong at night.