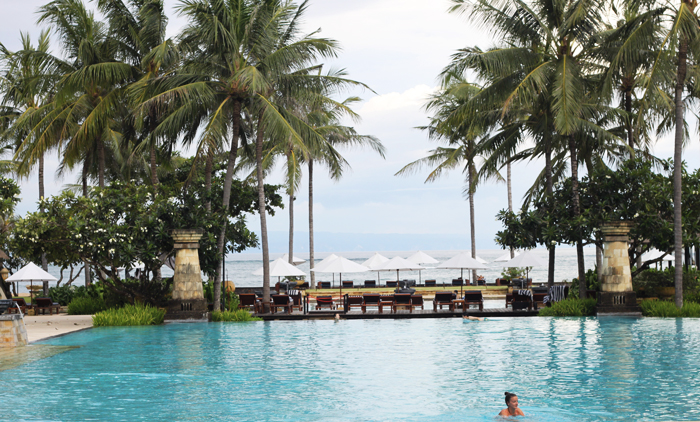 Yearning for a real vacation of beach bumming and nothing but relaxation, we found exactly what we wanted in the resort towns of Nusa Dua and Benoa in Bali, Indonesia. Nusa Dua is well known for it's gated resort area that is home to many expansive, luxurious resorts including The Grand Hyatt and The Westin Resort. The resorts in this area have everything you need under 1 roof including a private beach, over-sized pools, cabanas and day beds, multiple restaurants, bars, shopping, spas and ample activities to keep you occupied. There is really no reason to leave the resort, unless of course you want to play a round of golf and for that, you don't even need to leave Nusa Dua, The Bali Golf and Country Club is right around the corner.
A walk around Nusa Dua, will bring you past nicely manicured gardens and a large water feature, something that looks nothing like the rest of Bali. In the center of Nusa Dua is the shopping area called "Bali Collection", where you will find lots of great shops including our favorite Bali swimwear brand Blue Glue, and decent restaurants serving Indonesia and western fare. During our visit, an impressive beach club and restaurant called De Opera Beach Club at the end of the Bali Collection mall was opening up and will definitely be worth visiting. Nusa Dua really is the all encompassing resort town.
Down the road, Benoa doesn't have the prestine feel of Nusa Dua and still boasts incredible resorts including the Conrad Bali Resort and Spa and Aston Bali Beach Resort and Spa. Instead, behind the large resorts of Benoa, you will find a strip of nice restaurants, a little shopping and lots of very decently priced small spas. This allows you to enjoy the lux of your resort and when you want to get out for a little taste of the real Bali, all you have to do is cross the street.
Some of the reasons to leave your resort includes the famous Balinese restaurant, Bumbu Bali, the sports bar at Peninsula Beach Resort, and Giorgios Italian Restaurant at Aston Bali Resort, all worth visiting. We stayed at the well priced Kinds Villa Bintang, that gave us a beach with water sports galore, a decent pool with a bar in the middle and an average restaurant. Nothing out of the ordinary, but it still gave us the resort vacation we wanted and were able to explore many of the great restaurants in the area. We found ourselves spending a lot of time at "The Sports Bar & Grill" at Peninsula Beach Resort as the prices were very reasonable and they had great activities at night including Karaoke on Monday nights, quiz night on Thursdays, a pool table and a dart board. Every thing to make the resort experience complete.