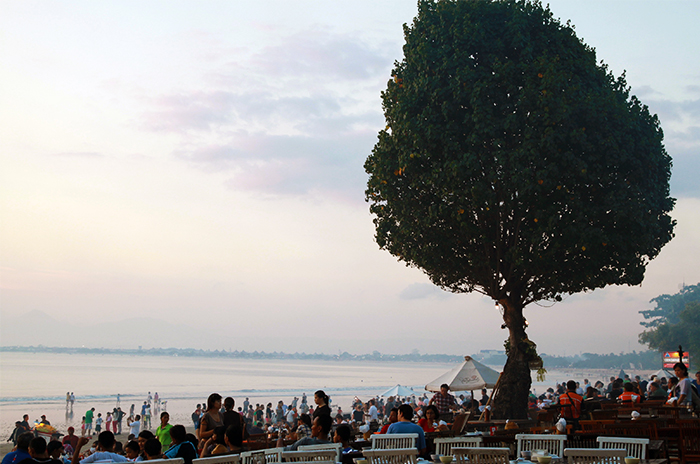 For the freshest seafood at the best prices for waterfront dining, there is no place better in Bali than the famous strip of restaurants located along Jimbaran beach. Here you can watch the sun set, dig your toes in the sand and enjoy a feast of seafood all for a very reasonable price. Walk right up to the fish tanks and choose what you would like for dinner. Select from a variety of fish and crustaceans mostly caught by Jimbaran's fisherman and picked up that morning at the fish market. All sold by weight, it is worth asking and bargaining on the prices before deciding on a restaurant.
There are three sections of beach all lined with restaurants, Muaya (in the very south), Kedonganan (in the middle) and Kelan (north of the fish market). If arriving by taxi or driver, they will always drop you off in the middle where the driver receives a commission and the prices are higher unless you really insist otherwise. Muaya beach (closest to Four Seasons and right in front of Le Meridian) is known to have the best prices.
All seafood is barbecued over coconut husks instead of charcoal and comes with cooked local greens and steamed white rice. Choose to have your fish deep fried or barbecued. While all seafood is cooked with local spices and you can ask to have the spiciness varied to your liking. The clams come in an amazing sauce with a bit of spice, but are a definite must try.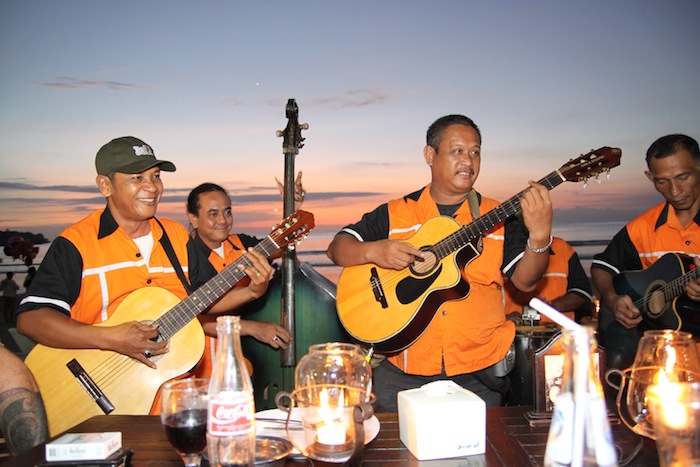 We met friends at Pandan Sari Cafe. The restaurant at the end of Muaya beach, closest to Four Seasons. We ended up with a feast of big clams for RP 80,000 a kg talked down to 40,000 a kg, red snapper for RP 120,000 a kg and small prawns for RP 200,000 a kg. The total bill came to RP 550,000 and was enough to feed 5 of us until we were full.
Enjoy a Bintang or fresh coconut with your meal. If you want wine, bring it with you and pay a nominal corkage charge. Then all that is left to do is relax and listen to the roving mariachi band.
Jimbaran's Seafood on the Beach