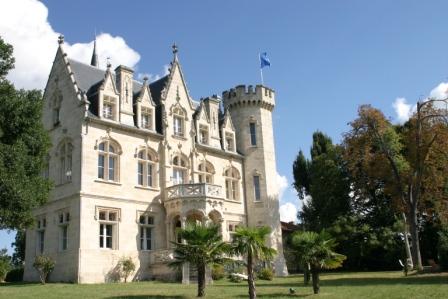 Along the Gironde River less than an hour outside of Bordeaux is the beautiful little village of Plassac. If you only do one thing before you leave this earth, visiting a châteaux in the Bordeaux wine region should definitely be it. With that in mind my family and I arrived at Château Bellevue
The owner of this chateau is an artist called Petra Dick. Her artistic nature is very evident throughout the Château and the adjacent villa (more on this in a bit) with original French 19th century features made modern and carried into the 21st century with sheer class and sophistication. Everything you would expect from a French property of that time.
Every single bit of artwork in the main chateau and the villa adjacent are hers, so if you do manage to visit or stay here make sure you take a minute to study each one. I think you will be impressed and left somewhat red faced at times!
If you intend to visit Château Bellevue as a family or small group I would recommend doing what we did and that is renting the villa which is out of this world, breath taking and any other word you can think of that describes perfection, visit pacificdreamscapes.com.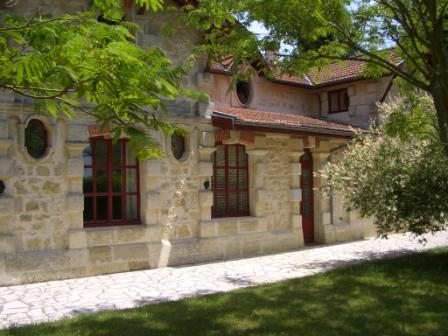 Villa Bellevue was originally a coach house, turned into a butcher shop and is now renovated with the times. It has 4 bedrooms and 2 bathrooms on the first floor with a modern open plan living area, TV den, shower room and laundry room on the ground floor.
The kitchen still bears some original features from its butcher shop days with a rustic butcher's block and traditional meat hangers, fitting in with the modern touches.
If you plan to make this a foodie holiday like we did, Petra has fully equipped this kitchen in the coach house. Everything you could possibly need in the world of cooking utensils is here ready and waiting for you with a secluded area outside for alfresco barbecuing and dining.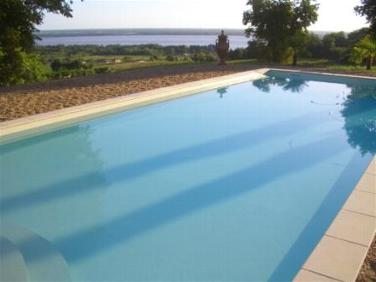 The chateau and the villa share a swimming pool that overlooks the Gironde valley and the Bordeaux skyline in the distance. With that in sight and a glass of local wine in hand, Chateau Bellevue and the Bordeaux region are a way to enjoy a wine lovers heaven, while still on earth.
Chateau Bellevue
20 Cote du Paradis
Bordeaux, France