For the third year in a row, Singapore takes the title of the world's most expensive city. Yes, you can easily drop a fortune on a short visit to Singapore, but the great thing about this city state is that it's also possible to have the time of your life on very little money. Just follow our guide.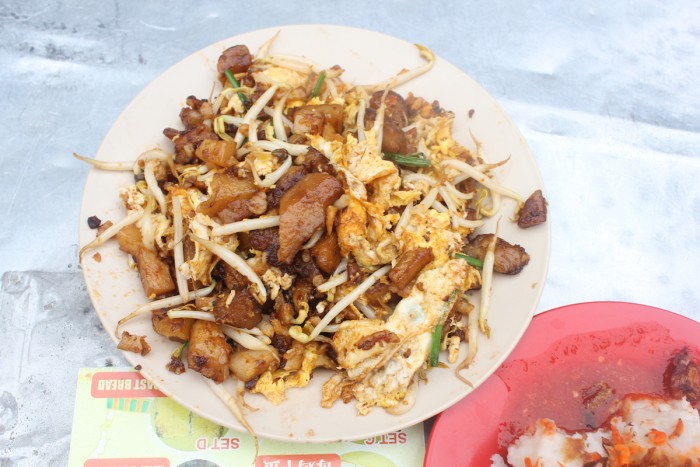 Eat at Food Courts and Hawker Centres
Instead of dining at Michelin star restaurants, enjoy cuisine that is unique to Singapore and the region at one of the many food courts or hawker centres. Every mall has a food court and the food at Singapore's food courts is actually good, not the typical junk food at Western ones. Food Republics often offer a nicer ambiance and higher quality fare than other food courts. Dishes to try include Laksa, Char Kway Teow, Fried Carrot Cake (no carrots or cake in this dish), Hokkien Prawn Mee and Nasi Lemak among others.
One of the great things about Singapore is it's still possible to find a meal of Chicken Rice for $2 at small food stalls in the outskirts of Singapore. Something that's not possible in most other countries on the World's Most Expensive Cities list.
Singapore's popular open air Hawker Centres of Lau Pa Sat, Satay by the Bay, East Coast Lagoon Food Village and Makan Sutra Gluttons Bay all offer a nice ambience as well as freshly barbecued satay and seafood. Another must try and can be enjoyed on a budget.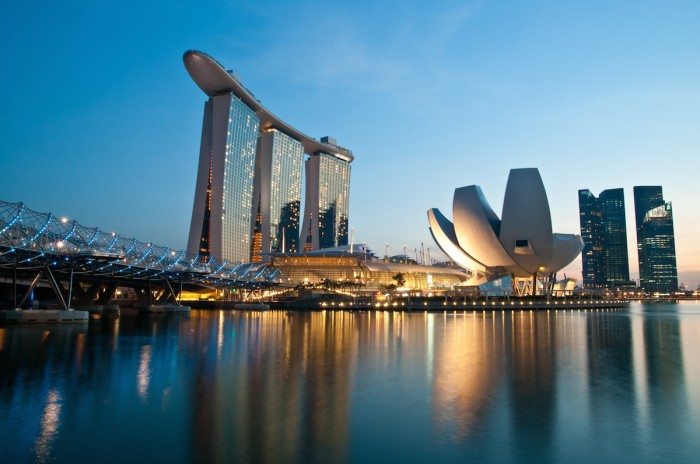 Explore the City by Foot
Singapore can be uncomfortably hot mid day, but the late afternoons and evenings are the best times to enjoy this beautiful city by foot. Walk over the Helix bridge to Marina Bay Sands and continue on to Gardens by the Bay. Or walk from Vivo shopping centre to Sentosa Island via the link which offers great views, dinning options along the way and even travelators if you're so inclined. Another beautiful walk is along the Singapore river at night.
Use Public Transit
Singapore's Taxis are relatively inexpensive when compared to many of the world's big cities, but the MRT system is even less so and very easy to use. An average train ride could cost $1-2 dollars where as the same distance could set you back $5-9 dollars in other Western cities.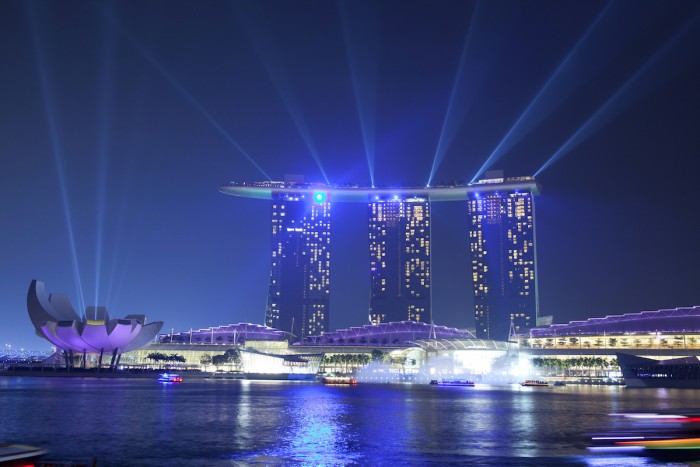 Enjoy the Free Shows
The free nightly Wonder Full light show at Marina Bay Sands is a 15 minute showpiece of visual effects by the waterfront incorporating laser beams and displays of water. Showtimes are Sunday – Thursday: 8:00pm, 9:30pm and Friday & Saturday: 8:00pm, 9:30pm, 11:00pm.
Sentosa's Crane Dance is another free water and light show, though it is necessary to check ahead to see if it will be on that night.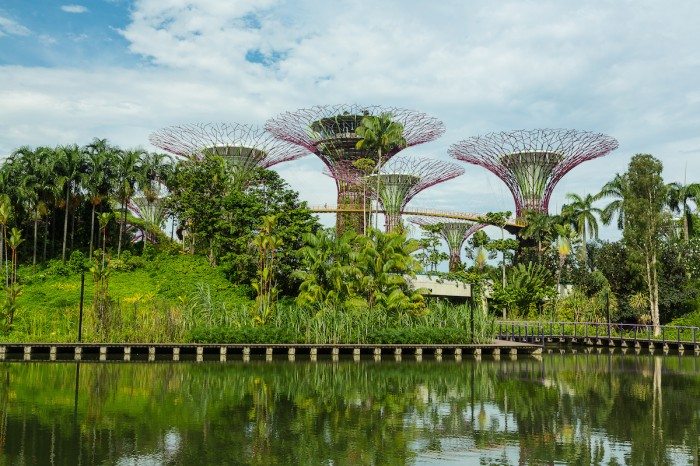 Visit Singapore's Parks and Beaches
Gardens by the Bay, located right behind Marina Bay Sands, offers an opportunity to stroll the beautiful gardens that incorporates man mad 'super trees' with lush vegetation. There's also a free playground and waterpark for the kids here. For more ideas on where to go with kids read The Ultimate Guide Of Things To Do In Singapore With Kids
Sentosa, Singapore's entertainment island can make for a great cheap day trip to visit the multiple beaches, attractions and dining options. Other parks to visit include Fort Canning Park for its historic significance and Singapore Botanic Gardens as a perfect spot for a picnic.
Get Creative with Where You Enjoy a Drink
In a country where it's very easy to spend $24 on a BEER, it's also possible to drink for free if you're a lady. Women can head to one of the island's many ladies night specials often happening on Wednesdays where ladies either drink for free or very cheap.
Not a lady? Look out for happy hour specials where everyone can enjoy 'cheap' (by Singapore standards) drinks. Our favourites are happy hours at Loof where from 5-8pm you pay between $5-8 for a house pour based on the time and Brewerkz where from noon-3pm you can enjoy a pint of Golden Ale and Wheat Beer for $6.
Singapore only recently passed a law banning alcohol consumption in public places after 10:30pm meaning before this time, it's okay to grab a beer from the corner store and enjoy it on the beach or at a park.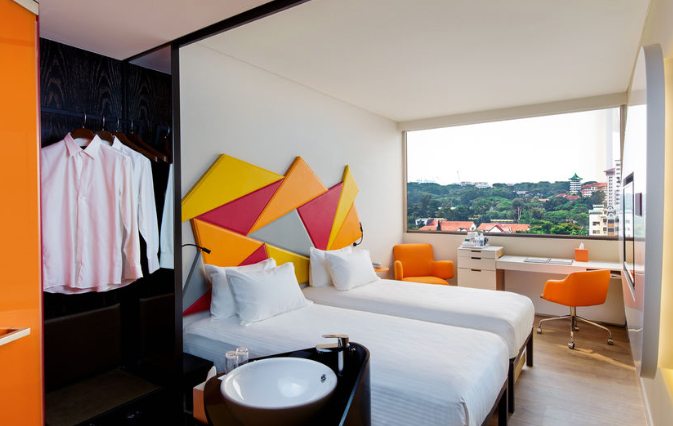 Home Stays and Budget Hotels
Unless you're ok with hostels and grubby hotels, accommodation in Singapore is not cheap. Budget hotels such as iBis will start around $150 a night including the iBis Styles opening in April 2016. Another option is AirBnB where you can stay with a local or have a whole apartment for a lot less than a hotel.
As a Singapore Travel Blogger, I am always exploring Singapore and Asia. These are my favourite ways to enjoy Singapore on the cheap. What else would you add to this list?