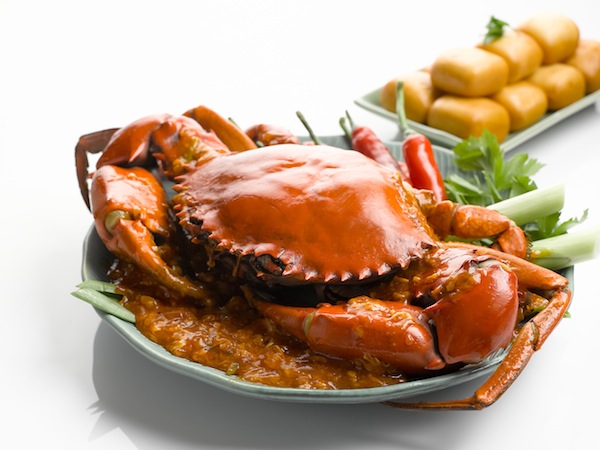 See the 2015 line up here
Crab Feast Buffet Highlights
Besides offering the ever popular Chilli Crab, PARKROYAL on Beach Road's Chef Jackson has created new crab recipes specially for the Crab Feast Buffet. Try unique dishes like Nonya Curry Crab, a dish made using sweet flower crab, that is full of flavor and packs a little punch. Or one of the battered crab dishes, Salted Egg Crab and Butter Crab. Both similar in flavor, but the Butter Crab has a bit of spice. Other crab recipes that will wow you during the Crab Feast are the XO Crab and Garlic and Spring Onion Crab. All dishes were finger licking good, and heaven for a crab lover like myself. These specialty crab dishes will be offered on rotation in the Crab Feast Buffet on now until August 31st.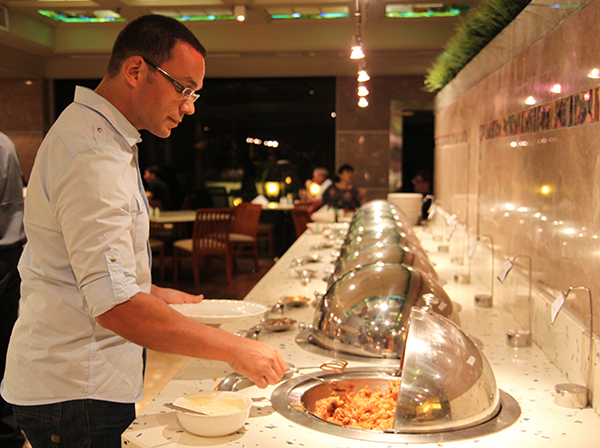 The Buffet Lineup
As if a variety of crab dishes isn't enough, the buffet offers a variety of International dishes to keep everyone happy. In the Indian corner are a selection of freshly made Indian breads and curries, while the Japanese section is full of sushi, sashimi, and shucked oysters. A row of sparkling chafing dishes is filled with gems like Thai-style Stir-fried Beef, Stir-fried Baby Kai Lan, and 2 of the PARKROYAL's signature dishes: Braised Sea Cucumber with Mushrooms and Roast Pork, and Crisp Soft Shell Crab.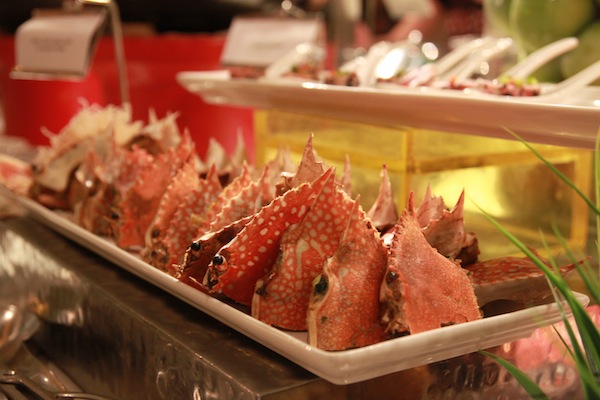 The seafood feast continues with Shelled Prawns on Ice, Baked Crab Shell, Dijon Crab Cakes with Coriander Paste, Crab Meat Gyoza, Breaded Crab Claw and a variety of Dim Sums.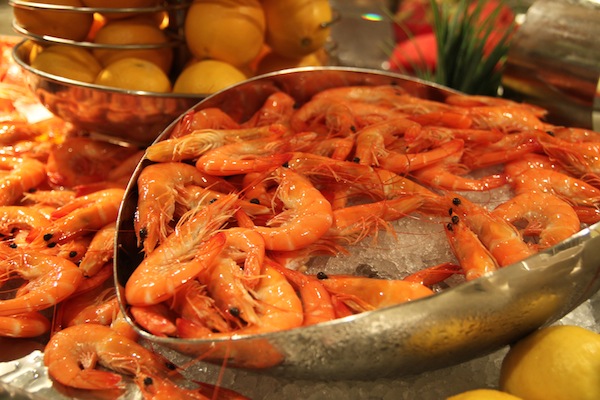 Make sure to save room for dessert, and pick from Mini French Pastries, Chocolate Truffle and Cheese Cake, Rice Pudding with Vanilla Sauce, Almond Beancurd, Assorted Ice Cream and Sliced Fruit with the option to top with warm melted chocolate.
Review
If you love to feast on quality crab and seafood dishes, the Crab Feast Buffet at PARKROYAL on Beach Road is a must. Not only can you enjoy unique crab recipes, you can indulge in other seafood delicacies and non seafood dishes to keep the whole family full and happy. Don't miss their signature dishes, including one of my favorites the soft shell crab and the chocolate truffle cake. Tip: If you love real American carrot cake, try their made in house version. It's not part of the buffet, but worth the $8.00+ for an over-sized piece of cake covered with real cream cheese icing. It met my Canadian taste buds that has been eating and making carrot cake since I was little.
Details
Crab Fiesta Buffet
July 5th to August 31st 2012
Buffet Dinner Mondays to Thursdays
Adult S$52++, Child S$31++
Fridays to Sundays
Adult S$55++, Child S$33++
PARKROYAL on Beach Road
Plaza Brasserie
7500 Beach Road
199591, Singapore
T: 6505 5710
This was an invited food tasting