After all the trekking of Machu Picchu and Colca Canyon it was now time for me to start venturing back towards the coast to catch some sun and sand. My aim was to get to Mancora, Peru's number one beach town, as quickly as possible as it had already been almost 2 months since I last got to dip my toes into the ocean. On route my friends and I made a few stops to break up the long bus journey north. Our first stop was the town of Ica, not much on the eyes, but the reason you come here is for Huacachina, the dessert oasis situated a mere 10 minute cab ride outside of Ica. Once you start to see the rolling sand dunes and palm trees you'll feel as if you've been transported to another side of the world.
We arrived early and found our accommodation for the night. We were only staying one night and wanted to make the most of our time, so the first order of business was to book ourselves an afternoon sandboarding tour from the front desk and then catch some rays by the pool. Laying by the pool surrounded by sand and sky was an amazing feeling and had me wondering why we were so eager to rush to the next place. As some of us had time constraints, all I could do was not complain and take it all in.
We were staying at Hotel Carola del Sur, which we only ended up at because the cab driver took us there and said it was the cheapest with a pool. You'll find most cab drivers waiting around the bus stops are affiliated with one or a few of the hotels in Huacachina so if you've booked accommodation in advance just make sure they're willing to take you there. There are a number of different hostels and hotels around and the town is tiny (pop. Around 100) so even if you just show up and wander around you could probably check out a few places and find a good deal. I enjoyed my stay at Carola however i'd say my standards and others may be different we got a private room for the 3 of us with a private bathroom for about $13 each for the night, most places will also offer a discount if booking your sandboard tour through the hostel, so ask around.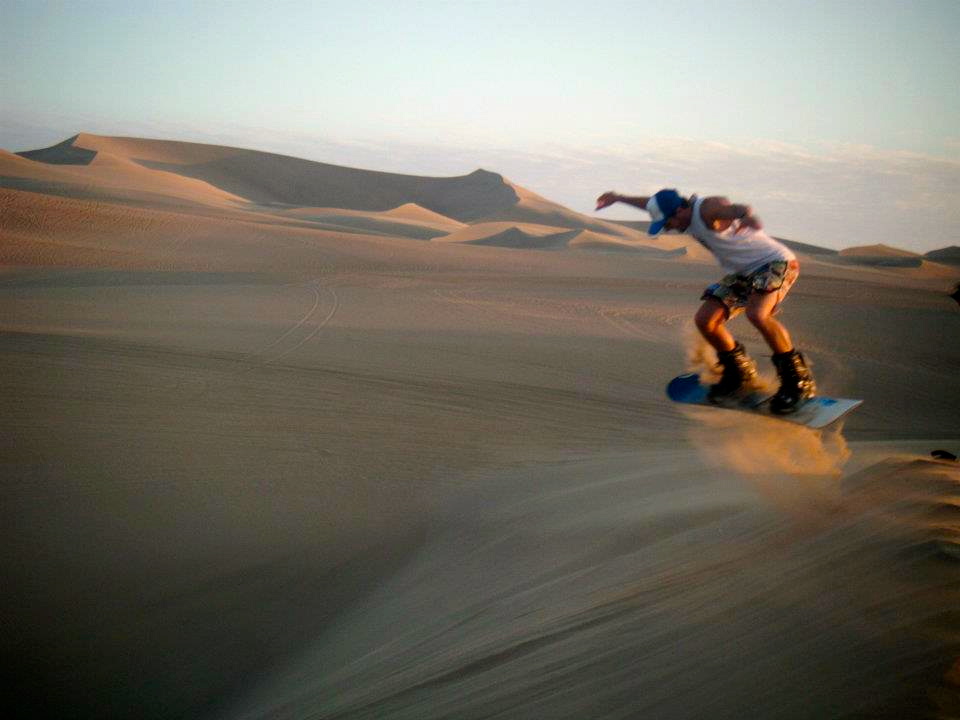 After lounging around for the afternoon we started to get ready to set off on our sandboard tour, 11 of us piled into a dunebungy and flew over the mounds sand! Engine roaring, sand soaring, it was so much fun. Such a rush! They drove us to the top of some huge sand dunes and we got strapped into our boards and boarded down. To make the experience even better, make sure to do the afternoon session if you can because the sunset is unreal!
Tip
Another great side trip you can do from Huacachina or on route to Lima is to visit Islas Ballestas that are a group of islands near the town of Paracas which is only an hour away. Read about my side trip to Islas Ballastas here.