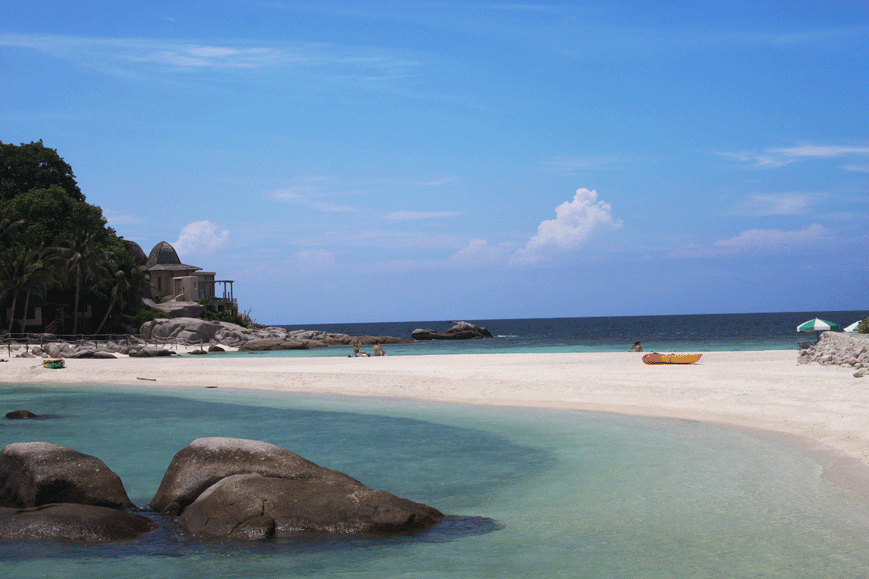 Koh Tao, Thailand is very well known to the scuba diving community, the island is surrounded by some of the world's most beautiful dive spots. For a non diver and beach lover, Koh Tao had me in awe every second of the trip above and below the water.
Koh Tao is a 2 hour ferry ride away from the world renown beach playground of Koh Samui and has a completely different feel. This incredible tiny island is well worth including in a trip to Koh Samui. It has managed to keep a rustic charm that has you feeling like you are "roughing it" but with all of the modern conveniences. The island is full of dive shops, most of which have accommodation behind them in the form of small wood cabins along the beach.
We stayed in a charming villa at Koh Tao Cabana which offers different kinds of accommodation from rustic wood cabanas to newly built villas. We were so happy with the location of this hotel which is right at the end of Koh Tao's main beach Hat Sai Ri. Sai Ri beach is beautiful with turquoise water, white sand and lots of restaurants, hotels and massage shops lining it. At night the vibe of the beach changes completely with a seafood restaurant popping up right on the beach and the cafes become full with back packers and divers ready to quench their thirsts. It's a refreshing change from the bright lights and dance music found on Koh Samui.
During a trip to Koh Tao, try out one of the many massage shops lining the beach or along the walkway right behind the beach. A 1 hour Thai massage or 1 hour foot reflexology session at one of the small shops is only 300 baht which is about $10USD. Such a great treat after a day of exploring.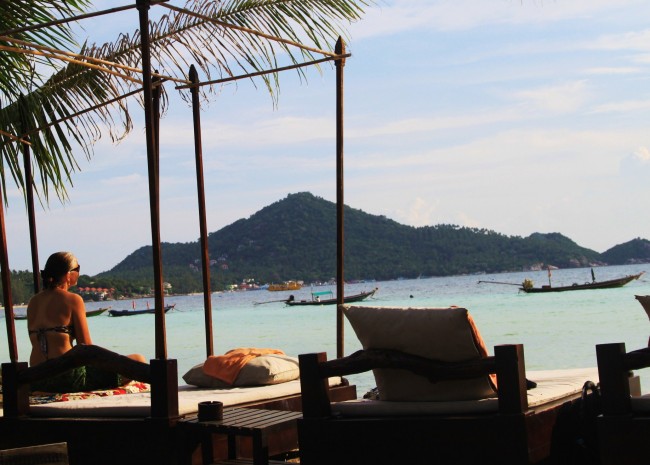 No trip to Koh Tao is complete with out seeing it's beauty under the water. If you don't scuba dive, there are many snorkeling locations to give you a glimpse of the abundance of marine life. There are many tour operators that offer speed boat tours around the island that include snorkeling around different spots. We decided to go for a more Eco friendly option of renting a double kayak from our hotel for only $3.50 an hour and paddled to Koh Nang Yuan island which is only a 30 minute paddle away.
Koh Nang Yuan island is picture perfect with three peaks and a natural sand bar connecting them. There are so many fish around this island, you don't have to swim far to see lots of amazing fish. We rented snorkeling equipment and swam around the rocks and saw many different kinds of colourful fish. Keep an eye out for dark clouds in the water, we didn't realize until we were about to get out of the water that these were large schools of black sardines. On Koh Nang Yuan island we could sit in the sand with our heads under the water and watch the fish swirl past us. It's the most incredible experience.
Our two nights in Koh Tao were incredible, we could have spent at least another week there and not have run out of things to do. There are many secluded beaches and under water wonders to keep you busy for a while.