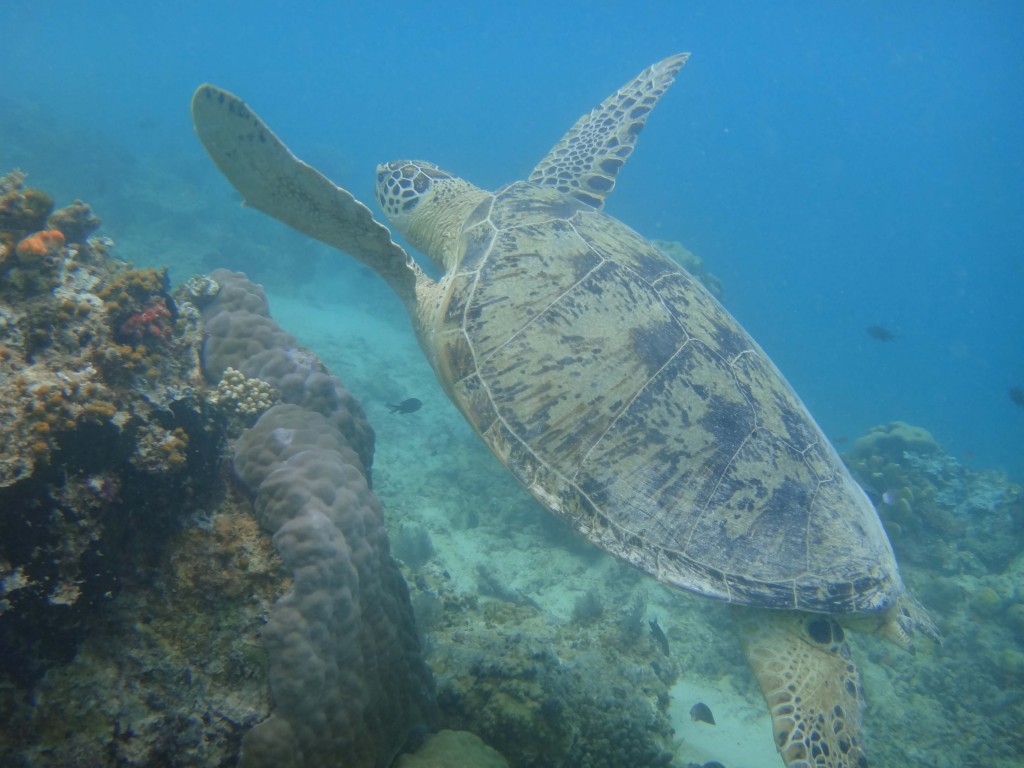 Turtles and jack fish and sharks, oh my! The amount of sea life I saw while diving Sipadan was almost overwhelming. If I had a dollar for every turtle I saw, I'd probably still be traveling, and not stuck at home working. I almost wish I hadn't dove Sipadan so early in my dive career, because nothing can come close to beating it.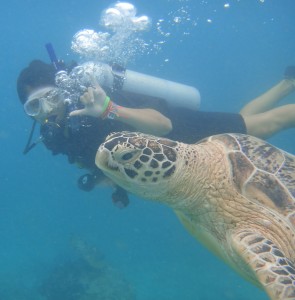 Famous for being one of Jacque Cousteau's favourite dive spots, Sipadan is a small island off the east coast of Sabah. Converted into an Island Marine Park, Sipadan is so well protected, only 120 divers can visit a day! My dad booked our Sipadan trips months in advance, and thank goodness for that! The wait list had over 30 people on it, and the chance of anyone getting lucky were slim. Then again, my sister ended up getting a permit from someone who cancelled, but she was an exception, not the rule. She also had to pretend she was from France and didn't know us when we signed in at Park headquarters, because unlike the resort we booked with, park headquarters view Sipadan permits as non transferable.
There are no hotels or resorts on the island, so my family and I stayed on Mabul at the Mabul Beach Resort. I highly recommend it; the staff are friendly and nice, the rooms were cozy and well kept, and the food, although limited in variety, was tasty. My dad and I, being the cheap people we are, opted for the fan room; I suggest not doing this. It was, at times, uncomfortably hot in the room. Then again, most of our time was spent diving, so were able to avoid the hot room for the most part.
Mabul Beach Resort is owned by Scuba Junkies. The company and staff are amazing, and really care about the environment. They try their best to make Mabul Beach Resort an environmentally friendly establishment. For example, the cooks don't serve fish, because they disagree with the fishing techniques used by the local fisherman. How progressive of them!
There's different dive packages to choose from, but if you want to dive Sipadan, you have to dive at least two other days besides Sipadan. It also can't be your first dive, because the currents can often be strong, and they want to make sure you have a basic concept of diving before they throw you into tough currents. The dives around Mabul were beautiful and exciting.
But Sipadan was the best.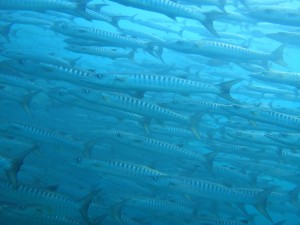 It's hard to put into words the magic of Sipadan. It left me feeling so complete it scared me, because I couldn't imagine anything else in the world that could bring me more joy. The sea creatures were incredible to see, but it wasn't just the abundance of sharks and turtles that amazed me. The wall of coral was breathtaking. Coral that beautiful is something that, sadly, exists almost nowhere else in the present day. I still feel blessed to be one of the few people permitted to experience Sipadan.
If you enjoy diving as much as I do, you should add Sipadan to your bucket list.
To book your stay at Mabul Beach Resort, visit Scuba Junkie's website at http://www.scuba-junkie.com/