Thai Foot Reflexology
Foot Reflexology and foot massage can be found all over Asia with each country and each masseuse having slightly different techniques. What they all have in common is the pressure on key points on the foot that they believe relieves pain in other parts of the body. If you have never tried foot reflexology before, be prepared for some discomfort as they push a small wood stick deep into your foot to reach those pressure points, yes that is part of the massage. The nice thing about Thai foot reflexology is that a 1 hour foot massage is often 45 minutes of foot and calf massage followed by 15 minutes of arms, shoulders, neck and some "Thai massage" type of stretches. I also find Thai foot massage to be a lot less painful than getting reflexology in other Asian countries, but this will again depend on where you go. The cheaper places along the beaches in the tourist areas are usually not as strong as the nice spas in hotels. If it's your first time to try reflexology, that might not be a bad thing.
Traditional Thai Massage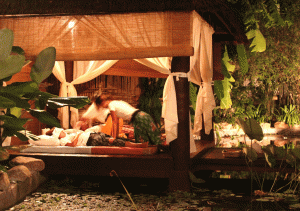 What most people think of when getting a massage at a tropical resort is laying face down on a table in almost nothing as a masseuse rubs your body with soothing oils. Thai massage is nothing like this. Thai massage is done with you fully clothed in loose clothing as you lay on a mat on the floor. Often described as the lazy man's yoga, be prepared to be bent and stretched into different positions. The masseuse is often on top of you to use their body weight to give you a very strong and deep massage. With the use of their hands, thumbs, elbows, knees and feet they massage and stretch out your legs, back, stomach and arms. My favorite is when laying face down, they grab your arms from behind, to pull you up and back half way off the floor to stretch out your stomach. It is very surprising how strong a 100 pound woman can be.
Thai Hot Herbal Compress Massage
Thai herbal compress massage is often used in conjunction with traditional Thai massage. It is the use of a herbal compress which is a mixture of many different types of herbs selected for their healing properties that is wrapped inside a cloth ball. The cloth ball is then heated and pressed on your back along specific pressure points. This massage is massage is done with oils and is very relaxing and soothing, making it a really nice way to end your Thai massage session.