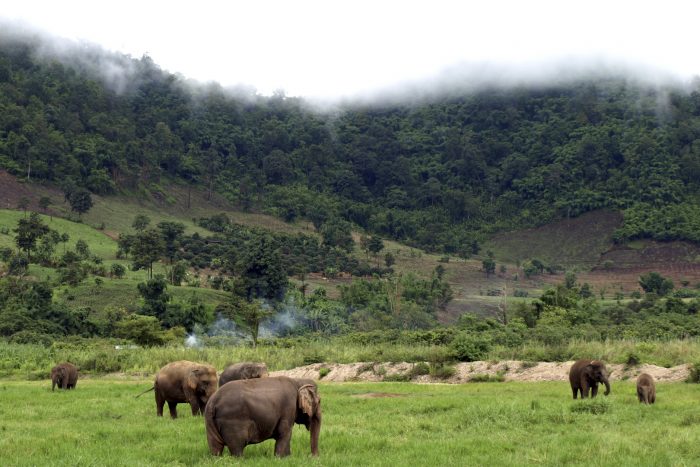 Elephants are truly one of the most spectacular creatures on the planet. Not only are these pachyderms wonderful to look at, but they're also highly intelligent, show empathy, and have strong individual personalities, close family ties, and complex social networks. And let's not forget the almost impossible cuteness of elephant babies.
For these reasons we're drawn to them. Unfortunately, this desire we have to get close to elephants is often harmful to them, and one of the most harmful activities is subjecting them to cruel training practices and then making them lug tourists around on their backs for years on end. Luckily, there is growing awareness about the impact that elephant riding has on these gentle giants. More sanctuaries are being established to take care of elephants and many of these sanctuaries are open to the public, allowing people to get up close and personal with elephants and learn about them without exploiting them.
Thailand in particular has a huge elephant tourism industry, and one of the most popular activities promoted to tourists is elephant riding. However, Thailand is also at the forefront of ethical elephant tourism, providing visitors opportunities to interact with elephants in a responsible way often at elephant sanctuaries.
Here are three elephant sanctuaries around Chiang Mai, in Northern Thailand, where you can enjoy the animals without exploiting them. An ethical alternative.
Elephant Nature Park
Elephant Nature Park (ENP) is the gold standard of ethical elephant tourism. This sanctuary and rescue center provides care for dozens of elephants, many of whom were rescued from trekking or logging camps. Visitors can go for half day or full day visits, stay overnight, or stay and volunteer for a week. There are also volunteer opportunities at other protects, such as the fabulous Surin Project in northeast Thailand. On your visit, you'll learn about the park's elephants, observe the herd, and feed and bathe the elephants—a much more rewarding experience for visitors and elephants alike.
Elephants are not the only lucky inhabitants at ENP: the park also houses cats, dogs, birds, and buffalo. In fact, dogs greatly outnumber elephants at ENP: there are over 400 canine residents at the park and volunteers can spend a week volunteering at their Dog Rescue Project. What's more, the park's work is not limited to caring for rescued animals; they also work to restore the rainforest in the surrounding area and maintain the culture and integrity of the local community.
Elephant Nature Park has won awards and has been featured in various productions by National Geographic, Discovery Channel, Animal Planet, BBC, CNN, and more.
Boon Lott's Elephant Sanctuary
Boon Lott's Elephant Sanctuary, or BLES, is another wonderful option for those wanting to interact with elephants in a responsible way. This sanctuary provides a natural home for rescued elephants, giving them over 500 acres of forested land on which they can interact freely. They also offer support and advice to local elephant owners who may lack the money to properly care for their animals, provide jobs and housing to several local mahouts and their families, and promote education about elephants and their environment. 100% of all money received from visitors and donations goes to helping BLES' animals.
Visitors usually stay at BLES from 3–5 days, although it's possible to stay longer. The sanctuary is small and only allows six visitors at a time and you have to book about a year in advance—so plan ahead. The daily schedule depends on the weather, the needs of the elephants, and other factors. Daily activities may include collecting and preparing food for elephants, feeding and walking the sanctuary's dogs, going on morning walks with the elephants, washing the elephants, and more.
Anantara Golden Triangle Elephant Camp and Resort
For a more luxurious elephant experience, head to the stunning Anantara Golden Triangle Elephant Camp and Resort in Chiang Rai. This 5-star resort features an onsite elephant camp. The camp was originally established in 2003 as a traditional mahout camp and now works with the Golden Triangle Asian Elephant Foundation to perform street rescues and provide employment and a comfortable life for the elephants and their mahout families. The foundation now supports over 25 elephants and 60 people. It should be noted, however, that there is elephant riding at the resort, so if this is something you don't want to support, consider heading to ENP or BLES instead.
At Elephant Camp, guests can receive basic mahout training, including how to "drive" an elephant, walk with elephants, help them bathe, and trek (on an elephant) to various beautiful spots.
These three elephant sanctuaries around Chiang Mai, in Northern Thailand, are an opportunity to enjoy the animals without exploiting them.