Tasmania or Van Dieman's Land as most Europeans knew it, is an island of fascinating history. British convicts were sent here on arduous journeys for sometimes petty and superficial crimes, leaving their families and loved ones more often than not, never to be seen again. Interestingly, the convicts had absolutely no idea where they were going, which led to the horror and fear of landing on this 100,000 square kilometre island in the South Pacific Ocean. They were kept in dirty cells and treated pretty horrifically. To this day, these very jail cells remain and are housed in the now popular tourist location, Port Arthur.
Our trip to Tasmania was half planned and half spur of the moment. The planned part included the booking of our Jetstar flights from Melbourne to Hobart, arranging a rental 4x4 and securing three nights hotel stays. The rest was left to the last minute. As most readers may by now know well, my choices of eating establishments usually go by locals' recommendations and luckily for me, my old 'Tassie' born and bred housemate happened to be home for his sisters wedding while we were there! Perfect! He also helped us draw up a route map which took us straight out of Hobart from the airport and in the direction of the gorgeous town of Richmond.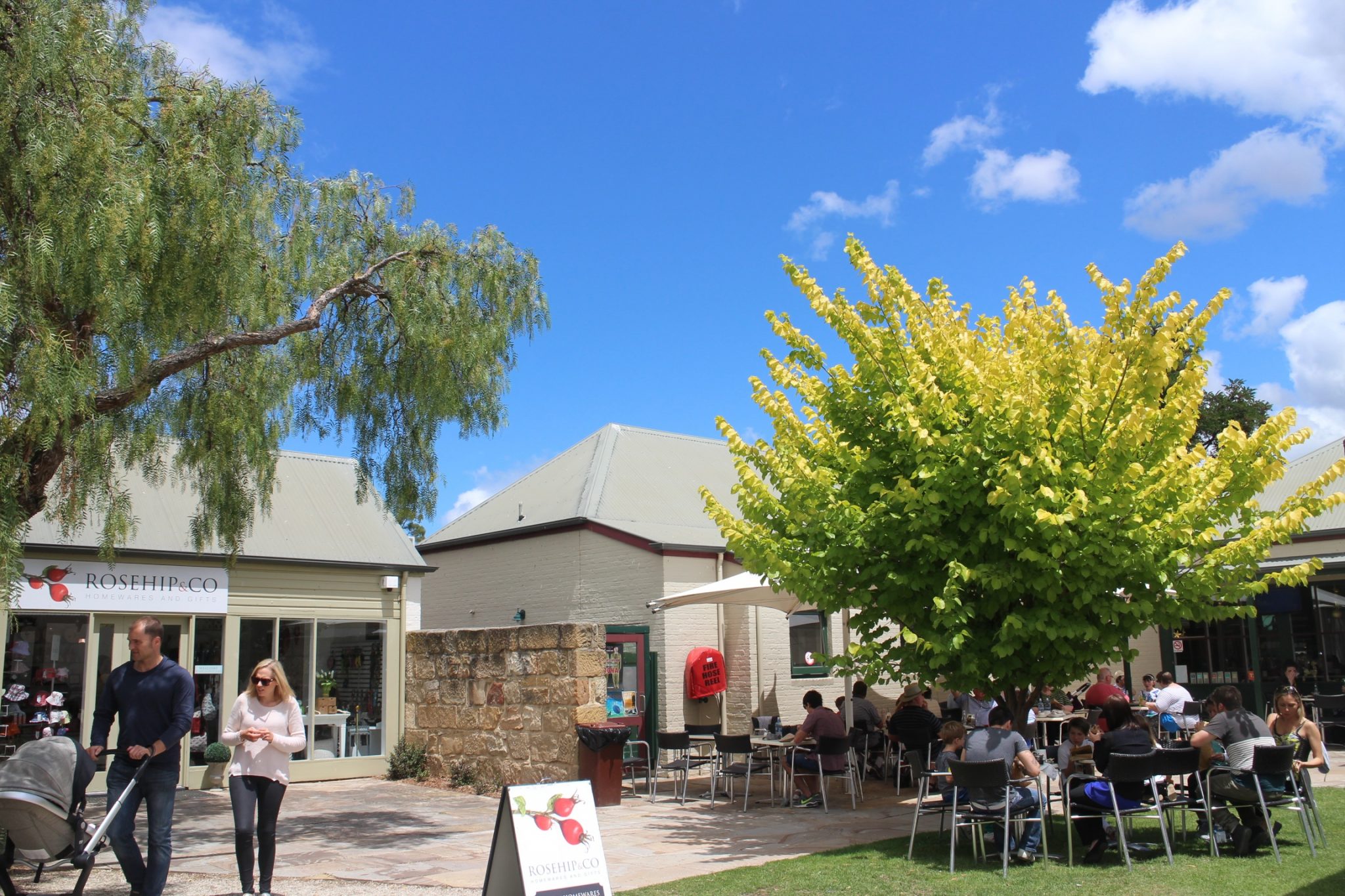 The colonial town of Richmond is like something from an old romantic novel. The streets are lined with heritage listed buildings and tree lined streets enriched with oversized gum trees and quaint historical sites. After visiting the local bakery for a smoked salmon and cream cheese sandwich, we ventured over to the Gaol; a stone's throw from the picturesque Coal River.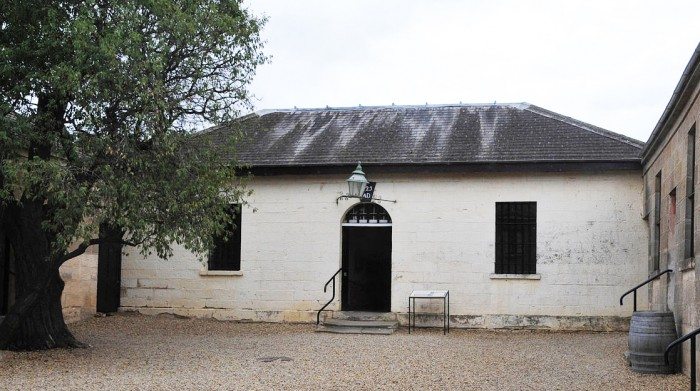 Inside the convict-era building, you will find plenty to keep you entertained where real life stories of individual convicts help take you back in time and understand what it was like to be incarcerated there over 100 years ago.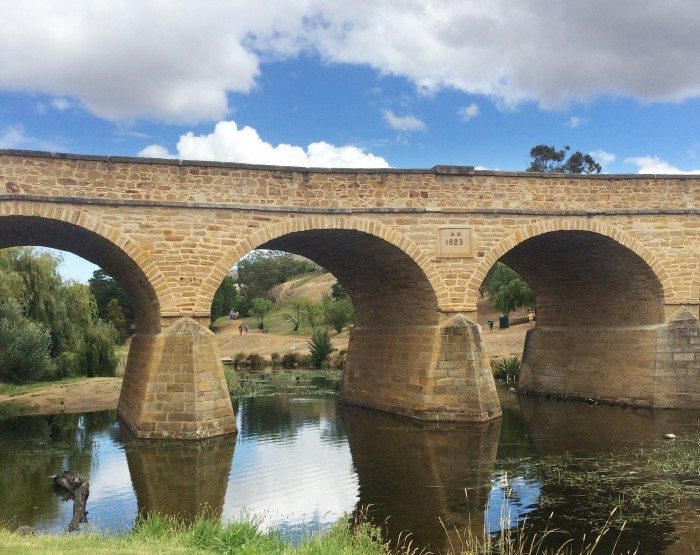 We took a short stroll to the sandstone arches of Richmond Bridge to gaze at the oldest bridge in Australia dating back to 1825. Interestingly, the bridge is supposed to be haunted by George Grover, an old Gaol worker who was employed to flog the prisoners. The story goes that George fell asleep on the bridge after a few drinks and was pushed over falling to his death. No one was ever convicted of his murder!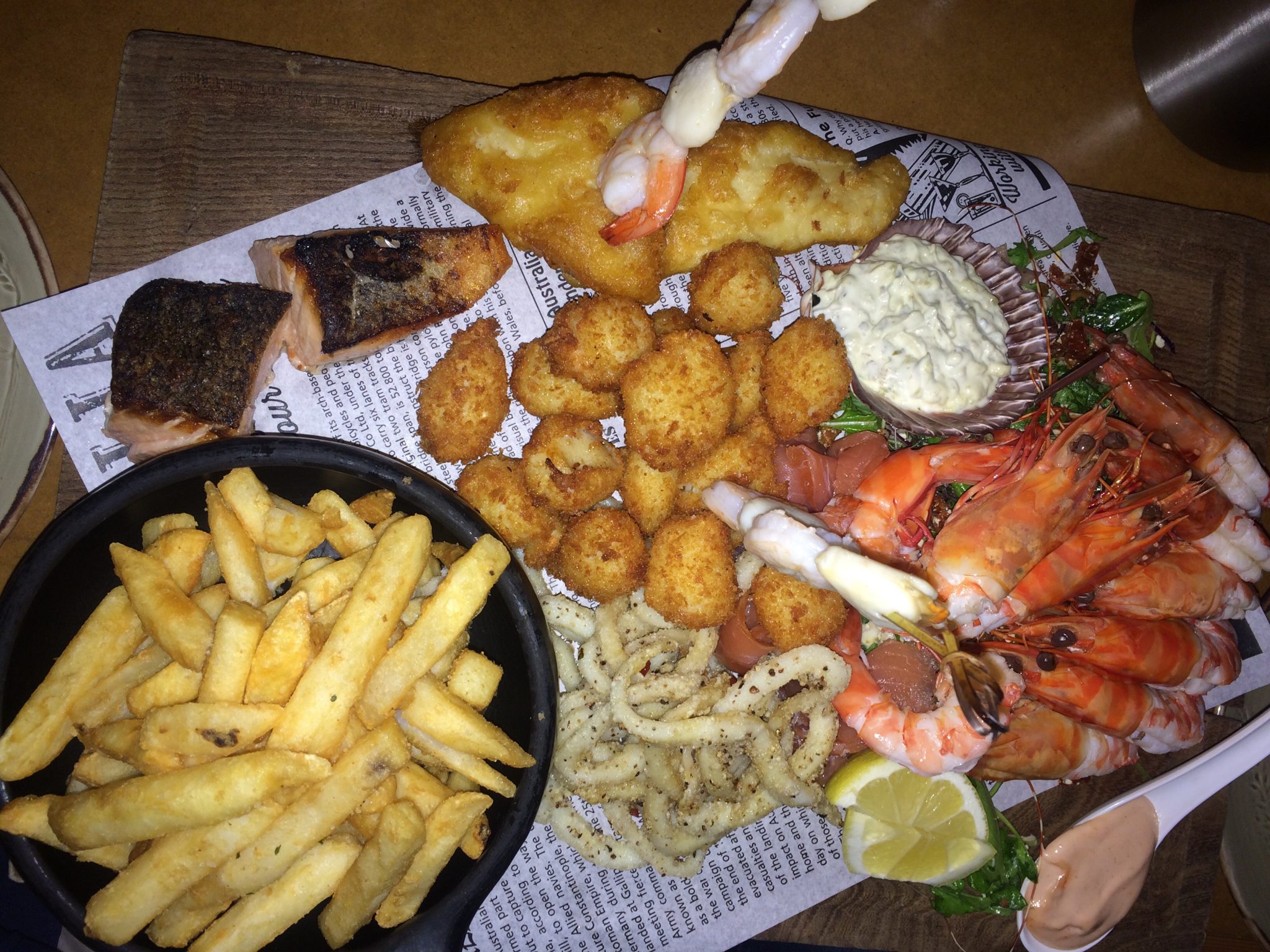 On the road out of Richmond en route to Launceston, there is plenty of interesting landscapes to take in. We didn't have much time, but managed to squeeze in a stop at the little town of Ross and also for a gelato and a wander around Campbelltown. Arriving into Launceston, what was instantly noticeable was the panoramic views and pretty parks. We checked into Peppers hotel where we were given a 2 bedroom suite and some good advice on what to see and do by the lady who checked us in. We forgot to ask for a sea view so missed out on that but we hadn't planned on spending much time indoors anyways.
A great place for dinner is a restaurant close by called Cataract on Patterson. We were served jumbo sized seafood platters, great lumps of Tasmanian eye fillet on hot stones and juicy French chicken with creamed leeks. The atmosphere is bustling and appeared to be the place to be on a Saturday evening.
The next morning we drove to the Cataract Gorge and jumped on the world's longest single span chairlift that descended over the vast canyon below. It's quite high so not for the faint hearted as well as the Alexandra Suspension bridge which swings over the powerful waterfall below on your walk back around. We managed to spot a wallaby and lots of peacocks. There are plenty of picnic areas and an outdoor swimming pool so if the weather allows, you can make a day out of it.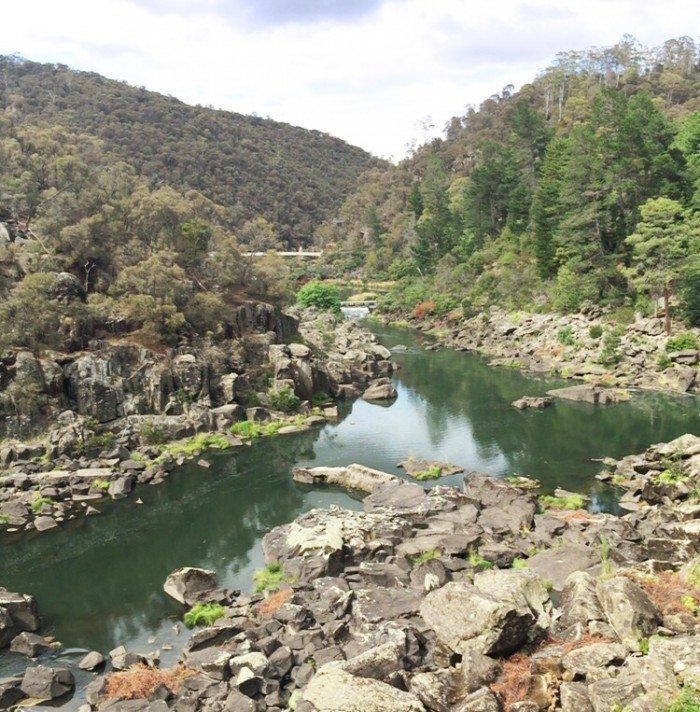 We set off for the longest drive of our trip from Launceston to Freycinet National Park to hike up to wineglass bay viewpoint and to experience the outstanding views over Cole's bay on the other side. Difficulty wise, the trek isn't the most arduous but at the same time does require a bit of fitness. A round trip should take about an hour and a half altogether. We decided to stop off for a paddle, in a little cove called Honeymoon Beach, on the road out from the wineglass bay hike. In the distance you can see swimmers snorkelling around the plentiful rocks and hikers cooling off with a quick dip in the sea.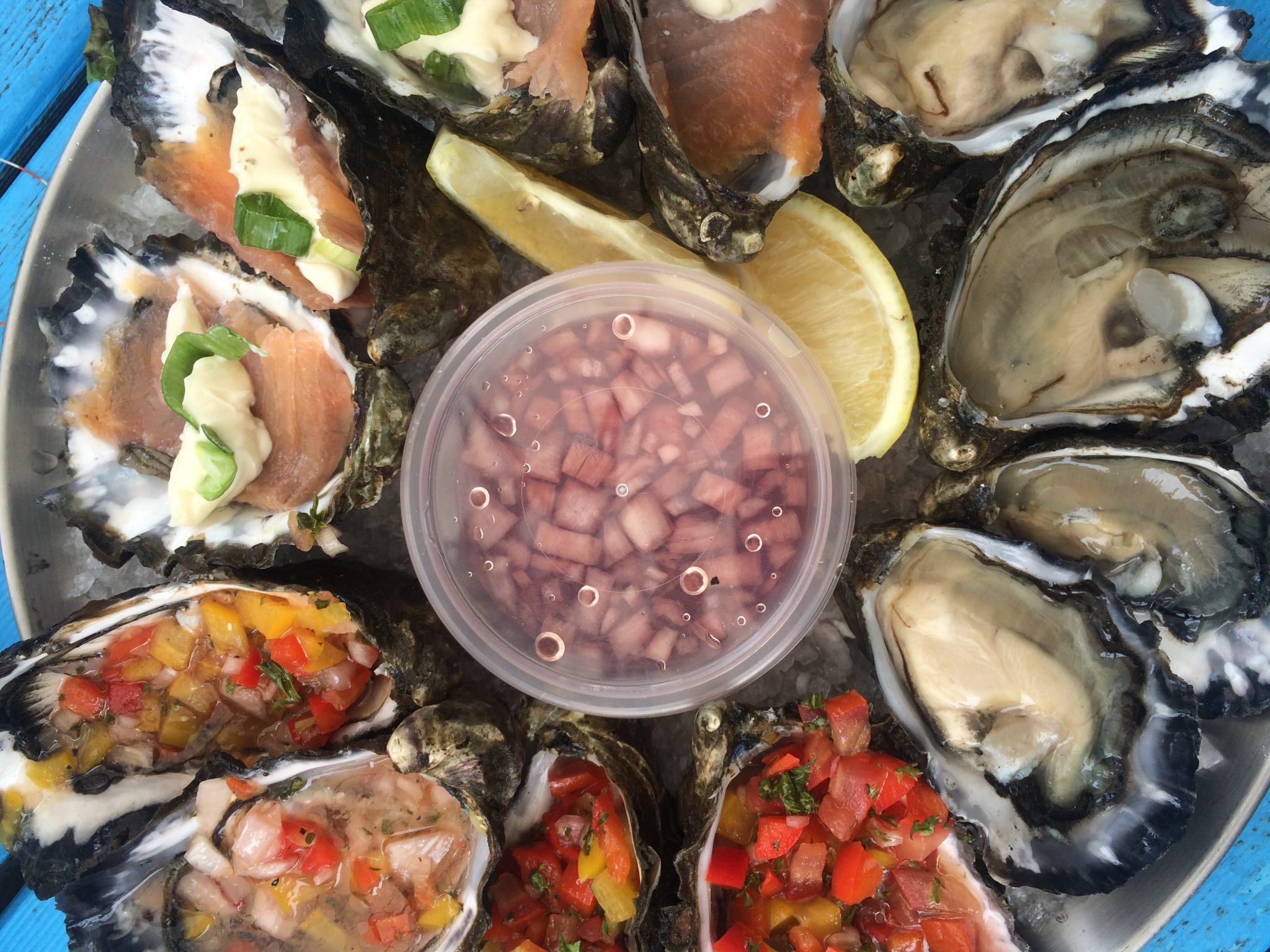 My Tasmanian friend had recommended we stop off at Freycinet Marine Farm for lunch, so we made to work up an appetite on our trek. This understated oyster and mussel farm comprises of a humble shack with one large display fridge constantly being restocked with fresh produce direct from the neighbouring marine farm. This is a popular tourist stop with a quick moving queue spanning back to the car park at the rear of the serving cabin. Bright blue picnic benches don the front decking and happy faces can be seen enjoying delicious fresh dishes from local rock lobsters to buttery scallops and flaky abalone all washed down with a glass of Tasmanian crisp white wine. This is fish at its freshest, so a stop here is worth while if on the drive to or from Cole's bay.
Hobart is Tasmania's largest and most populated town with almost two thirds of Tasmania's population living there. We checked in for our final two nights at the beautiful Victorian Hadley's Orient Hotel. This hotel is perfectly located only ten minutes walk to St David's Cathedral and Salamanca Market and an even shorter five minute walk to the port to jump on the catamaran to MONA. The former Hadley's Orient Hotel began trading in 1849 and moulded its rich tradition when an ex convict on release from Van Dieman's Land began his catering career for Government House and later went on to take over the hotel that is now named Hadley's. The interior was restored to its former grandeur in 2014 and most of the original Victorian features can still be seen today. Afternoon tea is served in the plantation style atrium beaming with natural light.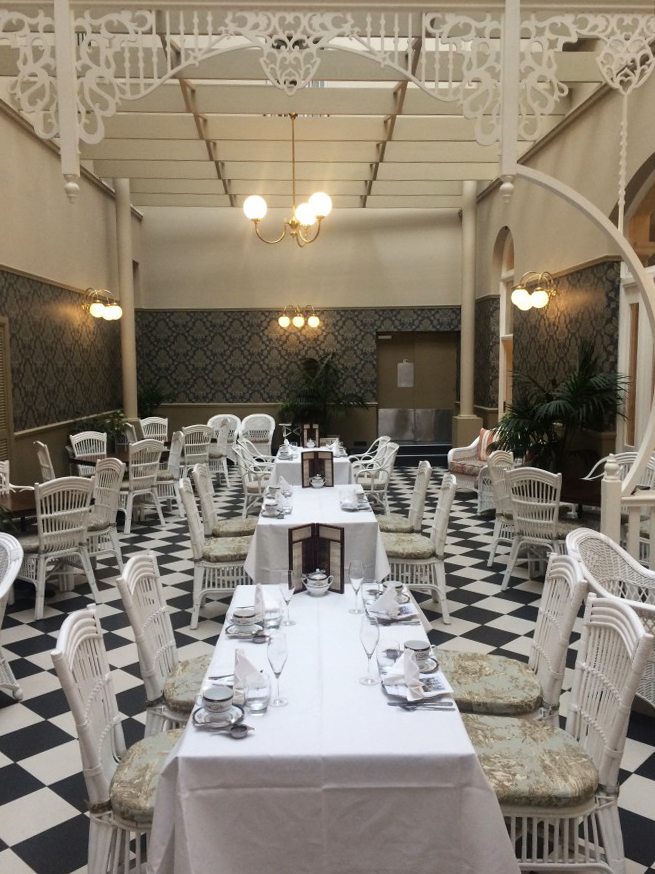 We headed down to Salamanca market which was just seeing the end of the three day Taste of Tasmania food festival. On recommendation we arrived at the Ball & Chain steakhouse. Ball & Chain pride themselves on offering fine local produce and their salad bar is abundant with fresh, tasty salads to accompany which ever cut of beef you decide on. Like most heritage buildings in Tasmania, the impressive structure was built by convicts back in the early 1800s and got its name from those very convicts that spent 18 months in chains constructing the foundations. We fancied an after dinner drink so had a number of busy bars to choose from along Salamanca market on the way back to our hotel.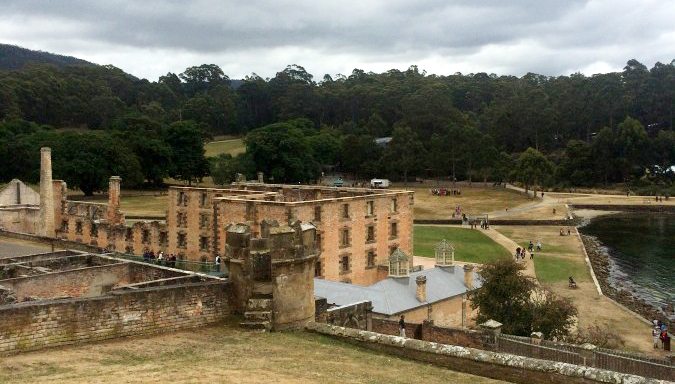 A trip to Port Arthur offers many mixed feelings and emotions. On one hand it is a bustling tourist attraction showcasing fantastic displays of historical dwellings but on the other hand it is eerie, somewhat sombre and even a little creepy at times.
The weather didn't help, it was a lot colder than the previous few days we had spent in Tasmania and the grey and overcast sky didn't help matters but it was definitely for me the most interesting and fascinating part of the trip. It has everything from ghost tours to interactive convict tours, historical graveyard tours and a couple of coffee shops to take a rest and have some lunch.
A one hour cruise takes you around the bay with a guide explaining how the convicts felt when they arrived at this remote site all those years ago. Interestingly, the prison as it was had no gates, walls or any enclosed barriers for that matter. As most of the convicts came from the UK and Ireland, the dramatic changes in the surrounding environment, trees twice the size of those at home and the unnerving shrieking of the Tasmanian Devil in the night were enough to scare anyone into staying put.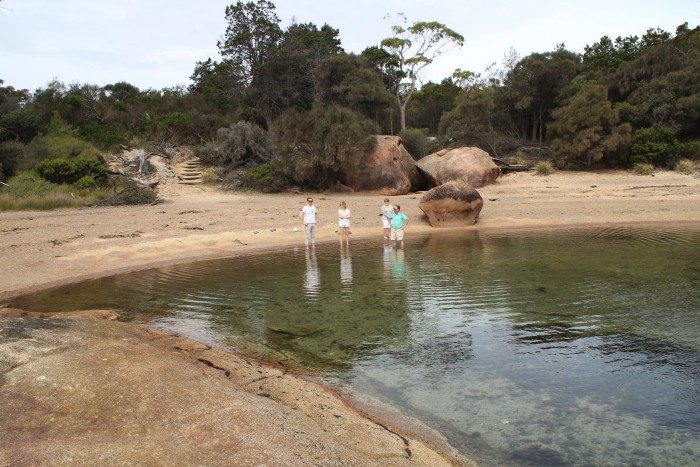 What adds to the eeriness is the massacre that took place in 1996 when a lone gunman entered the site and murdered 35 tourists and workers, carrying out the worst mass murder ever to take place in Australia. A beautiful memorial garden was erected in honour of the dead and is a lovely place to stop and pay your respects on the way out. Driving back from Port Arthur through Eagle Hawk Neck is breath-taking and worth stopping off at the popular surfing beach of Pirates Bay. You might even be lucky and see a Tasmanian Devil lurking around. We weren't!
A right little gem of a pub for a bite to eat in Hobart is the Shipwrights Arms. We met my old housemate Matt for dinner with my parents that night and he took us to a busy fisherman's pub nestled in the affluent neighbourhood of Battery Point.
We loaded up on fresh Tasmanian oysters Kilpatrick, stuffed mushrooms with onion jam and a couple of seafood platters thrown in for good measure all washed down with a Tamar Valley Riesling. A perfect last night's meal in Tasmania. Lastly but in no means least, we spent our last day at MONA.
The next morning after grabbing a salad en route, we boarded the catamaran on the way to the Museum of New and Old Art (MONA). The trip out there takes you flying along the Derwent River under the impressive Tasman Bridge. There are two catamaran options, first the 'Posh Pit' which is $50 and includes bubbles, beers and canapés or the standard sailing which is $20 and has the options to buy the same food and drink on board.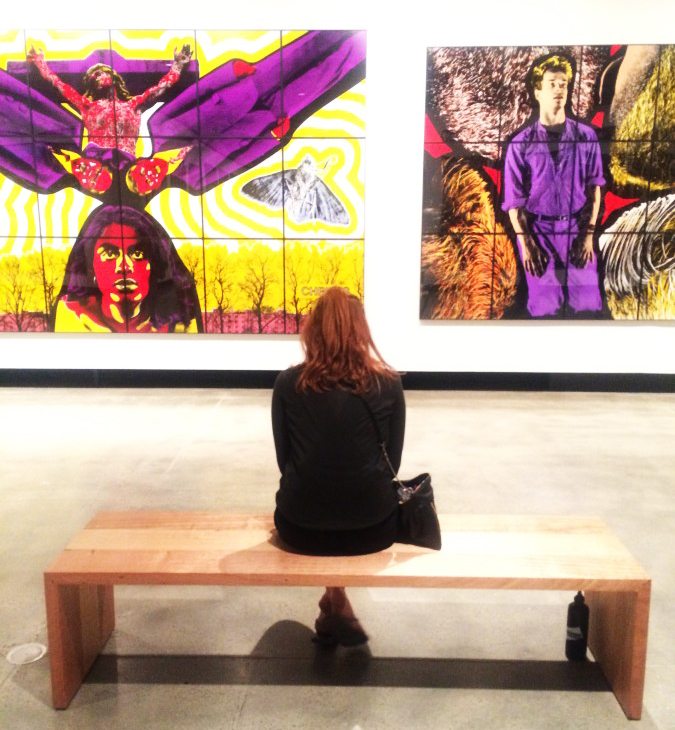 Upon arrival at this unconventional museum, you would be mistaken in thinking the site in which the building is located is very underwhelming and unadventurous. However, once you step onto land and up a set of steep concrete steps, a large unmarked door leads you into a large foyer containing a fancy coffee shop and outdoor seating area as well as an excavated spiral staircase descending 17m underground. The museum and vineyard in which it stands is owned by the very eccentric David Walsh. Mr Walsh made his money from using his mathematically genius mind to perfect algorithms and in turn form the biggest, most impressive and utmost controversial art collection of its day. MONA is truly magical.
The day we went we were lucky enough to have time to do some wine tasting at the cellar door of Moorilla Winery. At MONA there's a Michelin star restaurant, al fresco dining and a stage erected to host FOMA (Festival of Music and Art) or a simple jazz session on a sunny afternoon. The museum itself has to be seen to be believed and is deservingly featured on many top 100 places to visit lists published around the world.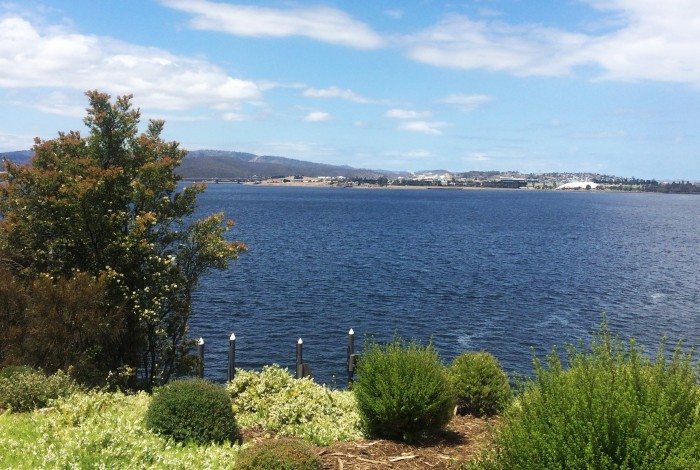 Tasmania truly is a place of utter beauty and brilliance. Its rich culture and beyond remarkable history makes this isolated island a top holiday and exploration destination. I'm a foodie and I also love gorgeous beaches and countryside hikes. I appreciate structurally attractive hotels, busy markets and unusual museum and historical sites. Tasmania has all these things and more and the only way to find out is by getting there yourself. You can thank me later.
Getting to Tasmania
There are a couple of ways to get to Tasmania. There are numerous flights into Hobart or Launceston daily and if you have the time and want to take your car, The Spirit of Tasmania leaves Port Melbourne for Devonport most nights in both directions.