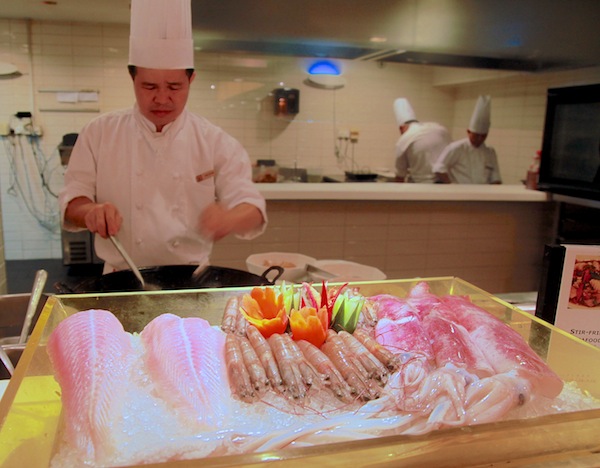 The flavours of Thailand are taking over the buffet at Plaza Brasserie at PARKROYAL on Beach Road with a Flavours of Thailand promotion. From 5 September to 31 October 2012 Executive Chef Jackson Goh will be cooking up countless varieties of your Thai favourites with everything from Thai Curries, Thai Fish Maw Soup to "Thai Style" Steamed Fish. Get ready for a mind blowing selection of delectable Thai cuisine that will make you want to try a little bit or a lot of everything.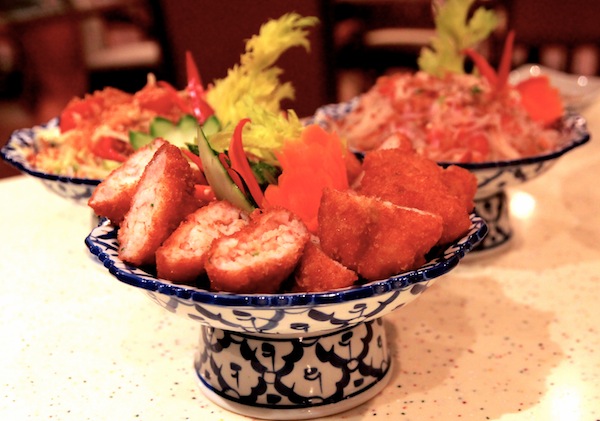 Excite your taste buds with a selection of Thai appetizers. A few of our favourites include Prawn Cakes that are perfectly crispy on the outside, soft on the inside with chunks of real prawns; Thai Glass Noodles Salad and Thai Papaya Salad that are fresh with delicate flavours and a bit of spice.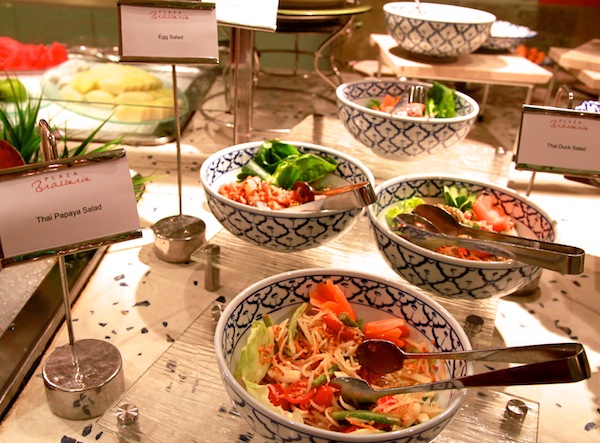 But those are just a few of the appetizers available. In the salad section take your pic from Duck Salad, Egg Salad, Thai Beef salad, Thai Seafood Salad, Thai Mango Salad, and Tom Yam Fruit Salad. Enough salads for you?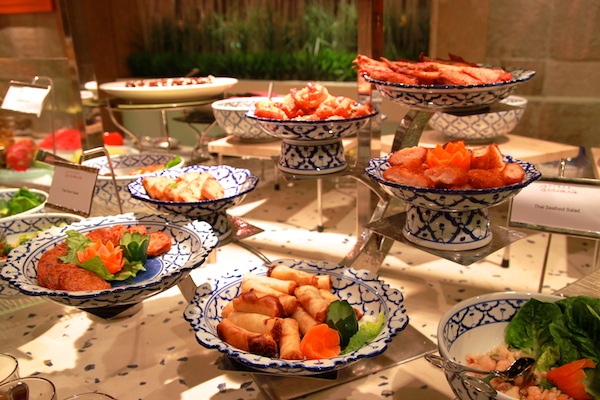 Besides the must try Prawn Cake, try the unique Prawns on Toast, tiny crunchy pieces of toast with a bit of oil and prawns on top. Other bite size choices include Stuffed Chicken Wings, Spring Rolls and other mini bites.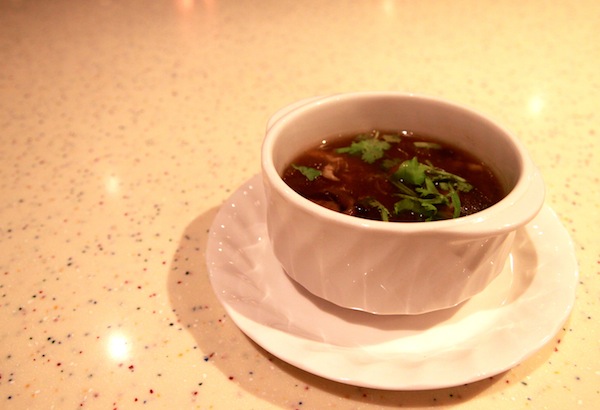 Our absolute favourite from the Flavours of Thailand buffet is the Fish Maw Soup. A flavourful broth filled with real crab meat, sweet tasting fish, mushrooms and topped with fresh cilantro. So good, you won't want to pass this one up if it is on offer the night of your visit.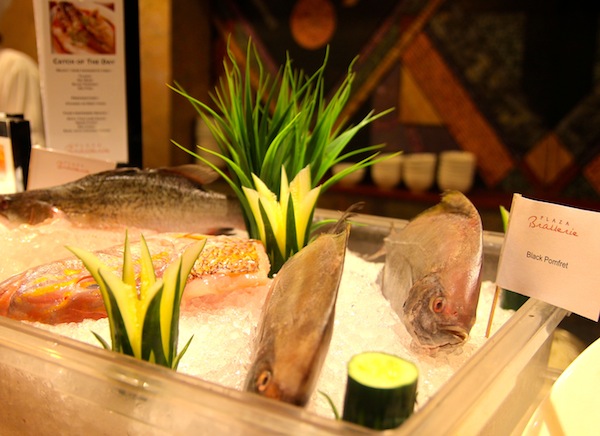 As if the appetisers weren't enough to have you mentally full, the mains will floor you. Choose from fresh seafood displayed on ice and have the chef cook it the way you like it. Pick from fish, prawns and squid and have it stir-fried Thai style in front of you. Or pick from the "Catch of the Day" of tilapia, sea bass, black pomfret, or kee fish and have it steamed or deep-fried with your preferred sauce of either spicy Thai lime sauce, green curry, red curry or basil with coconut cream.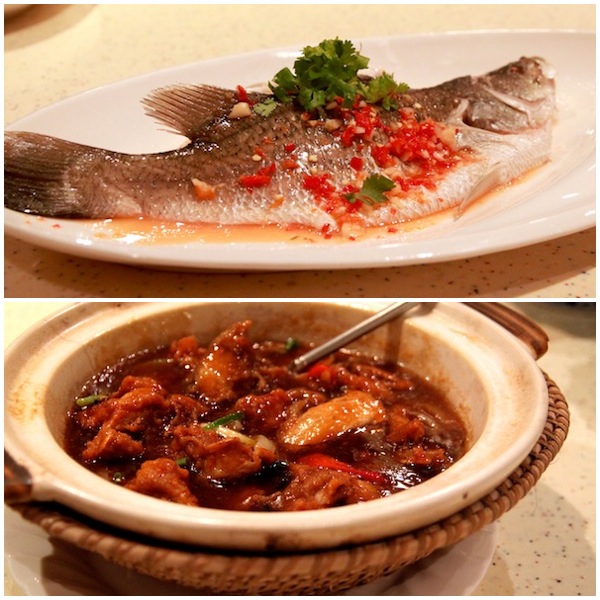 Different Thai mains to try include the Roast Duck in Red Curry and Thai Pork Belly.
The Thai selections aren't the only dishes available, other Plaza Brasserie classics are still available like their deep fried Soft Shell Crab with Tobiko and Braised Sea Cucumber with Roast Pork and Mushroom as well as their omni present sushi station.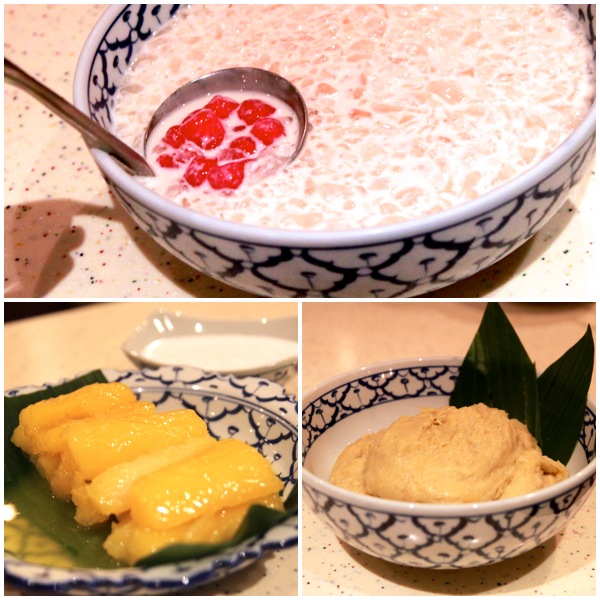 Something sweet is always a great way to end a meal and during the Flavours of Thailand promotion, you can end your meal with Red Rubies a milky Thai dessert with soft yet crunchy "red rubies", Glutinous Rice with Durian Paste and Tapioca with Coconut Cream. As a non durian lover, I always try to taste a bit of durian whenever it's around as I've heard it's an acquired taste. I have yet to acquire the taste, but the durian paste was surprisingly good. For being durian flavoured that is.
The dessert selection continues with a large variety of other goodies including a selection of Thai cakes, fried bananas, ice cream and different western styled cakes, giving you lots of reasons to save room for dessert.
Details
Flavours of Thailand Buffet
September 5th to October 31st 2012
Buffet Dinner
Monday through Sunday
Adult S$52++, Child S$31++
PARKROYAL on Beach Road
Plaza Brasserie
7500 Beach Road
199591, Singapore
T: 6505 5710
This was an invited food tasting