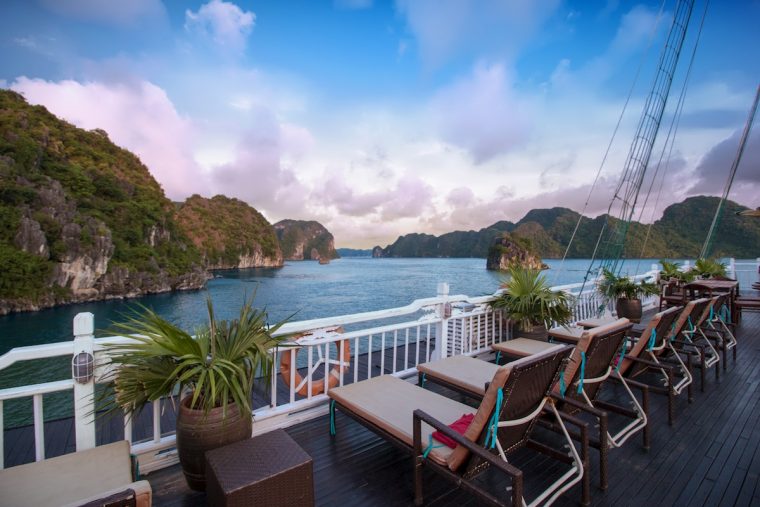 It's easy to see why Halong Bay is a favourite amongst visitors to Vietnam. Its dramatic limestone cliffs jutting from emerald green waters and rose coloured sunsets have been a draw for some time now.
When the sights are paired with a luxurious Junk Boat serving fine cuisine and expertly crafted cocktails, it all creates for an unforgetable experience.
While there are many different junk boat cruises available that range from budget to super luxury, we chose Aphrodite Cruises for its luxurious interiors and high end experience that didn't break our budget.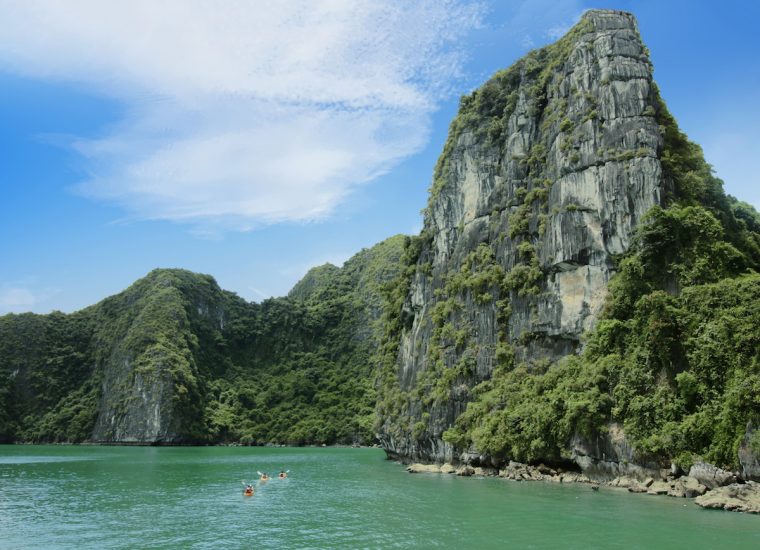 The Itinerary
Be as active or relaxed as you choose while taking in the ever changing landscape of Halong Bay. Both the one and two night cruises will give you the chance to explore nearby caves, climb to a look out and kayak or boat through the calm green waters. All activities are optional and if you decide to opt out of any of the day trips you'll likely get to enjoy the peace and quiet of having the boat practically to yourself.
We opted for the two night cruise which allowed us to experience a more tranquil side to Halong Bay. On the two night trip you change over to a smaller day boat and cruise to the more secluded areas of Halong. Here you get the chance to go inside a hidden cave and kayak up close to those lush towering islands that give Halong Bay its unearthly feel and escape the crowds. The second day of the trip away from the crowds was an absolute highlight. You will also take a stop to either a floating village or pearl farm. Be sure to bring cash with you incase you want to buy something and plenty of sunblock - you'll spend the full day getting on and off your day boat.
In the evening head to the deck and enjoy two for one happy hour while watching the colours of the sky change and the sun disappear. Every evening you can also take part in a cooking demonstration or go squid fishing for those who still have the energy.
The Boat
In terms of boat size Aphrodite is one of the larger ones sailing Halong Bay. The boat has a lovely and bright dinning area where you can enjoy the views while dining and has a spacious sundeck to sunbathe, read and relax. The boat also boasts a spa if you're after ultimate relaxation.
Aphrodite Cruises offers 4 types of Cabin options, Luxury double cabins with and without balconies, Family Suites as well as Luxury Terrace suites with a bathtub and a large terrace
Wine and Dine
All Aphrodite cruises include full board which means all your meals while on the boat are covered, all you need to take care of are your drinks. Lunch and dinner are a 5 course meal all plated to perfection and using fresh ingredients, while for breakfast you can enjoy a light buffet style set up and a full brunch spread the day you head back to port. The portion sizes are plentiful so there's no chance of going hungry. They have a great selection of wine, beers and cocktails to choose from and during happy hour you can sip two for one drinks while taking in the stunning sunset scenery.

Our Thoughts
Halong Bay is mind blowingly beautiful and sailing on a charming junk boat added to the experience. From start to finish our 2 night 3 day tour with Aphrodite Cruises was unforgettable. The optional pick up service from Hanoi in a luxury van was a comfortable and convenient way to get to the port. The bed was one of the most comfortable we had on our entire trip and the food was pretty special.
It seemed the one day tour was the most popular across all boats sailing in Halong Bay which meant the activities to a lagoon and to Titop Island were super busy, so be prepared for the crowds. The additional day was a much more relaxing way to enjoy Halong Bay and if time and budget allow I would highly recommend doing the additional day.
On the last day of our tour we decided not to go out to one of the caves and instead spent the time relaxing in our cabin and on our private balcony. Sometimes doing nothing is a luxury especially when its accompanied with views of Halong Bay.