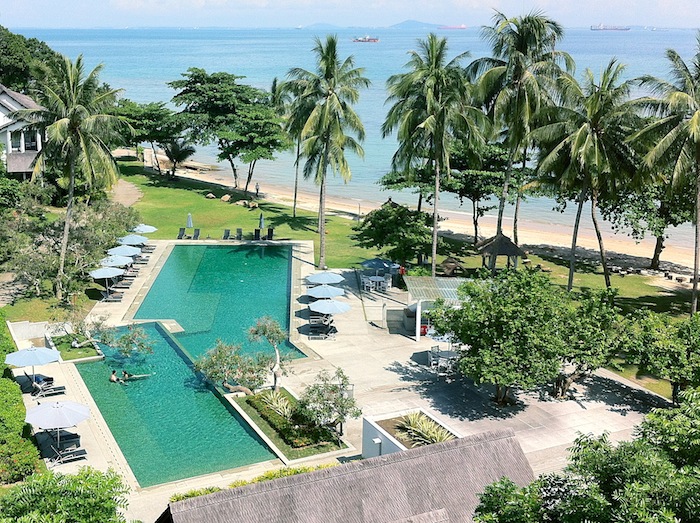 As I lay on my lounger, drink in hand looking over the infinity pool at Turi Beach Resort, I realize that only a few hours earlier I was in the midst of the hustle and bustle of Singapore. Now, I am enjoying my version of paradise listening to crashing waves with my only worry being moving my lounger to keep my feet away from the setting sun. It's amazing that such an idyllic getaway is only a 35-minute ferry ride from Singapore.
Check rates for Turi Beach Resort on Expedia
I started my morning leaving my home on the East Coast only 30 minutes before ferry departure time. Sure I still made the ferry, but I got a look of disapproval from the ticket staff. So arriving the suggested 30 minutes before departure might be better for next time. As I settled into my seat on the ferry, I noted the odd mixture of passengers. A few couples in shorts ready to relax, golf enthusiasts already dressed to go and LOTS of aunties and uncles. I later found out the older passengers were transferring to a gambling boat upon arrival in Batam. So it seems there is something for everyone over here.
After going through customs, a little shuttle marked "Nongsa Resorts" was waiting to take us 5 minutes up the road to the resort. I am told Nongsa Bay is the closest point to Singapore on Batam allowing my trip from home to Turi Beach to be just over an hour.

Upon arrival at the resort I was greeted with an ice cold ginger drink and taken to my Tirta Premier room, a 40 sqm room with teak flooring, seating area and a private balcony with spectacular sea views. I knew right away I would be spending my evening and morning on that balcony just gazing over the water. Even the bathroom turned out to be a treat with stone covering the floor and walls and an oversized rain-shower head. Something I always look forward to when staying at a hotel.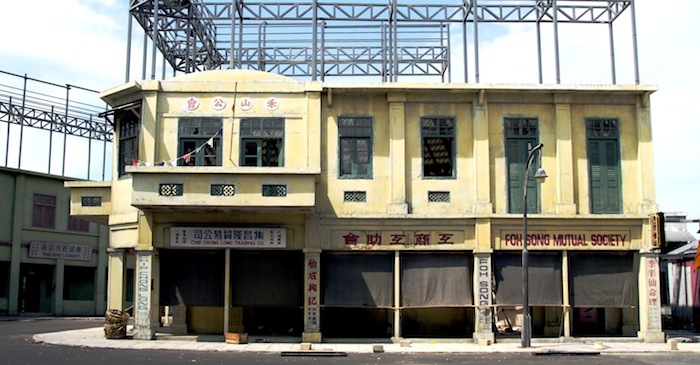 Novilia, my host during my stay arranged a few tours so I could get to know more about the attractions of the island. Our first stop was to Infinite Studios, currently the largest studio of its kind in Southeast Asia. I was a bit skeptical about why I would want to look at a movie studio but Novilia insisted "If you come to Batam, you have to see it. It's a must during any visit here". I am so glad she insisted because I got a first hand look at film sets and a little town recreated solely for the filming of Serangoon Road - a 10 episode HBO series featuring Joan Chen.
After being blown away by the detail that went into the production of movies, tv shows and cartoons, we were off to our next destination - Tamarin Santana Golf Club. There are 5 golf courses within minutes from the Nongsa ferry terminal and Tamarin is a 9 hole golf course designed by Jack Nichlaus. A tour around the golf course by buggy and I could see why many men enjoy spending their weekends on the golf course, especially at this one with sweeping views of the South China Sea.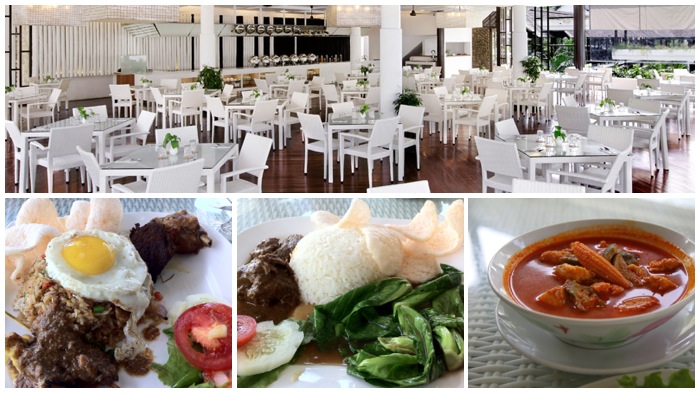 If you can believe it, I arrived from Singapore, toured a few attractions on the island, and still made it back in time for lunch. Novilia, my husband and I headed to the hotel's all day dining restaurant - Taming Sari Café. The lunch menu is full of Western and Indonesian dishes but we all opted for Indonesian considering we are in Indonesia. My husband had his usual Beef Rendang (S$12), Novilia had the Nasi Goreng Kampung (Kampong Fried Rice S$10), and I had the Ikan Asam Pedas (Hot and Sour Fish S$12). I thought all dishes to be very reasonably priced for a resort and were enough to keep us full until dinner.
After a big lunch, there is nothing better than just relaxing. Being in Batam, I get to do this by the pool where I lay now feeling my muscles slowly relax, my mind starting to clear and my worries going away. To think, the next time I want a quick tropical getaway without a Singapore price tag, I just have to hop on a ferry to Batam.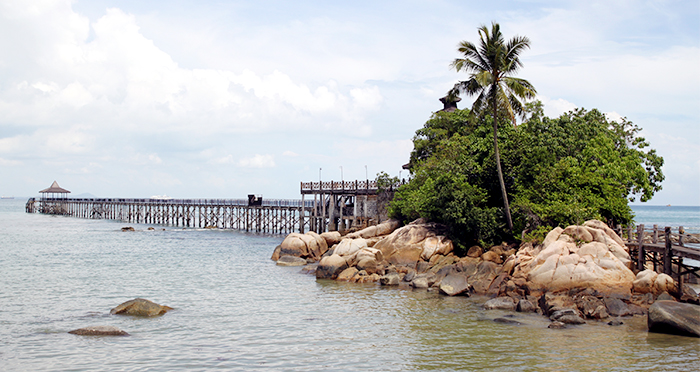 Getting There
Travel from Singapore to Nongsa Bay, Batam on Batam Fast www.batamfast.com
Activities
Golf at Tamarin Santana Golf Club
Film Studio Tour at Infinite Studios
Massage and full body treatments at the in-house spa
Water sports including Jet Skiing, Wakeboarding, Canoeing/Kayaking, Snorkeling
Shopping at Batam Centre, a 30 minute ride on the hotel's shuttle.
Eat and Drink
Nogusaya Teppanyaki & Grill - on site Japanese restaurant serving Teppanyaki and Grill
Taming Sari Café - All day dining and buffet dinners
Island Bar - The perfect spot to watch the sun set from this unique bar that is built on stilts and promises a 360 degree panoramic sea view. It also has a 220m jetty walk that extends out to the South China Sea.
Turi Beach Resort
Nongsa, Batam
Tel +62-778 761 080
Fax +62-778 761 279
Email reservations@turibeach.com