Singapore's best burgers vary from cheeseburgers at Omakase Burger, to the Truff Ryder at Three Buns at Potato Head Folk, to the Buttermilk Fried Chicken Burger at Wolf Burgers at PasarBella Suntec. There is a burger—or two, or three—for everyone.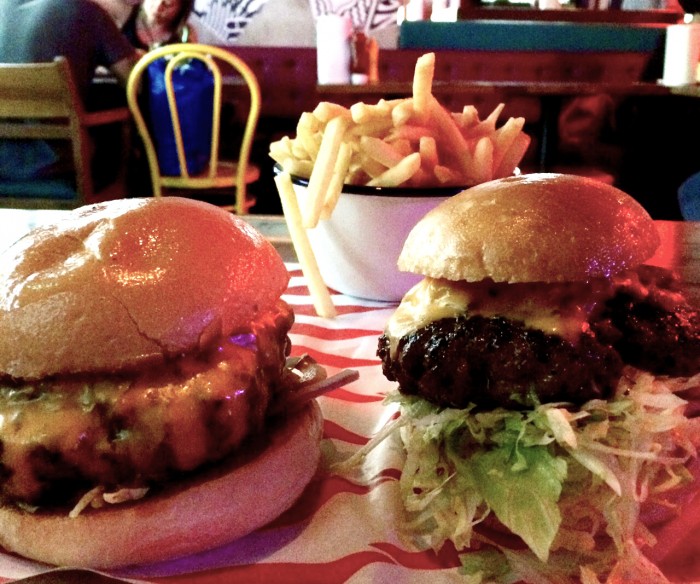 MEATLiquor SINgapore
Topping our list of Singapore's best burgers is the uber-popular burger joint from the U.K. Originally a food truck in South London, MEATliquor. MEATliquor is known for American-inspired burgers, carefully sourced ingredients, and long queues.
Burgers come in three categories: Beef, Chicken, and The Others. Beef favorites include the Bacon Cheeseburger and the ever-popular Dead Hippie, made with two mustard-fried beef patties, lettuce, cheese, pickles, onions, and dead hippie sauce. In the Chicken category, try the Dirty Chicken Burger or Buffalo Chicken Burger. Popular sides include chicken wings and Shambal Fries, a messy heap of deliciousness which includes sambal sauce, a fried egg, and crispy onions. With sauce oozing from these burgers, you better have the napkins ready!
MEATLiquor - 99 Duxton Road Singapore 089543
Three Buns at Potato Head Folk
A list of Singapore's best burgers wouldn't be complete without Three Buns. This Jakarta import offers some pretty impressive burgers created by Chef Adam Penney, famously from London's 'Patty & Bun'. The first floor is almost hawker style, you order at the window and can have a seat at one of the outdoor tables. The second floor is more cosy with comfortable seating and kooky decor. While both have burgers, the upstairs has a larger menu.
Three Buns, which has excellent burgers with beef, chicken, lamb, and even crab patties. Popular choices include the Baby Huey and the Honky Tonk. For a particularly decadent treat, try the Truff Ryder; this burger is comprised of a Waygu beef patty, pan-seared foie gras, black truffle and den miso mayo, and more. As for sides, the Naughty Fries are also a favorite.
Three Buns - 36 Keong Saik Road, Singapore 089143
Bergs Gourmet Burgers
With three locations in Singapore, Bergs offers an extensive menu, huge burgers, and affordable prices. Classic burgers include The Berg and Berg with Cheese. If you're really ravenous, go for the BFB, with two beef patties, bacon, egg, pineapple, beetroot, cheese, aioli, and Bergs sauce. A chicken favorite is the Porto Pollo, made with grilled chicken, spicy Portuguese marinade, cheese, Peri Peri sauce, aioli, and more. There are also lamb, fish, and vegetarian options.
Choose from two sizes: small and Berg (large). And come hungry!
Bergs Gourmet Burgers - Haji Lane, East Coast Road and Far East Square
Fatboys The Burger Bar
Fatboys provides well-priced gourmet options, a build-your-own-burger menu, and a friendly, laid-back atmosphere. Their best-selling burger is the Wimpy, with cheddar cheese, bacon, a fried egg, and homemade barbecue sauce. Consider the Bleu Peppercorn, with an onion ring and homemade blue cheese, or the Pizza the Hutt, with tomato concasse, pepperoni, and melted Monterrey jack cheese.
For the build-your-own burger menu, you can choose the bun, patty, and sauces.
Fatboys - Six locations in Singapore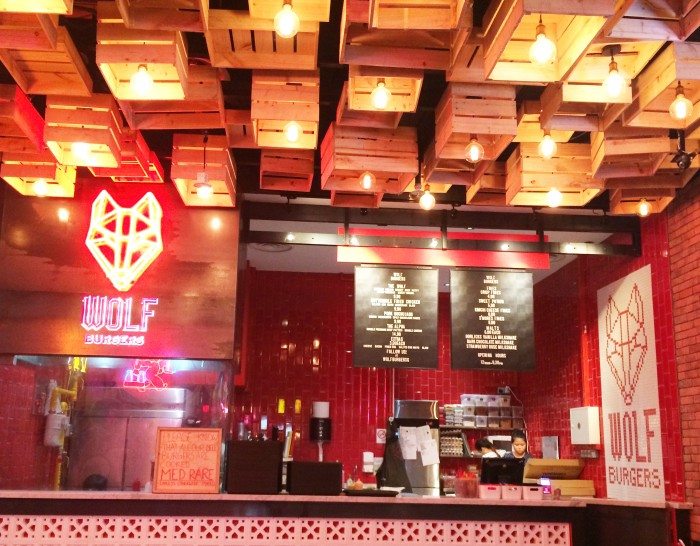 Wolf Burgers at PassarBella Suntec
Brought to you by the people behind Carver's & Co, including head chef of Carver's Sarah Lin, Wolf Burgers is serving up some seriously tasty food. And, not surprisingly, the place is generating some buzz.
Some of the options include the basic The Wolf, with their "secret beef" patty, cheddar cheese, and caramelized onions; the Pork Gochujang with a pork patty, kimchi, and Gochujang sauce for some Korean flavor; and the popular Buttermilk Fried Chicken, with marinated fried chicken thigh, salted egg mayo, and slaw. Sides include kimchi fries and S'mores fries, made with, yes—marshmallows. Finally, wash it all down with a classic shake.
Better head there quick before the word really gets out!
Wolf Burgers - PassarBella Suntec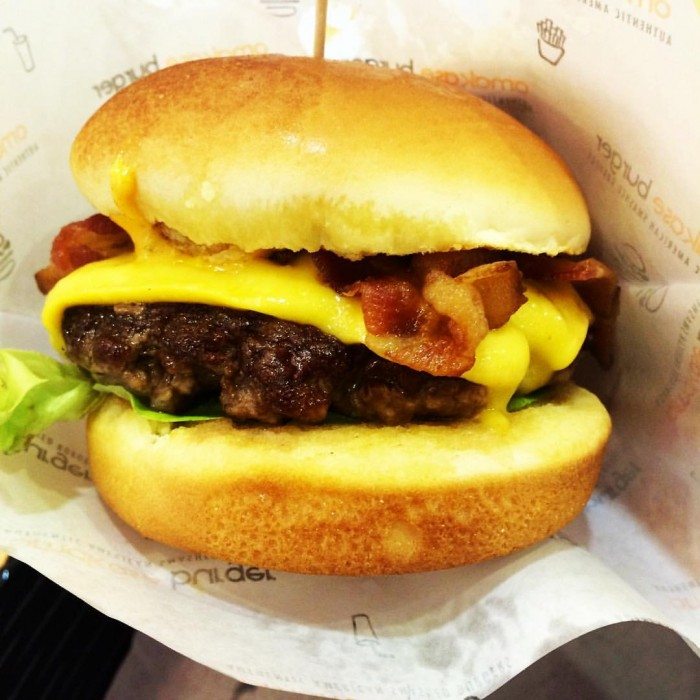 Omakase Burger
Our Singapore's best burgers journey wouldn't be complete without mentioning Omakase Burger. This four-year-old restaurant is known for having some of the best burgers in Singapore. Omakase says they have researched and perfected the all-important "beef-to-bun ratio," and customers rave about their soft, artisanal buns and tender beef patties. The only thing they need to make their burgers even better is real, not processed cheese.
Choose from one of their popular cheeseburgers; the Applewood Smoked Bacon cheeseburger is particularly delicious (but only available at the Wisma Atria location). Sides include customer-favorite truffle fries, cheese fries, and their signature Beef Tallow Fries, available on Saturdays and Sundays at the Wisma Atria outlet. Burgers range in price from S$14.90 to S$17.90.
Omakase Burger - The Grandstand Wisma Atria.
Burger Joint
This New York crowd pleaser has finally opened its first Southeast Asia outlet in Singapore! Expect thick juicy American style burgers (lettuce, cheese, pickles, onions not on a sesame seed bun) done extremely well. In perfect burger pairing style there will be 18 different craft beers to choose from. Expect queues!

Look for the neon burger sign along Gemmill Lane.

[imagebox maintitle="Want Some Beer with that Burger?" subtitle="" image="https://sumabeachlifestyle.com/wp-content/uploads/2016/03/Brewerks-Craft-Beer-Singapore.jpg" color="white" space="60" link="https://sumabeachlifestyle.com/craft-beer-singapore/"]