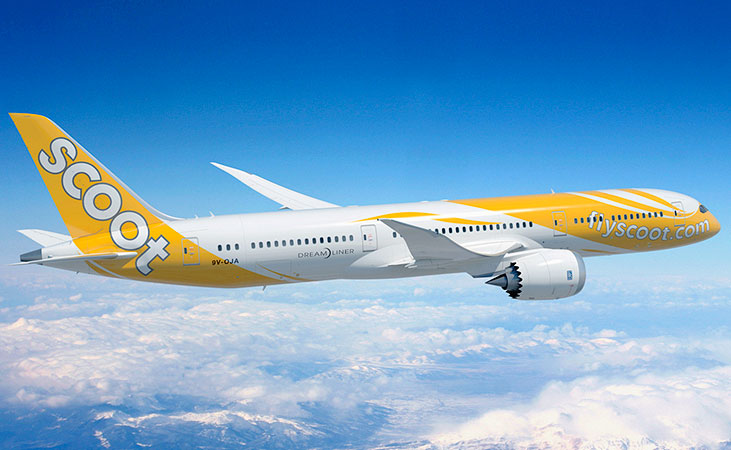 What it's Like to Fly Scoot
So you've just found a super cheap price to fly overseas with Scoot and it has you wondering "What's it like to fly Scoot?" I mean, the prices are cheap, so will I be locked in a crate and stored with the luggage? Here's our review of the low cost carrier and what you can expect when flying Scoot.
Scoot Airplanes
Scoot operates the world's first all 787 Dreamliner airline. What this means for you? Boeing 787 Dreamliners boast in-seat power, quieter engines, increased moisture in the air and the availability of online wifi. Best of all, they're said to be cheaper to operate which allows them to reduce airfares.
Scoot Luggage Allowance
You'll get one carryon bag with a weight limit of 10kg or one carryon and a personal bag with a combined weight of 10kg, but if you want to check baggage, you'll need to pay extra. If you're over on hand carry or checked, there are hefty fees in the $20 to $30 range per kg. But extra fees for overweight checked baggage is common on most airlines.
Scoot Seat Selection
Pay a small additional fee to pick your seat or to ensure you sit with your travel companions. Pay a little extra and you can get extra leg room and priority seats or even grab a seat in the quiet zone where you won't be disturbed by crying babies.
Meals On Board Scoot
Choose to pre-purchase meals before you fly or buy on board from a selection of classic Asian dishes or international cuisine which includes wraps and sandwiches. To enjoy a wider selection of meals, make sure to purchase your meal before the flight, onboard options are more limited.
You'll want to note they discourage bringing your own meals on board and make an announcement during the flight that you are not allowed to consume your own food. There are exceptions for dietary restrictions.
Scoot Amenities and Extras Available for a Fee
If you like having a few more creature comforts during your flights then you can add on things like WiFi, onboard entertainment and a snooze kit. The snooze kit will come in handy if you don't bring your own blanket, or aren't dressed warm enough, as it contains a blanket, neck pillow and eye mask.
If you want to watch movies and TV shows inflight, bring your own laptop or mobile device and for a small fee you can connect to ScootTV to watch unlimited shows and movies available from their collection.
Is it worth Upgrading to Business Class on Scoot?
Bizscoot is an affordable way to travel in comfort at a fraction of the price that other airlines charge for business class fares. With Bizscoot you'll get to board first, have double the leg room of economy seats on Scoot, a higher carryon luggage allowance, 30kg of checked baggage, inflight meal, welcome drink and free movie streaming (when available). If you need many of these anyways, check the price difference once all of the extras are added up as it might worth the small additional price to upgrade to ScootBiz.
If you're travelling from Singapore you can add on Scoot-in-Style for lounge access to the SATS Premier Lounge which includes Wi-Fi, shower, workstations, massage chairs, magazines & newspapers, and light meals and drinks. You can get pampered when flying budget!
Almost Unavoidable Extras
You've got a price for roundtrip airfare to your destination that includes taxes and fees, but will that really be the final price? Even if you manage to wear all of your clothes, you won't get away without paying any extras as you'll still need to pay a small processing fee of around $20 per passenger when paying by credit card. Sometimes you can pay using a gift voucher or AXS to avoid or pay a lower fee.
Change Fees On Scoot
Scoot being a low cost carrier, if you need to change the dates or time of your flight, cancel your flight or transfer your ticket to someone else, you can expect to pay hefty fees or not be able to do it at all. Often the fees are more than just booking a new flight, so when booking a flight on any budget airlines, always make sure your travel plans are concrete and arrive early so you don't miss your flight.
Should You Fly Scoot?
Lets face it, with super cheap prices it's hard to resist flying Scoot. If saving that money means you can travel more often or have more funds to enjoy your destination, why not? The choice is yours: you can keep your fare low by minimising your extras, or splurge on upgrades and get an experience that surpasses flying economy on most traditional airlines while still often paying less. Give Scoot a try!
Note: Scoot will soon be rebranding Tigerair flights to Scoot which might change a few things.