Novotel Yangon Max Review
For a modern stay in Yangon, consider Novotel Yangon Max. This 5-star Novotel offers spacious, modern rooms; a large pool; and a spa and fitness centre. There are four restaurants and five bars to choose from meaning you can eat at all different restaurants during a 1 night stay at the hotel and don't need to leave when you want to knock back a few drinks.
For ideas on what to do in Yangon read Alternative Things To Do in Yangon.
Novotel Yangon Max Restaurants and Bars
The buffet breakfast at The Square in the morning is truly impressive. Not only is the set up beautiful, the selection is even a bit overwhelming leaving you wondering "where do I start?" Our recommendation: the pastries! Whether you like Asia, Western or healthy food, there's something for everyone.
The stunning Royal Pavilion restaurant offers traditional Chinese cuisine while Le Cellier offers French fare along with an excellent wine selection. The open air terraces at Le Cellier Wine Bar & Restaurant also offer views of Shwedagon Pagoda in the distance.
For a quick bite Gourmet Bar offers pasta, burgers and Spanish tapas.
After dinner, drinks can be enjoyed at the pool bar, Time Out Sports Bar or Studio Bar. Told ya you won't need to leave to have a fun night out!
Besides more food and beverage options than you'd imagine to find in a hotel, Novotel Yangon Max also offers fast, reliable WiFi, and excellent staff.
Amenities at Novotel Yangon Max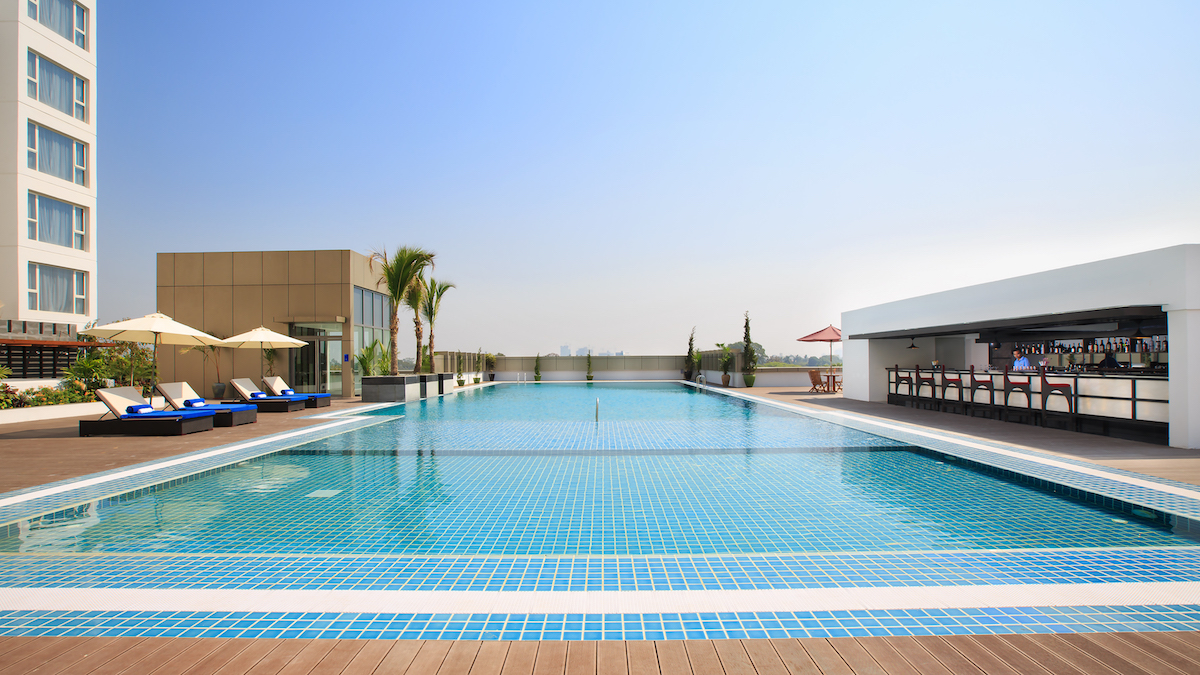 The fabulous open air pool offers cabanas to lounge at and a bar to drink to at. You can keep up your fitness routine at the well equipped fitness centre or just pamper yourself at the onsite spa.
There's even an outdoor tennis court with optional tennis lessons as well as a billiards table or darts board to keep you entertained.
Rooms at Novotel Yangon Max
The rooms at Novotel Yangon Max range from Superior Rooms to a Presidential Suite. The superior rooms offer a spacious modern stay with a sofa as well as great in-room coffee and tea options. The glass walled bathroom offers a contemporary touch to the room, but don't worry, a curtain can be drawn for privacy.
To enjoy executive floor perks, choose from an executive floor room or suite.
Location of Novotel Yangon Max
Novotel Yangon Max is centrally located on Pyay Road, one of the main streets in Yangon, providing easy access to embassies and business areas. It's around three kilometres from the Shwedagon Pagoda.
Our Review of Novotel Yangon Max
Novotel Yangon Max is ideal for both business and leisure travellers. A newly opened hotel in 2015 it offers a modern stay with exceptional service. Being only 20 minutes from the airport and close to Shwedagon Pagoda, it's also a great choice for travellers who are only transiting in Yangon on their way to Bangan or Inle Lake. Best of all - it is very reasonably priced.
Novotel Yangon Max
459 Pyay Road, Kamayut Tsp
PO BOX 895
Yangon, Myanmar
T: (+95)1/2305858
W: novotel.com/novotel-yangon-max
Big thank you to Novotel Yangon Max for hosting us and to AccorHotels, Scoot and Asia Holidays for making our trip to Yangon, Myanmar possible. This was a hosted trip. As always, all opinions are our own.