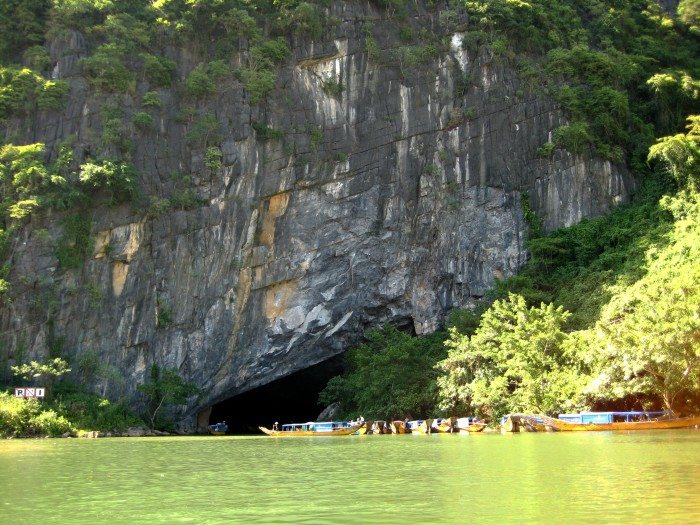 If you're a nature junkie like me, this UNESCO World Heritage Site is a must. Located in the North Central region of Vietnam (around 500 km south of Hanoi) Phong Nha-Ke Bang national park is home to the oldest karst mountains in Asia. These ancient rocks are covered in lush rainforest, but the real adventures lie beneath the surface. There are hundreds of cave systems underground, and the park is home to Hang Son Doong, the largest cave in the world!
Several caves in the park are only accessible by boat, such as Tien Son cave, or Phong Nha cave. These caves are best explored in larger groups, since boats are a flat fee and can accommodate up to 14 people. Since my travel buddy and I were on a tight schedule, we decided to skip the boat tour and rent a motorbike to explore a couple caves that didn't require a hired boat.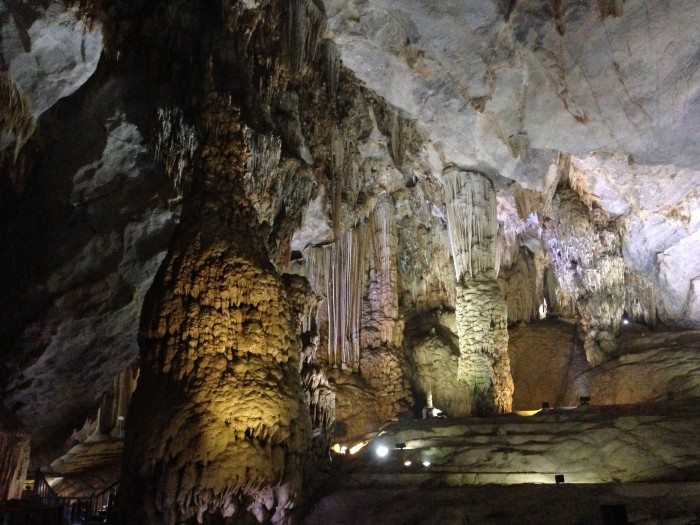 We visited Paradise Cave and the Dark Cave. Paradise Cave is the largest dry cave in the world, stretching across 31 kilometres. My travel buddy and I explored the first kilometer only, but a 7 km trekking tour is available for those eager to explore more.
Massive stalactites drip down from the cave roof, some connecting with stalagmites to form grand pillars along the walls. We strolled down a long wooden staircase and admired these stunning formations, which were illuminated softly by colour lights that gave the magical space an extra air of charm.
The soft tranquility of Paradise Cave was balanced well with an exciting spelunking adventure through the Dark Cave. Equipped with a helmet, light and life jacket, we were transported to the cave entrance via zip line, followed by a brief 25 m swim. Once inside the cave, we headed down a side passage that led to a clay mud pool. We stayed for a good fifteen minutes, floating in the soft clay. The mud was smooth and thick enough to suspend us! I felt like I was swimming through a pool of milk chocolate.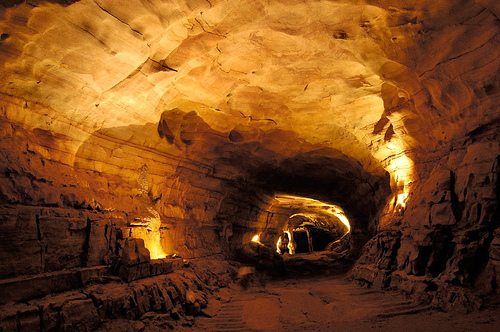 Overall, my experience in Phong-Nha was a magical one. Guides are required for most treks, since unexploded artillery litters the landscape, but a quick trek through the botanical gardens can be completed unaccompanied. If a few days of cave exploring, motor biking and nature ogling is your idea of a good time, then I highly recommend you add Phong-Nha National Park to your bucket list.
Getting to Phong Nha-Ke Bang National Park
The Phong Nha-Ke Bang National Park and its over 300 cave systems and grottos is located between Hanoi and Hue in Vietnam. Around 488 km south of Hanoi and 170 km north of Hue. You can arrange for transportation and tours to the national park from one of the many tour operators found in Hue.