When looking for a luxurious escape that is away from the crowds and major resort towns, look no further than these 9 private resorts in Southeast Asia. All are hidden either on their own private islands or in a secluded sanctuary, they're sure to give you a vacation that is as unique as it is indulgent.
Six Senses Con Dao
Six Senses Con Dao is the perfect combination of remote yet accessible. This gorgeous 5-star private resort is located on Con Son Island in the Con Dao Archipelago in Vietnam, which is just a 45-minute flight from Ho Chi Minh City. Guests can choose from ocean-view or ocean-front suites and villas, some with multiple bedrooms and all with their own pool. After a day of snorkeling, diving, or hiking, treat yourself at Con Dao's spa, which also includes yogic, Ayurvedic, and wellness programs.
Song Saa Private Island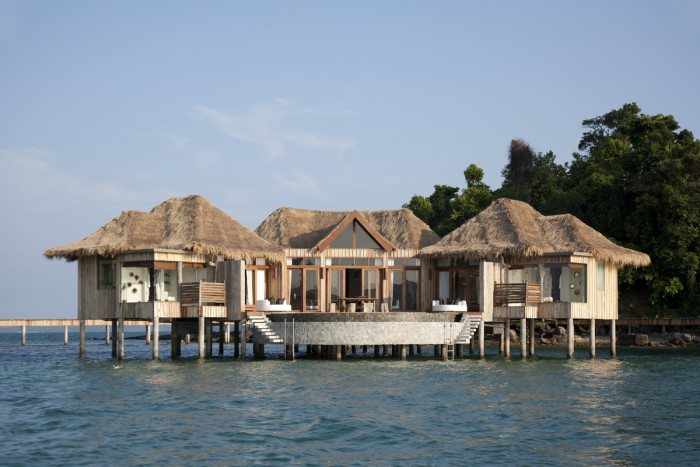 Located in Cambodia's Koh Rong Archipelago, Song Saa Private Island Resort actually spans not one but two islands, known locally as Song Saa, which means "the sweethearts" in Khmer. Guests have the option of luxury ocean-view, jungle, or over-water bungalows, all built with sustainable materials. The resort offers award-winning spa and wellness sanctuaries; in fact, they say the entire island is a sanctuary, filled with various sites, salas, and villas for treatments and rejuvenation.
Nihiwatu Sumba Island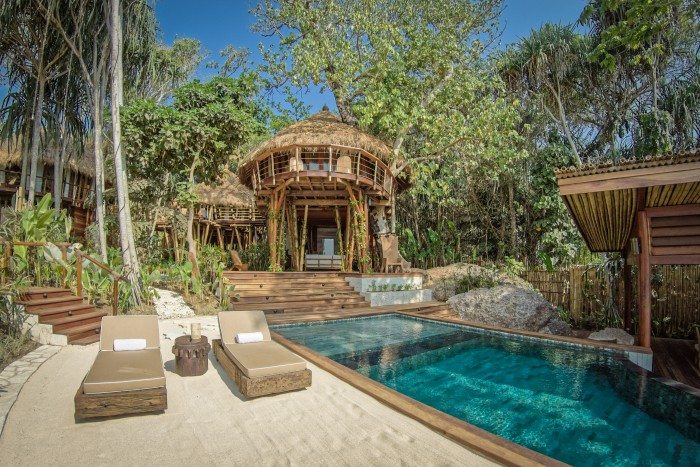 Described as "magical," "paradise," "heaven on earth," and "perfection" by guests, Nihiwatu Sumba Island is guaranteed to blow you away. This private resort is located on the island of Sumba in eastern Indonesia, about a 50-minute flight from Bali. Choose from 28 spectacular villas, many with multiple bedrooms. Nihiwatu is also known as a surfer's paradise and one of the world's most exclusive waves, Occy's Left, is located directly in front of the resort.
Arumdalu Private Resorts Belitung Island
If you're looking to escape from the real world for a while, Arumdalu Private Resort is an excellent choice. This sustainable resort is located on Belitung Island, Indonesia, a short flight from Jakarta; it's then over an hour's drive from the airport—true seclusion. Belitung is known for its white sand beaches and clear turquoise water and the beach behind Arumdalu is no exception. It's also not uncommon to have the whole beach to yourself.
Nikoi Island
Nikoi is a private island situated 8km off the Indonesian island of Bintan, and only a 2 ½ hour trip from the Tanah Merah ferry terminal in Singapore. The island is surrounded by pristine white sand beaches and coral reefs and is also home to a rainforest. Nikoi's 15 beach houses boast "simple barefoot luxury," blending traditional Indonesian architecture with modern elements. The resort also caters to families, offering activities such as pirate treasure hunts for kids.
Dedon Island Resort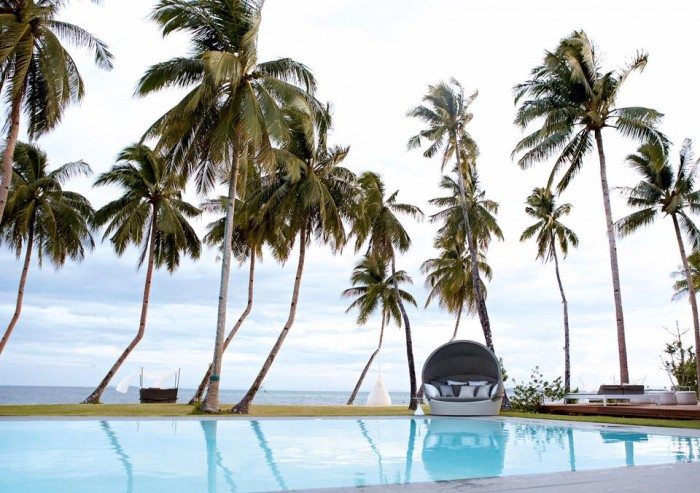 Fantastic luxury accommodation in the form of a private resort can also be found in the Philippines. Dedon Island sits on the southeastern tip of Siargao, one of 7,107 islands in the Philippine archipelago. It's four hours from Hong Kong, one hour from Cebu, and three hours from Manila. Dedon Island is situated between ancient mangrove forests with white sand and crystal clear water. The resort is also near the legendary surfing wave, Cloud 9. The philosophy of the resort is to enjoy life outdoors with many spaces offering outdoor living. Utilizing only local materials and craftsmanship, the nine villas of the resort integrate seamlessly with the natural environment.
The resort is best enjoyed during the dry season, from April through October.
Amanpulo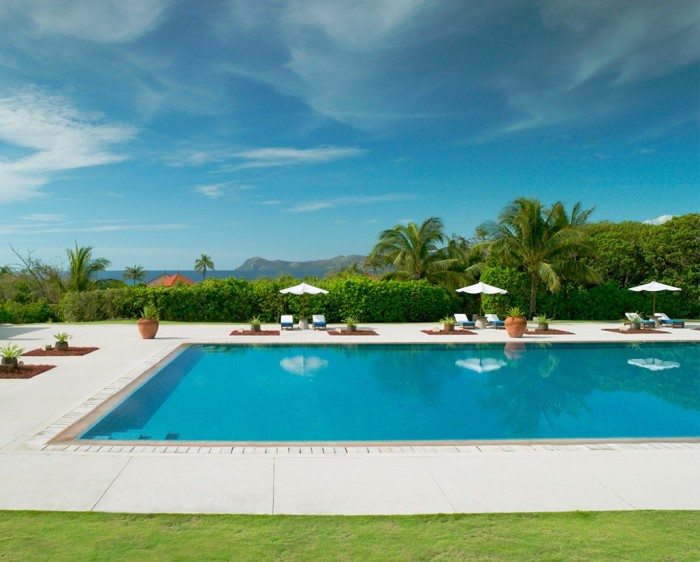 Amanpulo is located on its own private island in the Cuyo Archipelago, northwest of Palawan in the Philippines. This award-winning Aman private island resort is surrounded by spectacular crystal clear water and white sand beaches. Guests can choose from one of 42 beach-front, hillside, or treetop casitas or several spacious villas. Amanpulo offers various activities, a spa, and restaurants which serve local seafood and vegetables; guests can even choose their own ingredients from the resort's organic garden.
Amanjiwo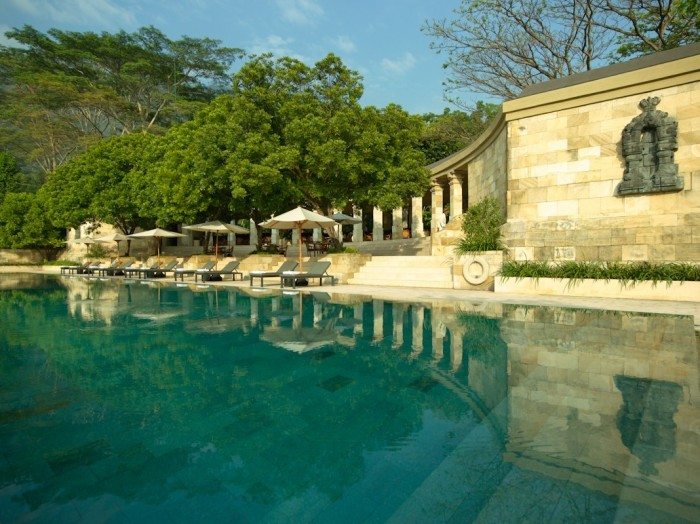 Amanjiwo sits in the rainforest of central Java, Indonesia, overlooking Borobudur, the world's largest Buddhist monument and a UNESCO World Heritage Site. There are 36 suites at this Aman private resort, all with sunken bathtubs and private gardens. Explore ancient religious sites, go trekking on Mt. Merapi or the Menoreh Hills, gaze at volcanoes while dining in the resort's restaurant, and go swimming in the 40-meter swimming pool. The resort's spa offers treatments influenced by Javanese healing and beauty rituals.
Soneva Kiri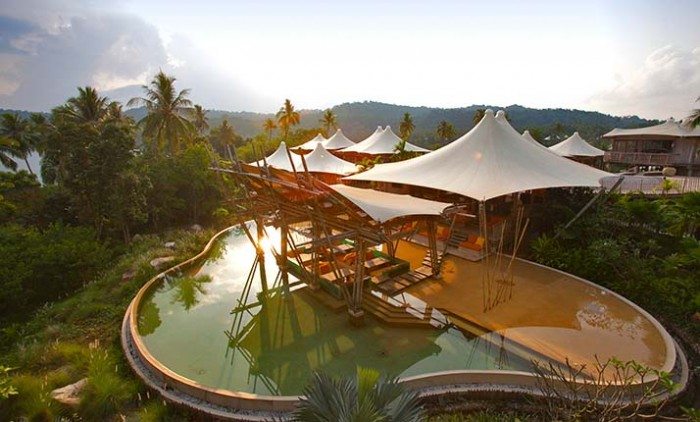 To reach this last private resort in Southeast Asia, you'll have to take a private plane from Bangkok or Siem Reap, Cambodia. Located on the pristine and relatively untouched island of Koh Kood (also spelled Koh Kut) Thailand, Soneva Kiri offers private villas ranging in size from one to six bedrooms, all with a private pool. Guests can stargaze from the resort's state-of-the-art observatory, watch classic films at the outdoor Cinema Paradiso, indulge at the spa, consult with resident wellness practitioners, visit local villages, and go snorkeling and diving. Soneva Kiri also offers fantastic activities for children.