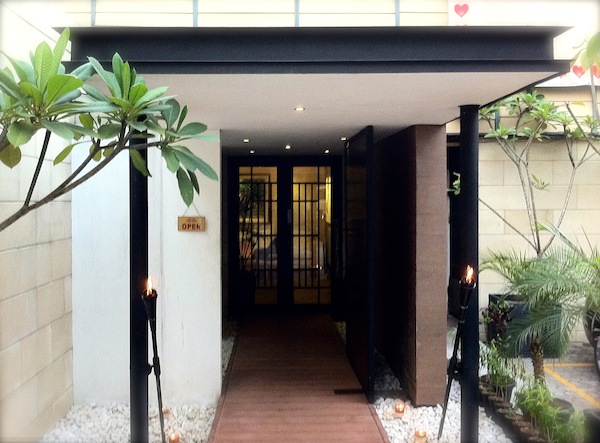 No trip to Jakarta, for us anyways, is complete without a few massages. We found a great spa with excellent prices in Jakarta's Kemang area, only a short walk from grandkemang hotel. Relax Living Spa is clean and modern with excellent service and most importantly, excellent massage therapists.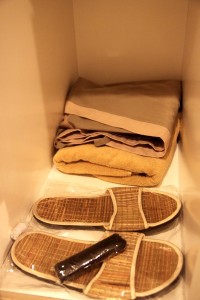 After looking over the spa menu of Massage Treatments, Foot Reflexology, Facials, Body Scrubs and Wraps, Hair Treatments and Nail Treatments, Tom who loves foot reflexology went for the 75 minute Aromatic Reflexology with Head & Shoulder Massage (RP 150,000 / $15.50 USD) while I chose a 60 minute Traditional Massage (RP 120,000 / $12.50), Manicure (RP 100,000 / $10.50 USD) and Pedicure (RP 150,000 / $15.50 USD).
We unfortunately showed up for our treatments at 2:30pm, not knowing until we arrived they had a promotion of buy 1 get 1 free on all treatments from 9am-2pm on weekdays. I highly recommend calling ahead to see if they are still offering the promotion.
All massage treatments in Relax Living Spa are either delivered in curtain divided rooms or for a small fee, can be upgraded to their VIP Rooms which offer more privacy with solid walls and a door. During this visit, as the spa didn't seem too busy so we opted for the regular rooms. We were given a locker key and guided to the separate men's and women's change areas. Inside my locker I found clean slippers, disposable underwear, a bathrobe, fresh towel and a hanger to hang my clothes. All nice touches so I could relax during my treatments and know my purse was safe under lock and key.
The large "Regular" massage area is around 20 rooms divided by curtains, but with the ambient music playing, it was still very peaceful. Inside each room is a proper massage table and hook to hang your clothes. Once settled in, the masseuse asked if I would like my massage soft, medium or hard. Having endured many Thai massages, Indonesian massage can sometimes be too soft for me, so I let my masseuse know "hard is good, I can handle it". I got what I asked for, and man was I ever happy. A look over at Tom on the massage table next me, and I knew he was getting what he wanted too with his scrunched up face and lip biting.
After a cup of ginger tea to end my massage, and a hot shower in their change room, I was brought over to their salon for my mani pedi. The soft spoken lady, started my pedicure with a foot soak, thorough scrubbing, and all of the cuticle and nail treatments I could ever want. I was surprised by how meticulous she was starting with the prep, down to each layer of OPI nail polish. My pedicure took close to an hour, which is a pleasant surprise as I have had some really bad pedicures in Jakarta. Next was my 45 minute manicure which got the same royal treatment, and aid in drying with the help of a hair dryer.
Our Say
A clean, modern spa that takes hygiene and customer comfort seriously. The quality of treatments exceeded my expectations especially for the price, not to mention the 1 for 1 weekday special. Next time we are in Jakarta, you will know where to find us from 9am to 2pm on weekdays.
Relax Living - The City Spa
Jl Kemang Raya No 2
+62 21 719 4051