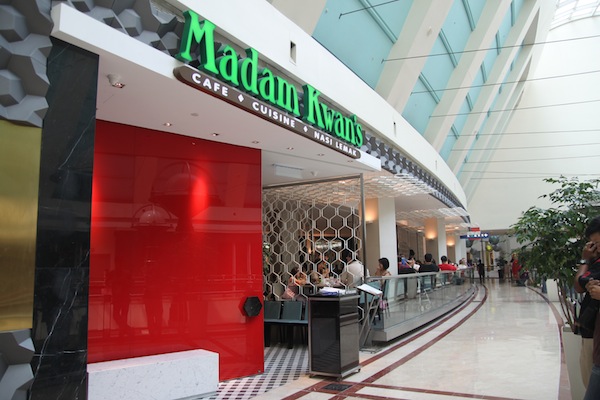 For good Malaysian cuisine easily accessed from our hotels in Kuala Lumpur city center (KLCC), Madam Kwan's was recommended by the many people we asked for food suggestions. With a location in both Pavilion and Suria KLCC as well as other malls around Kuala Lumpur, it was inevitable that we would try this restaurant when the cravings for Beef Rendang and Malaysian curry struck us.
Luckily for Tom and I on our weekend schedule, we made it to Madam Kwan's around 4:00pm on a Saturday for a late lunch, meaning we actually got a table. When we were recommended Madam Kwan's, our friends failed to mention the need for a reservation. During the quieter period between lunch and dinner, we got one of the few tables available. While waiting to be seated, a young gentleman asked the hostess about dinner reservations, the only thing she could do for him on that Saturday night, was a table at 5:00pm but he had to be finished by 6:00pm. We were now very eager to find out what makes these restaurants so popular.
Madam Kwan's restaurants have a very chic decor making them distinctly different from many Malaysian restaurants that might stick to traditional decor. Mirrored walls with a hexagon design and upholstered light blue chairs are among the elements that make the restaurant standout and attract a mix of local and foreign dinners including ourselves.
The menu is full of Malaysian specialties including hawker dishes like Laksa and Nasi Lemak. Their Nasi Lemak has even been described as "Best Nasi Lemak" by the Ministry of Tourism Malaysia.
During our visit we tried the Nasi Bojari (RM 23.90 / $7.50 USD) and Curry Vegetables (RM 14.90 / $4.70 USD) from "Madam's Specialties". Tom's Nasi Bojari pictured above is a dish of tri-colored rice, assam prawns, beef rendang and a chicken drumstick served on a banana leaf. The rice was full of flavor, infused with spices and tastes of coconut milk. The shrimp were spicy with a bit of sweetness, while the beef rendang was nice and tender and passed Tom's taste test as a self proclaimed beef rendang connoisseur. All that was left of the chicken drumstick was clean bone, so it's safe to assume that was very good too.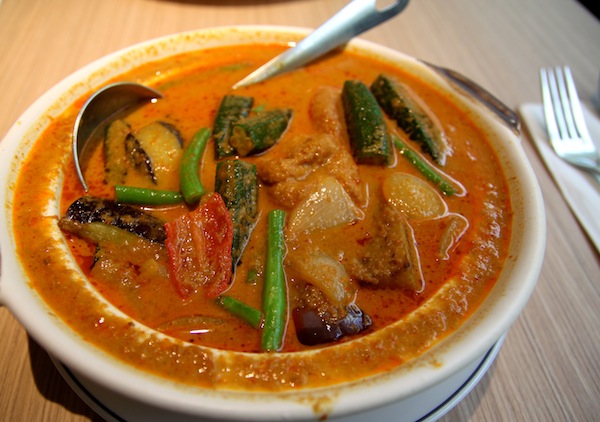 My Curry Vegetables were very spicy, but even with my nose running, I couldn't stop eating. The curry was filled with lady fingers, eggplant, tofu, green beans, peppers and onions. I was very happy to get my fix of vegetables for the meal.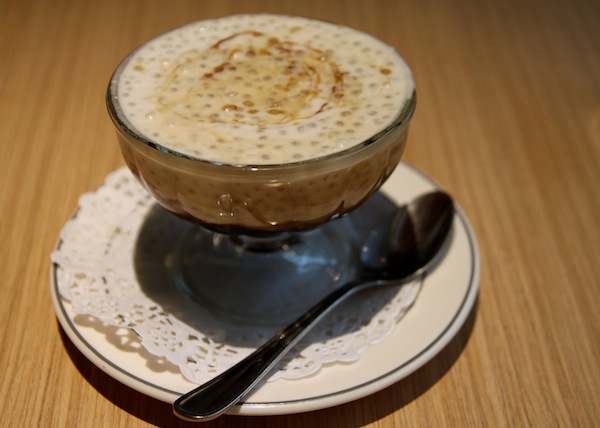 To finish off the meal with something sweet, we debated between Chendol, Ice Campur and Sago Gula Melaka, with the Sago Gula Melaka (RM 6.90 / $2.20 USD) winning as we were quite full. The dish of palm starch balls cooked in coconut milk was served with palm sugar syrup on the side to be added to taste. We unfortunately added to much and it quickly became overly sweet.
Our Say
A great restaurant to enjoy local Malaysian cuisine at decent prices with a great ambiance. The food is delicious and the service was acceptable with both of our dishes arriving at the table at the same time. We will definitely be back.
Madam Kwan's
7 Locations around Kuala Lumpur
Including this location at Suria KLCC