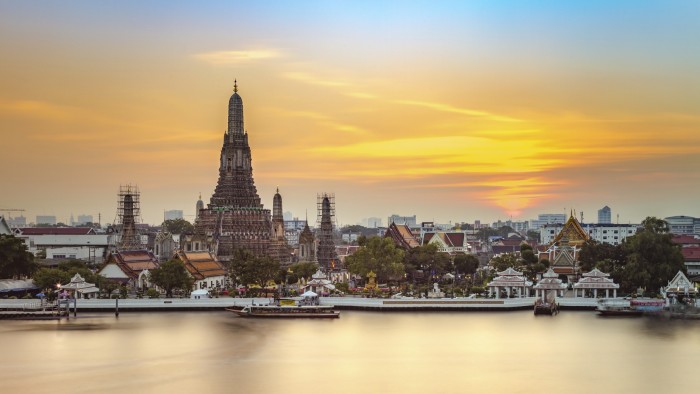 Bangkok can feel like a pretty daunting city for first timers, especially when you're trying to figure out where to stay, what to see and how to get around. The getting around part can be extra tricky because Bangkok can be extremely deceiving. Although your hotel may only be 5 or 10km away from a certain attraction or restaurant, with the city's hectic traffic it could take 30 or 40 minutes by taxi which is never fun. What I suggest is basing yourself along Bangkok's Chao Phraya River, known as Riverside Bangkok and exploring the city's many attractions by boat instead. Here are our tips and tricks to avoiding Bangkok's traffic and exploring the city by the water.
What to See
In Thailand there will never be a shortage of markets, Wats (temples) and beautiful architecture to admire, although some are definitely more impressive than others. Luckily Bangkok's most popular attractions are all situated close to one another along the Chao Phraya and have their own pier for easy access. For many of these sights we suggest you bring a sarong and something to cover your shoulders, otherwise you'll end up having to spend a few Thai Baht at each location renting one.
Wat Pho
Wat Pho also known as the Temple of the Reclining Buddha, is on almost every Bangkok visitor's list. There's lots to see at Wat Pho besides the beautiful lounging Buddha. Leave an hour or so to walk between all the different temples and Buddhas.
Right outside of Wat Pho you'll find multiple places to eat, drink and cool off. You can find everything from small cafes to nicer river side dining. Keep an eye out for the carts selling coconut ice-cream, it's exactly what you need after wandering around in the blistering heat.
Tha Thien Pier (N8)
Wat Arun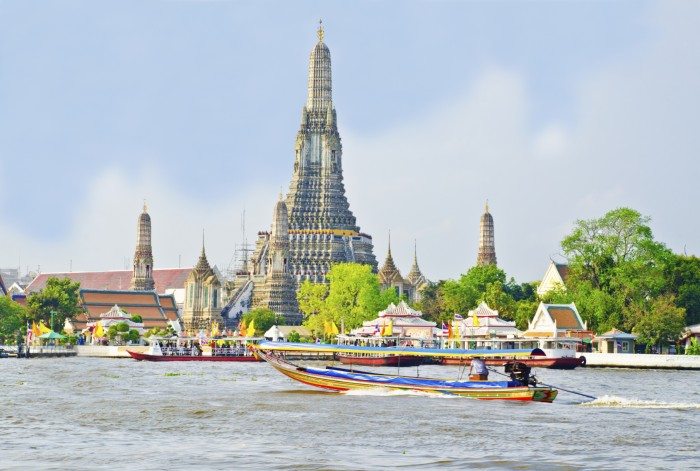 Wat Arun is said to be Bangkok's most beautiful temple and it's located directly across the river from Wat Pho. Unfortunately there's currently construction taking place on the main temple which definitely detracts from the beauty hidden behind the scaffolding. You'll likely still enjoy a walk through the grounds, just don't expect to grab a magazine quality photo. If you want to avoid the crowds go early morning.
Take the boat from Tha Thien Pier (N8) directly across to War Arun
Grand Palace
The Grand Palace grounds are huge, beautiful and extremely busy. Prepare to fight the crowds even during the week. The most popular sight here is the Emerald Buddha, although he's rather small in comparison to the giant Reclining Buddha. Amazing statues, architecture and paintings adorn the grounds of the Grand Palace making it a spot you can loose hours in. That is if the heat doesn't get to you. Bring plenty of water, make sure the camera battery is full and try to come early if you don't want to die of heat exhaustion.
I would definitely recommend bringing your own clothes to cover up at this spot. They do lend out free shirts and sarongs (you leave a deposit) but they can get pretty yucky. Once you realise how many people have worn that shirt throughout the day you might start feeling slightly queazy.
The Grand Palace is a short 5 to 10 minute walk from Wat Pho.
Beware- There's a lovely little trick the tuk tuk drivers like to play on unsuspecting tourist to get them to go suit shopping. If anyone tells you the palace is closed for a special ceremony and that they can take you to see some other sights for a low fee, it is a lie. There is most likely not a ceremony going on, this is their way of getting you to go for a drive to a less than impressive temple with a stop at a tailor to try and sell you suits.
We semi fell for this but actually didn't mind too much. The gentlemen let us know ahead of time he was going to take us to a tailor and that he would make gas money if we bought something. However, we didn't find out that there was in fact no ceremony going on until afterwards, which was pretty annoying. On the plus side, I really wanted to go for a ride in a Tuk Tuk and it was only 100THB. Oh and the tailored shirts turned out pretty good as well.
Tha Chang Pier (N9)
Khao San Road & The National Museum
This popular backpacker area has gained the reputation as the party hot spot with cheap food, cheap drink, cheap shopping and cheap accommodation. Basically everything is budget friendly. Even if you aren't on holiday to mingle with a crowd of young foreign travellers, it's still an exciting part of Bangkok to experience. There are plenty of cafes, markets and boutique shops and the National Museum is also in this area. If the midday heat is to much to bare, the museum can be a good daytime option.
Khao San Road comes alive at night as visitors from near and far come to roam the streets shopping at the plentiful market stalls, eating local street food and heading out for big night of partying. If you come during the day you'll find a totally different place with deserted streets.
Phra Arthit Pier (N13) - from there it's a 5-10 minute stroll to Khao San Road.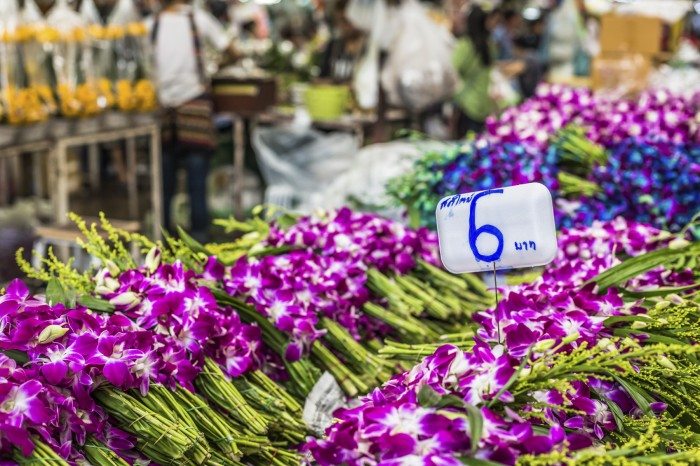 Flower Market
The flower market is located behind the Yodpiman River Walk. Walk to the back of the mall and you'll find a large market and a street full of flower sellers. Although the market is open 24 hours, during the day it's much quieter. All the excitement kicks off in the evening after midnight with the liveliest hours being 3:00 to 4:00am when flower deliveries from around the country arrive. The best time to buy flowers if you're from overseas is during the day when there isn't too much commotion and sellers can take some time to help you out. During the morning rush you're better off staying out of the way and just admiring your surroundings.
Pak Klong Talat Pier or Memorial Bridge Pier (N6)
Where to eat and drink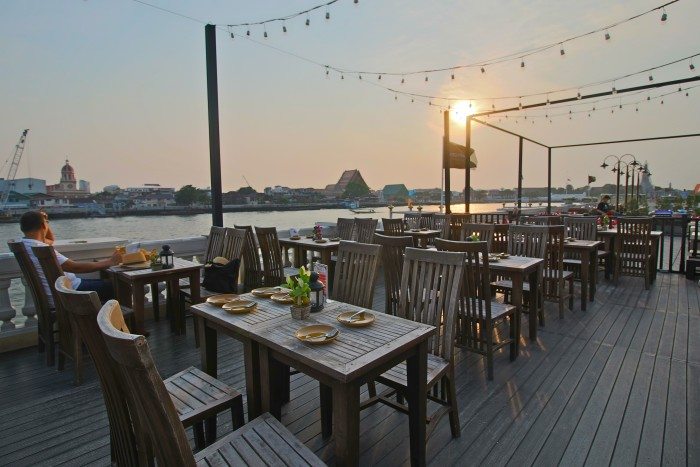 It's almost impossible to go hungry in Bangkok. You can easily find street food, snack carts, cafes and restaurants on every street you turn down. Depending on what you're looking for you can find small authentic hole in the walls, picturesque riverside dining or 5 star restaurants serving cuisine from around the world.
Chinatown Street Food
Realistically the best and most authentic Thai eats are going to come from the street side stalls and little family run cafe's. For an endless array of choices head to Chinatown where you can find almost anything skewered on a stick and if you're ever in doubt just look for a crowd. Also be on the lookout for Mango sticky rice, this delicious dessert snack is addictive! You'll also find lots of random market stalls down the lane ways if you fancy a bit shopping.
Rachawong Pier (N5) then walk 5 minutes
Steve Cafe & Cuisine
For a combination of good food and good views this is the place to go. The name may not sound all that authentic but the food is and if you're lucky you might snag a spot on the balcony.
Thewej Pier (N15) For directions from the pier visit the Steve Cafe & Cuisine website.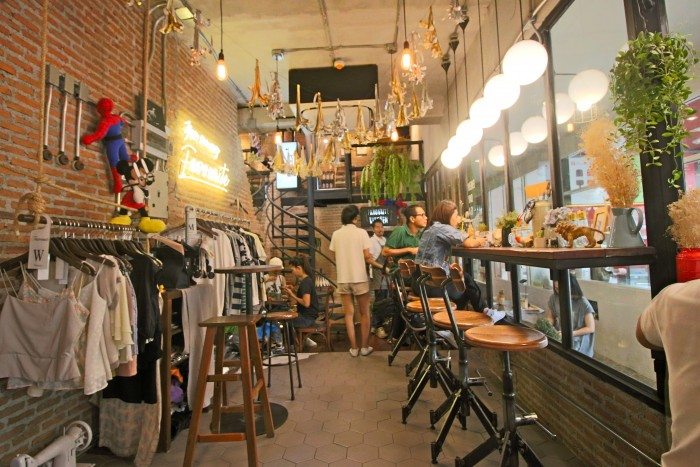 Favour Cafe
We stumbled across this gem of a cafe by accident. Favour Cafe is a cool little spot to escape the heat and have a refreshing smoothie or ice coffee. They also serve up some yummy looking food and have a small boutique selling locally designed clothes.
Maharaj Pier (no number) or a 5 minute walk from Grand Palace
Chao Phraya Dinner Cruise
What better way to enjoy the bright lights of the Chao Phraya then a romantic evening dinner cruise. With lots of different cruise options it's easy to find one to fit any budget but remember you get what you pay for. On the higher end, Apsara Dinner Cruise by Banyan Tree is one that is consistently raved about. Book in advance online with Banyan Tree Bangkok. Apsara Dinner Cruise leaves from River City. A newcomer and hip alternative is the Supanniga Cruise. On the brand new 40 seat dinner cruise diners get to enjoy Taittinger Champagne, Vesper cocktails and a 6-course dinner of exquisite Thai tastes.
River City Pier (no number)
Yodpiman River Walk- Ok yes, this place is basically made for tourist (there's a Starbucks and a Sunglass Hut) but there's no denying that it's in a great riverside location. The River walk houses a variety of shops and different restaurants including Japanese, Indian, Western and Thai, although none are really raved about. For relaxed drinks the upper promenade is a picturesque spot, the views over the river and Wat Arun are gorgeous.
Pak Klong Talat Pier (no number)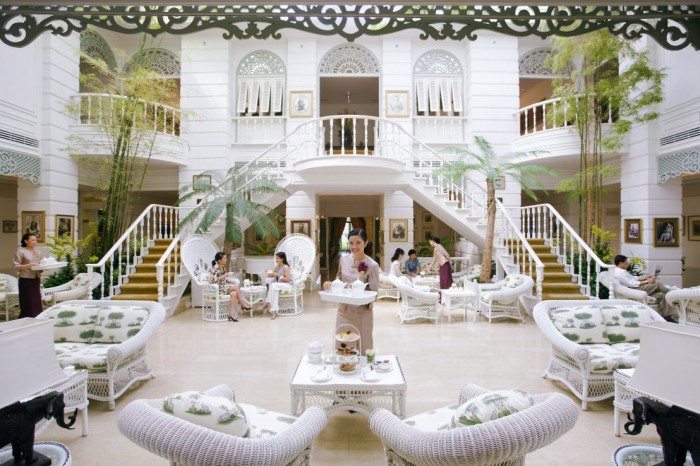 This might feel like a sponsored post for Mandarin Oriental but it's not, we just seriously love this place! The following 3 places are all located at Oriental Pier (N1).
Authors' Lounge, Mandarin Oriental- Step back in time with high tea inside one of Bangkok's most beautiful spaces. Recently renovated, this breathtaking 1870's colonial building managed to retain it's old world elegance. Graced with high glass ceilings, a Grand Piano, spiral staircase and quotes from famous Authors' throughout history, all add to it's charm. Afternoon tea available from 12pm to 6pm.
Sala Rim Naam, Mandarin Oriental- This beautiful riverside restaurant is housed in an old Thai Pavillion across from Mandarin Oriental. Sala Rim Naam combines a true taste of Thai cuisine (with slightly less heat) with a nightly Thai cultural performance. Open for lunch and dinner, however performances are only in the evening. A free boat leaves from Mandarin Oriental. Don't let the night finish after dinner, head to Bamboo Bar for a few late night drinks (see below).
The Bamboo Bar, Mandarin Oriental- Enjoy a sophisticated evening of live Jazz and top shelf cocktails at one of Asia's 50 Best Bars. This intimate space oozes class with dark wood panelling and low bamboo and wicker chairs. The cocktail list is extensive and inventive, catch the bartenders in action to be seriously amazed. (Closed Wednesdays)
See our guide to Bangkok's Best Hidden Bars.
Where to stay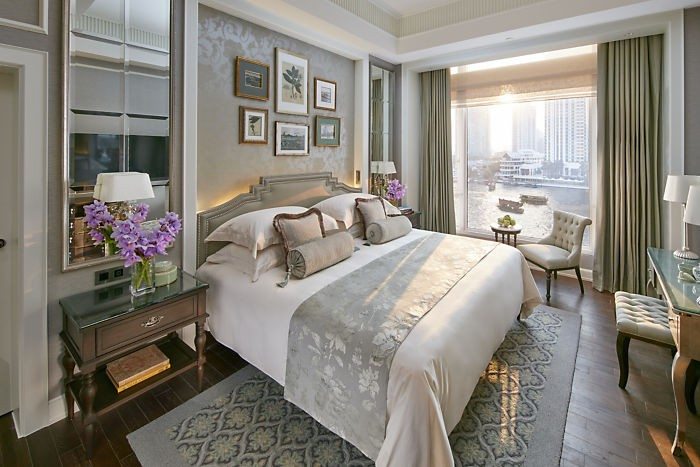 Riverside accomodation is plentiful and you can find something to suit most any budget from Luxurious Mandarin Oriental to bare bones budget guest house along Khao San Road. Ones closer to a pier make it super easy to get between the various attractions and means you never need to battle traffic.
Mandarin Oriental
Hands down the most iconic hotel in Bangkok, the 5 star Mandarin Oriental commands prime riverfront real-estate. Home to some of Bangkok's most established restaurants and bars, whether you can afford to stay here or not it's a must visit. Mandarin Oriental is where you'll find Bamboo Bar, Sala Rim Naam and the famous afternoon tea at Authors' Lounge. Access to attractions like Chinatown, The Flower Market, Wat Pho and the Grand Palace are made easy from Oriental Pier with a 10 to 20 minute boat ride.
Oriental Pier (N1)
Sala Rattanakosin Bangkok
Located right on the river and within walking distance to both the Grand Palace and Wat Pho make Sala Rattanakosin a great midrange option. To top it off they have a rooftop restaurant and bar for watching the sunset and checking out the views of Wat Arun.
Tha Tien Pier (N8)
Navalai River Resort
Closer to the action of Koh San Road, Navalai's riverside location and rooftop pool with views of Chao Phraya make it a awesome spot to base yourself. Nearby you'll find all your food, partying and shopping needs. Phra Arthit pier is right next door which means you can reach all the riverside attractions in just a few minutes by boat.
Phra Arthit Pier (N13)
How to get around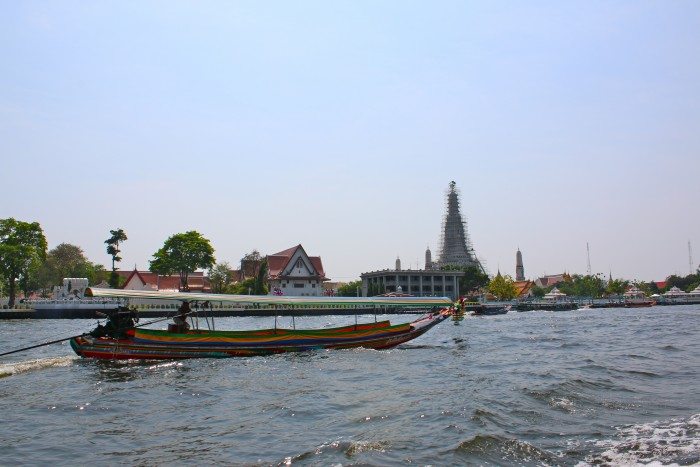 There are lots of ways you can explore the frenzied waterways of the Chao Phraya. The boats and pier names might seem a bit confusing at first (there are so many different ones) but the ticket sellers can usually point you in the right direction so have no fear. If in doubt hop on the boat with an Orange flag this goes to all the attractions mentioned.
The main boat choice for locals and travellers are the water taxis. Each water taxi has a different coloured flag depending on where it stops, the orange flag boat only stops at the main piers where the attractions mentioned are found. These run roughly every 20 minutes and cost between 10 and 15BHT per trip. The water taxi's can get busy at times but most of the trips are pretty short and it's all part of the fun.
For a more spacious ride hop on one of the tourist ferries (departs every 30 minutes) where you're almost guaranteed a seat or hire a private long tail boat for the day and come and go as you please. The toursist ferry doesn't serve all the piers mentioned.
Map to Riverside Bangkok