For those enthralled with Hello Kitty and her kawaii-ness, there are several must-see Hello Kitty attractions in Asia. You can do everything from travel by Hello Kitty plane and train, stay in a Hello Kitty themed room and eat Hello Kitty themed dim sum and dessert.
So pack your bags and get ready for the best and cutest tour you've ever taken!
Taiwan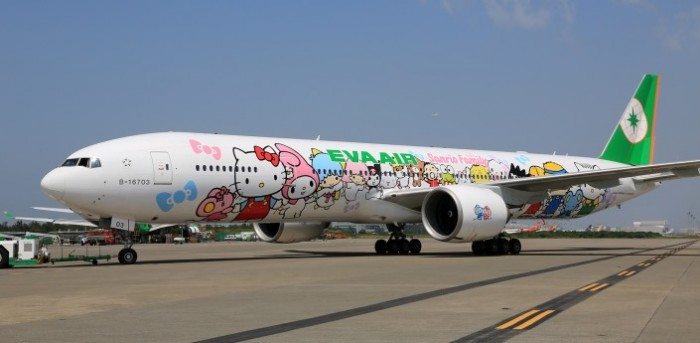 EVA Air Hello Kitty Jet
Experience Hello Kitty at 35,000 feet with EVA Air's Hello Kitty planes, which are decorated with Kitty cuteness. There are routes between Taipei and several destinations including Singapore, Paris, Osaka, Bali, and more. Find routes, flight times, and more information at EVA Air.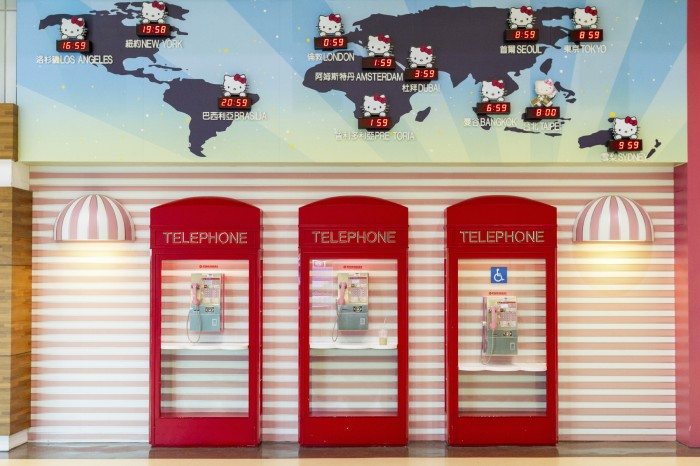 Hello Kitty Terminal at Taoyuan International Airport
To liven up your time at Taipei's Taoyuan International Airport, head to the Hello Kitty terminal. Located at Gate C3 in Terminal 2, this is the point of departure for EVA Air's Hello Kitty Jet. The area is covered in pink and images of the character; it includes a waiting area, gift shop, and a play area for kids.
Hello Kitty Train
If the Hello Kitty Jet isn't doable (or isn't enough Hello Kitty-themed transportation for you), you can now take a Hello Kitty train. The Taroko Express made its inaugural run on March 21, 2016 between Taipei and Taitung. Both the outside and inside of the train are decorated with images of the Kitty; you can even find her in the toilets and conductors room.
The train will start a regular service April 21st 2016 and run on Fridays, Saturdays, and Sundays. You can find more information on the Taiwan Railway Authority's site.
Japan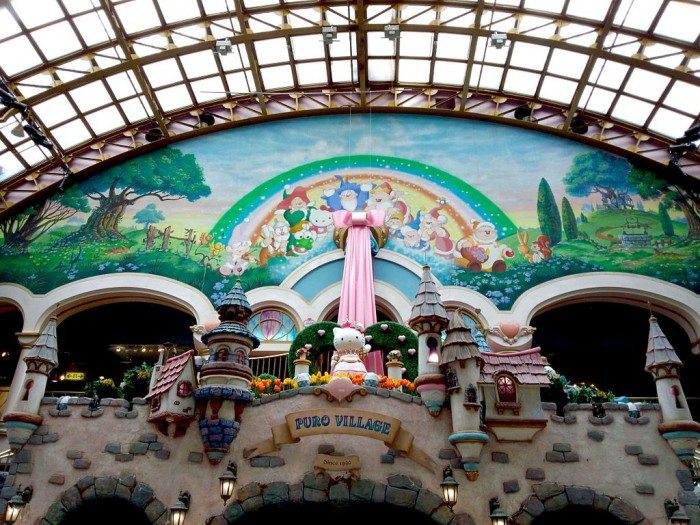 Sanrio Puroland
For the ultimate Hello Kitty experience, you must make the pilgrimage to her homeland: Japan.
Located in Tama, in the western part of the Tokyo prefecture, Puroland is one of two Hello Kitty theme parks in Japan. This indoor park has four levels; the lowest level is where you'll find the rides and performances. You can also explore Kitty's house, visit multiple shops, and eat food in the shape of the Kitty.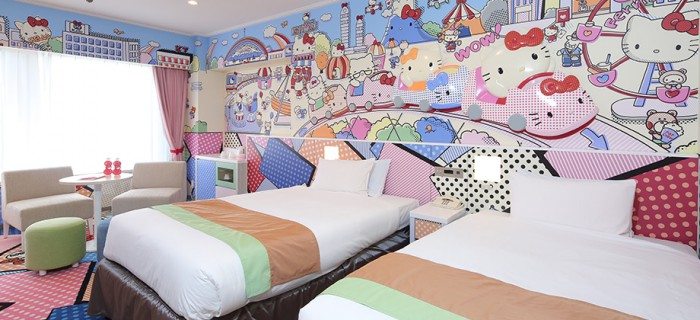 Hello Kitty Room at the Keio Plaza Hotel, Tokyo
For those who crave the comforting presence of Hello Kitty as they sleep, there are rooms devoted to her at the Keio Plaza Hotel. You can choose from two themes: Kitty Town and Princess Kitty. There are twin and triple rooms. Guests who stay in these special rooms can check in at the Premier Counter.
Hong Kong
Hello Kitty Chinese Cuisine
For the cutest dumplings and dim sum you've ever seen, head to Hello Kitty Chinese Cuisine, which is a short walk from the Jordan MTR station. Hello Kitty is everywhere, from the lights to the napkins to the food itself, shaped into little Kitty faces. In fact, the dishes are so adorable you may not want to bite into them. Just take a photo first, then enjoy!
Hello Kitty Go Green Organic Farm
Because the world is not complete without a Hello Kitty-themed everything, there is now a Kitty-themed farm. What can you do on a Hello Kitty farm, you ask? Well, you can feed goats, learn about farming, take photos with farmer Hello Kitty, and eat at the restaurant.
There is also a playground for children and the Little Farmer Program, where kids who are enrolled can have their own little patch of land and learn how to plant, irrigate, and harvest plants. At the end of the program, kids get a certificate and some free gifts.
Visitors can also collect Kitty stamps and find exclusive Hello Kitty farmer souvenirs. The park is located in Yuen Long.
South Korea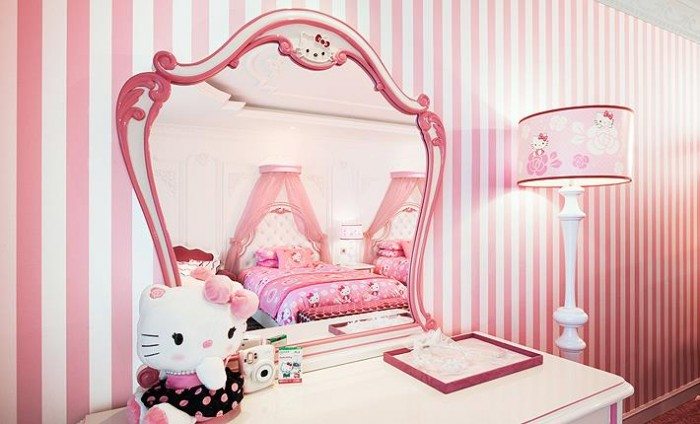 Hello Kitty Rooms at Lotte Hotel Jeju
If you're on Jeju Island in Korea and need some Hello Kitty in your life, the Lotte Hotel Jeju offers three different Kitty-themed rooms, designed in collaboration with Sanrio. Choose from the Kitty Princess, Kitty Ladies, or Kitty Kids rooms. All have Kitty décor and amenities.
Singapore
Hello Kitty Orchid Garden
Singapore will be welcoming its first Hello Kitty themed cafe with the opening of Hello Kitty Orchid Garden in May 2016. The cafe with gift shop will be located at Changi Airport Terminal 3 and will serve all-day breakfast along kitty cute desserts.
Malaysia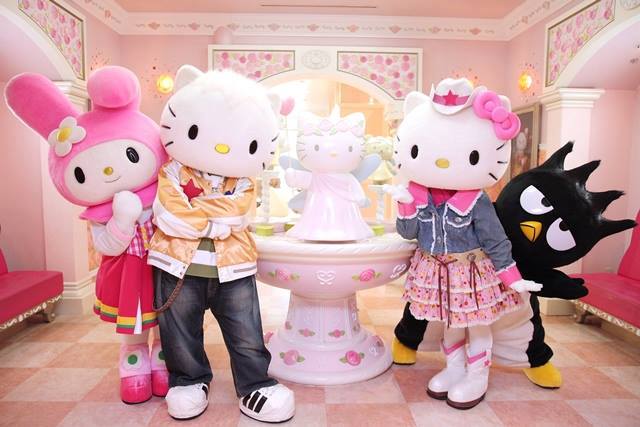 Sanrio Hello Kitty Town
A permanent establishment in Puteri Harbour, Nusajaya, Sanrio Hello Kitty Town offers several attractions. Visitors can explore the Kitty's house, watch performances, go on a teacup ride, take photos, and make their own Hello Kitty themed souvenir. There is also a souvenir shop and two cafés.
Hello Kitty Themed Rooms at Hotel Jen Puteri Harbour
Hotel Jen Puteri Harbour located a short walk away from Sanrio Hello Kitty Town now has rooms to complete the ultimate kid friendly trip to Johor Bahru. Choose from 1 of 3 distinct Hello Kitty designs and you could spend your evening immersed in bright colours and Hello Kitty designs on everything.
Thailand
Hello Kitty House
Located in Bangkok in Siam Square, Hello Kitty House is a must-see for Kitty fans visiting Thailand. Inside you'll find an adorable café, restaurant, shop, and spa. Visitors can dine, shop for souvenirs, and even get a manicure and pedicure. Open daily from 10:00-22:00.
China
Hello Kitty Bistro Bianco-Shanghai
The newest addition to the Hello Kitty hysteria has opened up in Shanghai. Hello Kitty Bistro Bianco is the first official Hello Kitty themed restaurant to open up in mainland China, and it's causing quiet a stir. Enjoy your fill (no pun intended) of your favourite kitty in cute shaped cakes, snacks and decorated coffees. Some might find it a bit difficult to devour these adorable treats.
Hello Kitty theme park- Anji, Zhejiang province
Up in the Anji Mountains of Zhejiang province you can now enjoy an action packed day of of Hello Kitty fun with themed rides, performances, and even a Hello Kitty Hotel! Although the initial reaction from park visitors wasn't the best they swear they are ironing out the wrinkles!
Don't forget your Hello Kitty luggage!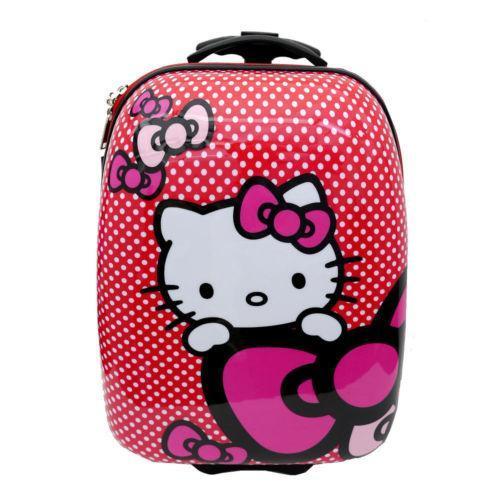 Your Hello Kitty Asia tour would not be complete without some themed luggage. Add a touch of Kitty to your luggage with a Hello Kitty luggage tag, or go full Kitty with a pink suitcase plastered with her face. Not only will you bring instant cuteness into your life but you will easily spot your luggage when it comes out of the baggage claim carousel! Check out these options.