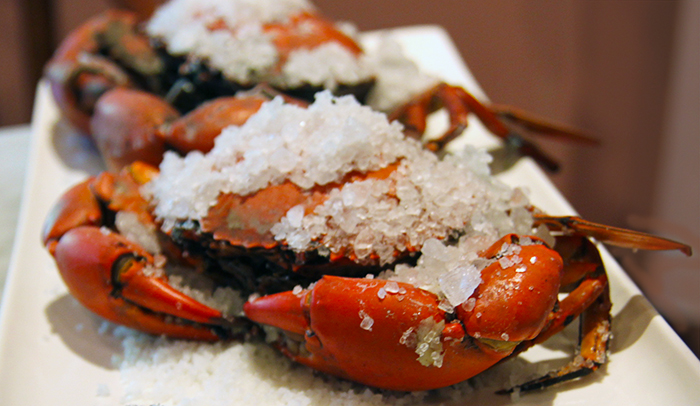 See the 2015 line up here
Ellenborough Market Café's hugely popular crab buffet "Catch the Crabs" is back at Swissotel Merchant Court with all the traditional favourites as well as some spectacular new flavours. The crab line up this year includes favourites Singapore Chilli Crab, Black Pepper Crab, White Pepper Crab and Nonya Curry Crab. Also choose from an array of seafood on ice including Snow Crab Claw, Spanner Crab, Blue Swimmer Crab, and Canadian Mussels as well as crab infused dishes such as Crab Bisque, Penang Char Kway Teow with Crab Meat and Alaskan Crab Leg with Ponzu Sauce.
I started my sampling of the seafood selection with my all time favourite Black Pepper Crab. A Sri Lankan crab with juicy meat on the inside and a sticky sweet black pepper with BBQ flavour sauce on the outside. It made for a finger licking start to the meal.
My next dish was Salt Baked Crab. A dish of Sri Lankan crab mixed in sea salt and Chinese cloves. It looks so vibrant with a bright pink shell. The taste is at its most natural but still packs a lot of flavour with sea salt crystals and whole cloves sitting amongst it. Try it with vinegar if you want to infuse even more flavour, but trust me, this one can be devoured au natural.
In addition to these two must trys, I loved their great deep fried soft shell crab which is golden and crispy, along with everyone's favourite Singapore Chili Crab.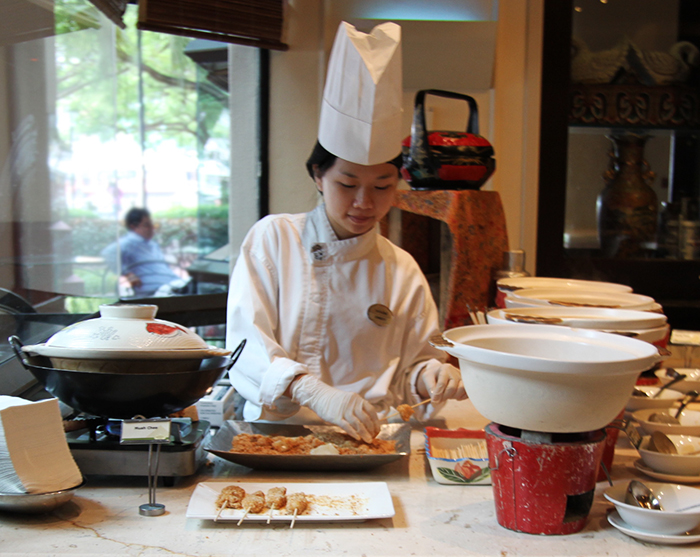 Don't fret if you think you can only handle so much crab because there is a whole array of other seafood and none ocean foods such as a flaky snapper in curry, tender and meaty oxtail stew and my all time favourite, a juicy peppered prawns dish. A great change up from the crab if you want something which takes a little less effort. There really is something at this meal for everyone. Whether you are a sushi fan, duck and meat fan, or love Ellenborough Market Café's Peranakan selection, you will find it at this feast!
Last but not least, you will find a startling display of everything sweet, so make sure you leave room for desert! You'll find their famous Durian Pengat, which isn't for the faint of heart but is definitely a must try even for non durian lovers. I quite enjoyed the creaminess and the durian flavour was not overpowering at all. If you're thinking it is definitely not your thing then no fear, they have a chef making handmade Muah Chee, a glutinous dessert rolled in peanuts and sugar and served on a stick. A first for me and it was love at first taste!
Make sure to make your reservations well in advance, as this is a popular food event you won't want to miss.
Catch the Crabs Buffet Details
Lunch (Saturdays and Sundays) Adult $54++ Child $27++
Dinner (Daily) Adult $60++ Child $30++
Exclusively for OCBC Cardmembers, one gets to dine for free with every three paying adult buffet diners for lunch and dinner.
For enquiries and reservations, please call 6239 1848 / 1847 or email emc.reservations@swissotel.com
Ellenborough Market Café
Swissôtel Merchant Court
20 Merchant Road
Singapore 058281