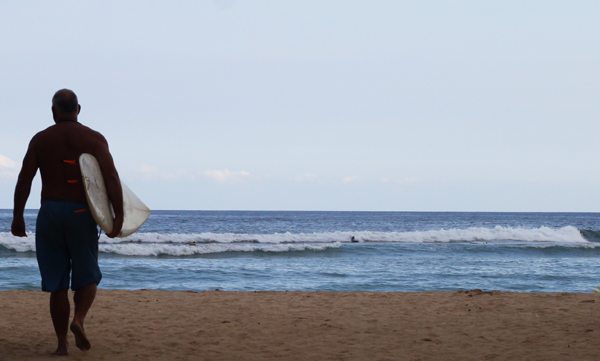 Surfers from all over the world flock to Bali to ride it's famous waves, but if you've never stepped foot on a surf board before, Bali still has something for you. There are a few large surf schools located along Kuta and Seminyak beach, that offer well structured classes with professional instructors. These larger schools will equip you with the fundamentals of surfing including safety precautions. Some even have pools for you to practice surfing basics. Fancy!
Schools include Quicksilver Surf School, Rip Curl Surf School and Pro Surf School.
Besides the large surf schools there are also small local operations consisting of a couple of guys on the beach with surfboards. They will usually approach you for lessons as you walk by. There's nothing fancy going this route, but if all you are looking for is the ability to ride a wave within an hour or two, these guys can help you out. Your lesson will start with the basics on land of how to stand up on your board (not as easy as it sounds), then it's off to the ocean. Even though they use large surf boards that are easier to learn on, it still takes a few tries to catch a wave, which is all part of the fun! Prices run 250-450,000 rp for a 1.5 hour lesson and full day rental of a board, making it much cheaper than the large schools, but also more basic. We tried lessons from a guy located on the beach at double six, and had a great time.
Surfs up!