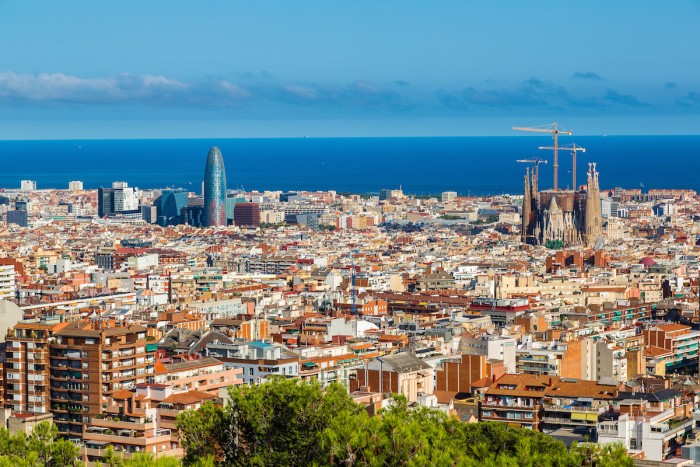 When a friend who works overseas on super yachts invited us to meet him in Barcelona while his boat was docked there, I jumped at the chance, booked my flight and along with 8 friends we headed off to one of the most picturesque European cities there is. The beaches go on for miles and the bars dotted on each and every spot are full with a mixture of locals and tourists together spending their weekend downtime sipping rosé and grazing on tapas from the comfort of a sun lounger. There are lots of Spanish working and living in London so most of the 8 of us had been given local recommendations of where to spend our long weekend eating, drinking and exploring so as to maximise our short trip with fun and frivolous things to do.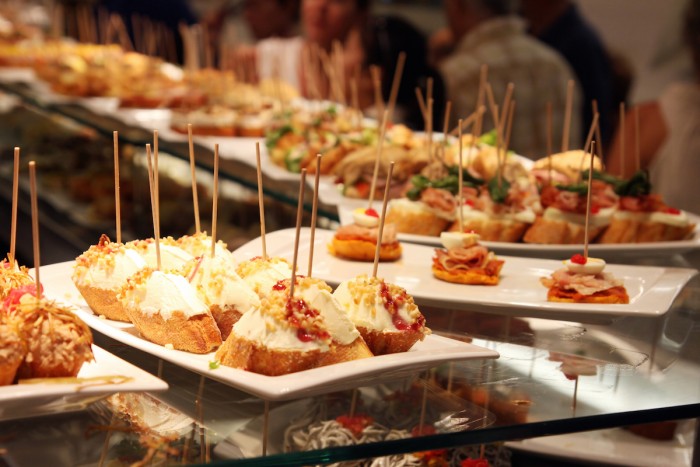 Cerveceria Catalana
The first of these recommendations and one which was a common 'must do' among our Spanish work colleagues was the busy tapas bar/restaurant Cerveceria Catalana. Tapas for those of you who might not be entirely familiar with it are small portions of snacks or apetisers which are generally served in a relaxed atmosphere with a drink. In some establishments, the bar man with your drinks will serve tapas (pintxos) empaled on cocktail sticks. At the end of your evening, the bar man will tally up your bill by the amount of used cocktail sticks on your plate; an honest method and an age old Spanish tradition.
At Cerveeria Catalana bookings or reservations are not taken, therefore you turn up, put your name down and wait. We decided to go late thinking it might be easier for a group of 9 to get a large table - it wasn't. We were put on a waiting list of 2 hours. Most of us were happy to continue having a few drinks so we ordered some cava and began the wait. The bar at Cerveceria Catalana involves punters spilling out onto the street while others stand at the bar drinking and eating tapas. We ended up spending most of our wait around the corner at a quieter outdoor bar which might be more suitable for bigger groups. Once the wait was over, it was quickly realised it was all worth it. Gin and tonics came in soup bowl size glasses free poured by the waiter. When you expect the pour to be over, a further flow of alcohol enters your glass quickly aiding the realisation that food will be needed to soak it all up. Before you know it, out comes endless streams of delicious Spanish cuisine from suggestions provided by our waiter. Patatas bravas, baby squid (andaluz style), chocos de sepia (cuttlefish) and the piece de resistance, or should I say pieza de resistencia (in Spanish) - The huevos cabreaos - super thin crispy french fries with a slightly spicy tomato sauce and a fried egg on top. Whack it with your fork so it breaks and mixes up and you have traditional Spanish cuisine that you are 100% going to try to recreate at home.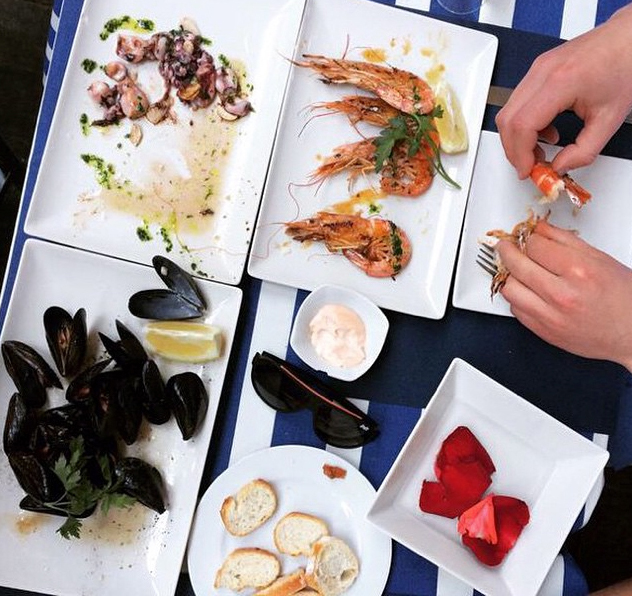 La Boqueria
Europe's biggest food market is well worth a visit, situated in the heart of Barcelona, just off Las Ramblas. The market is stuffed to the gills with fresh fruit, fish and seasonal vegetables but the wow factor comes from the stacks of orderly montserrat tomatoes, toppling towers of salt cod and rows of multi-coloured fresh juices in sight around every corner. Immediately I was drawn towards the fresh coconut. The juice vendor pulled out a machete and severed the crown revealing the most thirst quenching liquid my cava parched mouth had ever savoured. If you were like me, you will want to buy everything and cook it on your non existent stove back at the hotel. As an alternative, market tapas bars are spotted on the perimeter allowing you to savour the produce prepared for you while taking in the market atmosphere all around. Mornings are the best time to visit the market where fresh produce is paraded for ogling eyes. While ogling, remember to watch over your belongings. Professional pick pockets are rampant and a big problem in Barcelona, but by watching your belongings and having your wits about you, all should be okay to enjoy one of the most colourful food markets in Europe.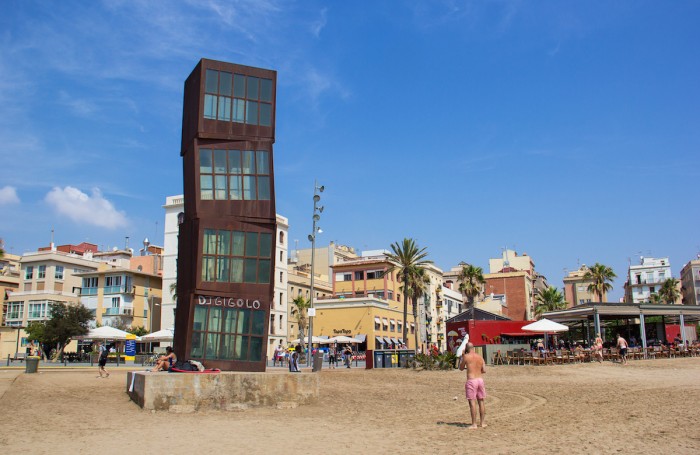 The Beaches
Barcelona has been declared the best beach city in the world according to National Geographic, and that we can all agree to. The coast line boasts over 5km of golden sandy beaches which interestingly were pretty much abandoned until their redevelopment for the 1992 olympics. The now landscaped promenades and manicured palm trees entice visitors from all over the world annually. Xiringuitos or beach restaurants come alive in the evenings displaying fire lanterns and blaring music and an atmosphere that will make you reach for the nearest jug of sangria. if you want a draft beer ask for a cana, which is a small measure; tourists invariably request a cerveza which is a bottled beer.
Sagrada Familia
The most visited and definitely the most spectacular sight in Barcelona is The Sagrada Familia. This unfinished piece of architecture was designed by the famous architect Antoni Gaudi and is visited by over 3 million tourists annually. We were lucky enough to have the best view of the Basilica from the bathroom in our Airbnb which only whet our appetite to find our way there and take a sneak peak inside. The queues are long which is expected of one of the most famous buildings in the world. Its worth buying skip-the-line tickets which offers a slightly shorter queue but every minute spared is a minute spent exploring the inside of this fascinating building. The inside was only opened to public inspection in 2012 where the outside still isn't even finished. Gaudi tragically died in 1926 so in memory of this, it is expected the outside will be fully complete 100 years later in 2026.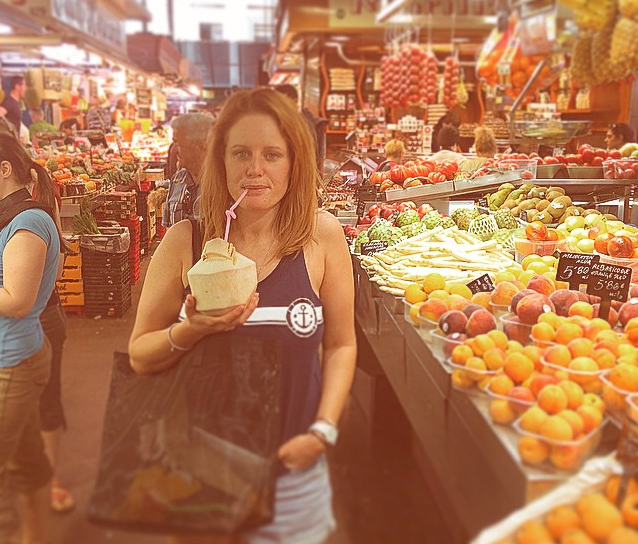 Due to the length of this trip we didn't get to do half the touristy things we wanted to, so we have booked to go back in October and I have my mind set on staying at the W Hotel. Weather wise, May was warm but with a chilly bite. A friend just came back from there this weekend and it was 33 degrees. Probably best to go June/July time to fully get the pins out and have a cocktail out in the open without having to grab a cardigan. I don't say this about many cities but it's definitely one I could live in. I will just have to brush up on my pigeon Spanish in the meantime!