Though Kuala Lumpur is primarily known for the Petronas Twin Towers, many tourists find themselves pleasantly surprised to discover that there's more to the Malaysian capital than two of the world's tallest buildings. Blessed with a rich and diverse culture, the country's largest metropolitan is home to over 1.5 million people, most of whom are of Malay and Chinese descent. It is around 38 km from Port Klang, Malaysia's busiest cargo port and the site of the Star Cruises Terminal. Visitors who prefer to do some exploring on their own can take the train (KTM Komuter), a cab, a bus, or rent a car to get to the city from the port.
Shopping
With its competitive rates and many shopping districts, Kuala Lumpur has gained a reputation as a shopper's paradise. One of the city's premier shopping malls is Suria KLCC. It is situated beneath the Petronas Towers and houses, among others, international brands like Louis Vuitton and Cartier, a Japanese bookstore and department chain, and several electronics and computer stores.
Those desiring to take home handicraft like batik and rattan products as souvenirs can drop by the Craft Cultural Complex on Conlay Road. Aside from holding a craft boutique, the complex also has a museum and a colony for Malaysian artists. Chinatown on Petaling Street and the Central Market are two other shopping areas where locally made items can be found at bargain prices. It is good to note that most establishments catering to tourists accept American currency and that major credit cards can be used almost anywhere.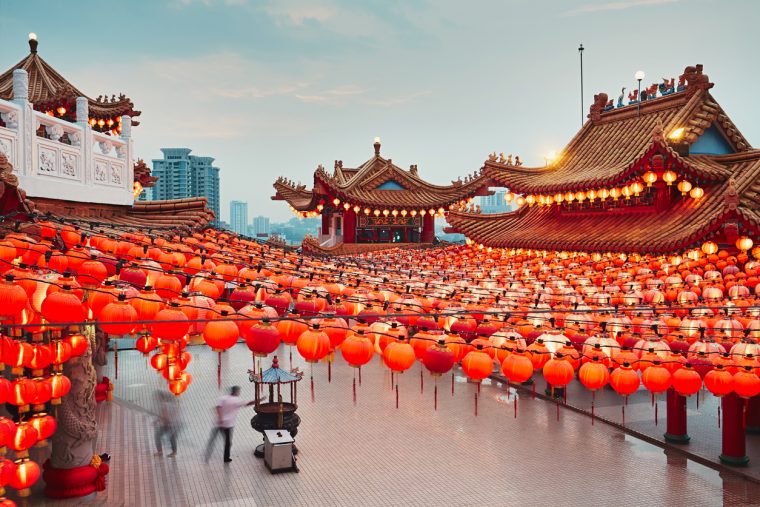 Things to See
Since the completion of the Petronas Towers, Malaysians have referred to them as the symbol of their country. With 88 stories and a height of 1483 ft, they claimed the title as the world's tallest skyscrapers in 1998 until it was usurped by Taipei 101 in late 2003. Another soaring structure popular among visitors and locals alike is Menara KL. Standing at 1381 ft, it offers a spectacular view of the city and boasts of having the world's highest McDonald's. Both towers can be reached by public transportation from the port and are usually included in most cruise tour packages.
A trip to the Batu Caves is also included in most packages. Located about 13 km from Kuala Lumpur, it is comprised of several caves, with the largest only accessible through a 272-flight of stairs. More than a tourist spot, the cave is regarded a place of worship as it accommodates a number of Hindu shrines.
Restaurants and Bars
When it comes to food, Kuala Lumpur has just about everything for everyone. Hawker stalls selling affordable local dishes can be found in most parts of the city, particularly in Jalan Alor and Chinatown. Those who want to experience international cuisines in a more posh setting can give one of the many restaurants in Bukit Bintang a try. One such dining establishment is Prego, an Italian restaurant that occupies two levels of The Westin Hotel.
Anyone who wants to unwind with a cool drink can head over to El Nino, a bar on 21 Jalan Mayang, or to TM2, a nightclub featuring live music at the Mutiara Hotel.
Regardless if you're after a pulsating nightlife, a cultural experience, or a satisfying shopping expedition, rest assured that Kuala Lumpur is a port that won't disappoint.