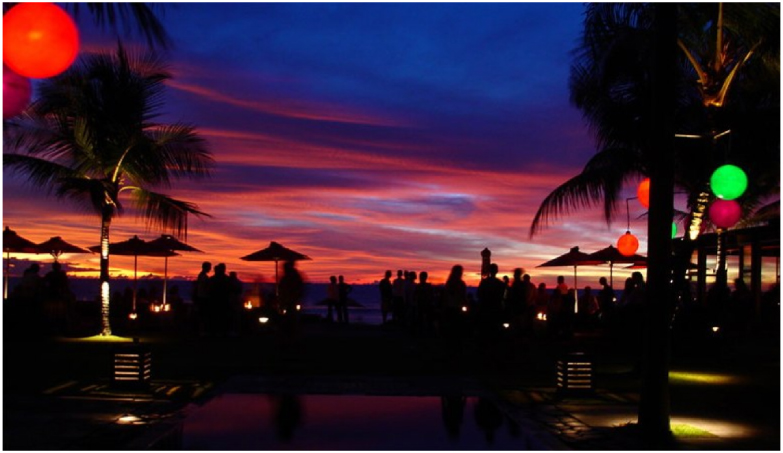 Bali, Indonesia has something to offer almost any kind of tourist. Everything from budget accommodation and a cheap beer party atmosphere, to the luxury traveler demanding the finest luxury resorts and internationally acclaimed restaurants. On our recent beach vacation to Bali, we chose to stay in Seminyak, something in between.
Seminyak is worldly, Indonesian restaurants are overshadowed by impressive international restaurants, cafes & lounges taking center stage. We decided to stay in Seminyak, because we wanted to enjoy a beautiful beach in the middle the action, without the crowds and chaos of nearby Kuta. We spent the first morning shopping the plentiful boutique stores selling contemporary Western-styled clothing, tropical home accessories and designer beach wear. Most of the best boutiques can be found along Jalan Oberoi (Laksmana), Jalan Petitenget and Jalan Raya Seminyak. I would recommend allowing at least half a day to check out all of the stores and make sure to bring lots of water... it's hot! I found a very cute reversible bikini from a Bali-made swimsuit store called Blue Glue, and a matching bead necklace from a small street stall. After all of the shopping, I couldn't wait to try out my new outfit on Seminyak beach. A short stroll down Jalan Abimanyu past The Royal Beach Seminyak will take you to the Seminyak Beach.
It was easy to rent a lounger for only a few dollars for the day. I laid out my large towel where I settled in and proceeded to get every thing I wanted without leaving the comfort of my lounger. Menus were brought to me where I ordered a delicious veggie burger accompanied by some nice cold cocktails. In the few hours of lounging I was able to get my nails done, have a back massage and buy a new summer dress for the next day. I even ventured out to the water to cool off a bit. After watching the sunset, we walked up the street to our homely hotel, Seminyak Paradiso Hotel to get ready for dinner and drinks at the much talked about KU DE TA
KU DE TA lived up to the hype and even exceeded it. The food was incredible and the portions were large enough to fulfill my large appetite from the busy day. We had some nice wine with dinner, then proceed upstairs to their bar call Kuvé for after dinner drinks to enjoy the backdrop of brightly lit crashing waves below. Having been to Bali many times, and always staying in Seminyak, I would definitely recommend it for some one who likes to have great unique shopping, gourmet international food and a great beach within walking distance.
KU DE TA Photos by Christopher Leggett