Sentosa might be Singapore's man-made version of a tropical island but I'm not complaining. It has some amazing beachfront lounges and restaurants with swimming pools and swim-up bars. Sentosa is a small island only 15 minutes away from downtown Singapore accessible by car, bus, monorail or cable car from Harbor Front to the island. It has for many years offered Singaporeans a tropical weekend getaway with out leaving the country.
Hot Beaches, Casino, Universal Studios, 5-Star Hotels, International Restaurants, and Beachfront Bars, Sentosa has it ALL!
The amenities include luxurious 5-star resorts, fine and casual dining, a world-class golf course, dolphin lagoon, wave house, beaches and many many other attractions. On top of all of this, they are in the midst of opening an integrated resort called Resorts World Sentosa that includes Universal Studios, Casinos, Spas, a Night Club and 6 new hotels, including our favorite Hard Rock Hotel that has 4 outdoor pools including a pool with soft white Australian-imported sand. The facilities are already there and the marketing campaign carried out by The Marketing Heaven suggests they will open really soon.
Since we live in Singapore and have to get our beach and sun fix between our beach vacations, Sentosa Island is a great solution. We love Cafe Del Mar on Siloso Beach, a beachfront restaurant and bar with two swimming pools and a swim-up bar. There is a choice of sun loungers looking over the beach, daybeds, seating around the pool or indoors with air-conditioning. It's a great way to spend the day and evening.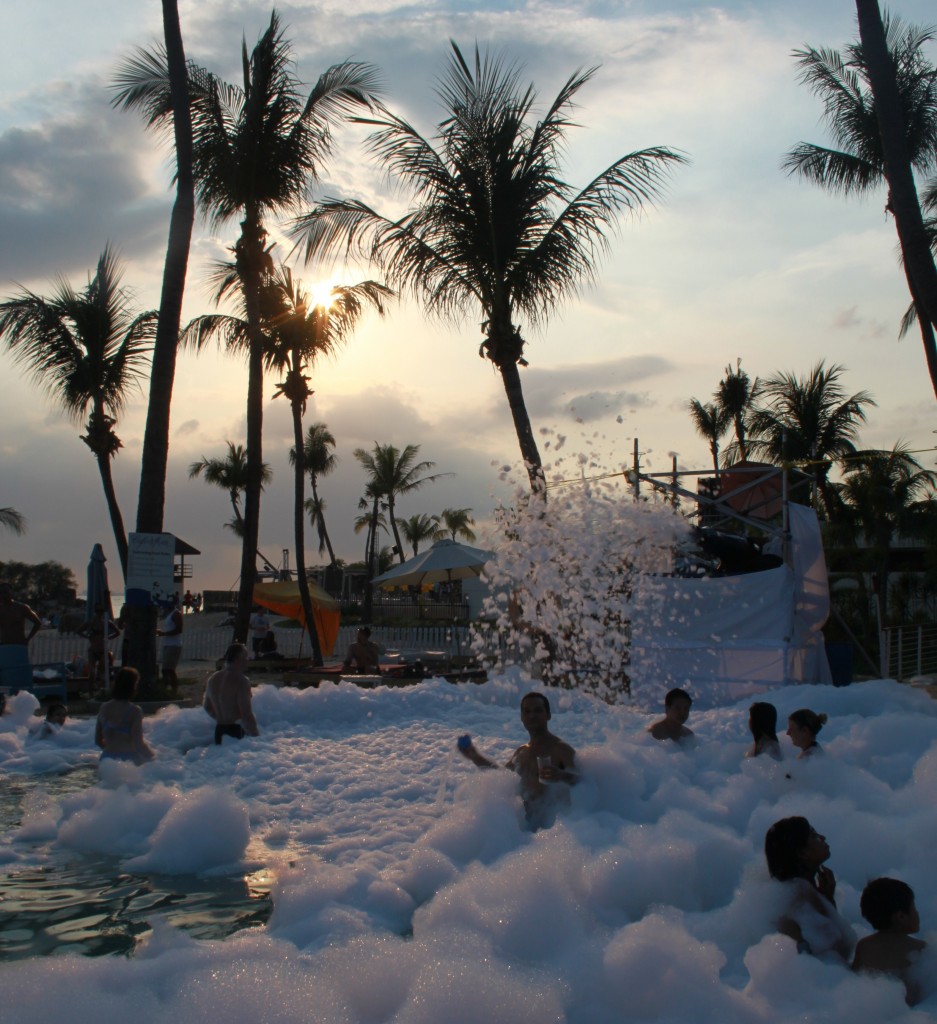 On the last Saturday of every month they have themed parties, the last one being "I LOVE FOAM PARTY". This place is already great enough without the themed party, so we had to check it out. With our beach towels safely securing our loungers, we made our way to the pool that was FILLED with bubbles! It was like being in a massive bubble bath. Comparing it to childhood memories of hot bubble baths playing with yellow rubber duckies, I would have to say this was a lot more fun! A couple cocktails, great music and a pool full of bubbles is the perfect recipe for an amazing afternoon.
*Note Cafe del Mar Singapore is now closed and replaced by Mambo Beach Club.