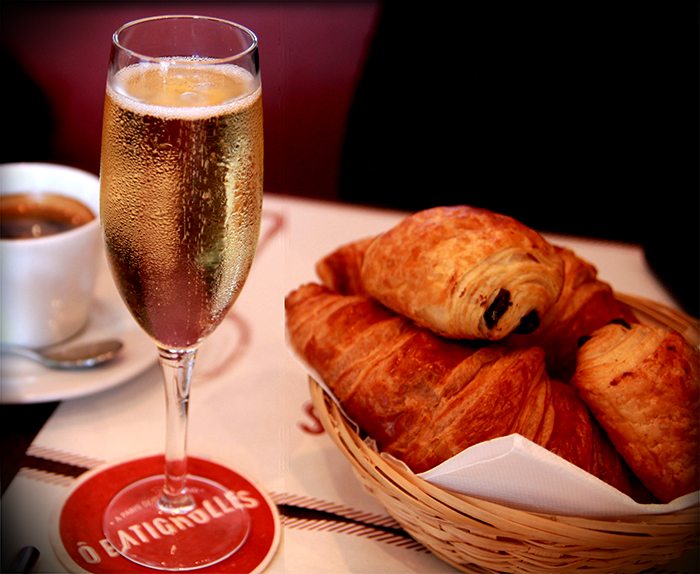 On this beautiful Sunday afternoon my husband Tom and I are imagining we are in Paris, doing as Parisians do. Ready to enjoy a brunch of croissants, Eggs Benedict and free flow champagne. There is French music playing in the background and the sides of Ô Batignolles restaurant are open so the indoors blends into the street side terrace seating giving us a view of the city rushing by. All we need is a little dog and scarves wrapped around our necks to complete the scene.
We look over the choices from the "Champagne & Croissants" selections. A new addition to the Ô Batignolles menu. For $29++ ($89++ w/ champagne) we get to choose a hot beverage (coffee or tea), a choice of bread (either Brioche with Nutella, Blueberry pancakes, Pains au Chocolate Basket or French Toast) and a choice of eggs (either Eggs Benedict, Eggs Pacifico, Scrambled Eggs or Eggs Cocotte). Also included is a glass of fresh orange juice, while the champagne breakfast gets the addition of free flow croissants.
We order up two coffees and a basket of croissants and pain au chocolat to start. I hear Antoine, the owner of Ô Batignolles is French, so I can't wait to try their croissants.
I narrow my bread choice down to French Toast and Tom the Blueberry Pancakes. Next we choose from the eggs selection. Without a hesitation I decide on the Eggs Benedict and Tom flip flops between the Eggs Pacifico and Eggs Cocotte, finally settling on Eggs Pacifico.
Our coffees arrive promptly. Two cups of Lavazza coffee with a nice layer of crema on top. The perfect way to start brunch and a much needed jolt to wake us up. Being pregnant I have to pass on the champagne this time but am determined to live through Tom urging him to order a glass of champagne even though he is still recovering from too many drinks the night before. Antoine tells us all of his champagne and wine are brought in from France specifically for Ô Batignolles. With a sip of champagne, Tom nods in agreement, "It's very good".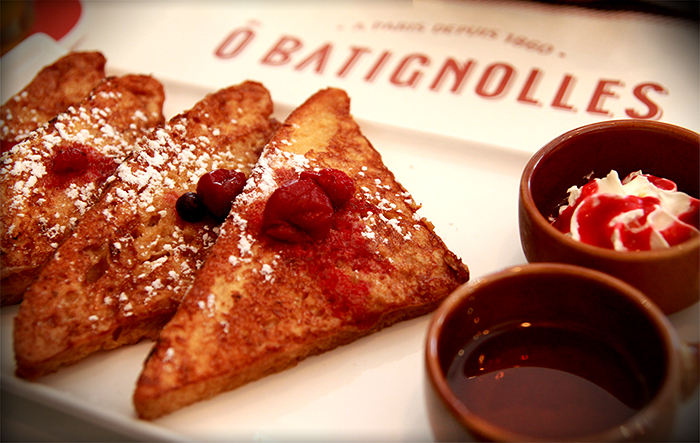 Our French Toast and Blueberry Pancakes arrive with whipped creme, syrup and jam. A bite of the French Toast and I'm in heaven. I never knew french toast could taste so good. I'm going to have to find out what their secret is because the french toast I make at home tastes nothing like theirs. Maybe one of the guys in the kitchen is open to stopping by our place on Sunday mornings to make us breakfast? More likely, we are just going to have to come back whenever we are craving french toast. It's really that good.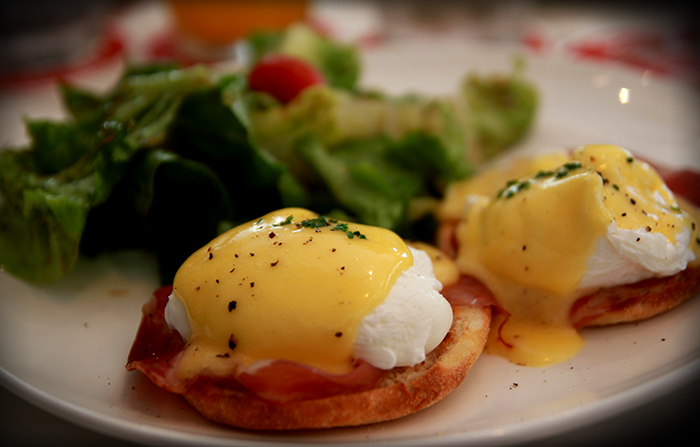 Next up are the eggs. Two poached eggs covered in Hollandaise sauce on top of ham for my Eggs Benedict and salmon for Tom's Eggs Pacifico. Both come served with a side salad and are cooked perfectly. We just manage to finish our eggs and salad. After all of the french toast, croissants, pain au chocolat, coffee, champagne and fresh orange juice, we are completely full and satisfied. A big breakfast without compromising on quality.
So how did the croissants stand up to my expectations? Let's just say Tom after seeing how much I loved them brought home croissants twice over the next week, and I just couldn't eat them. My taste buds were spoilt and wouldn't settle for anything less than butter croissants. It seems as though if I ever want to enjoy a croissant (or even french toast for that matter) ever again, I am going to have to go back. Here's my business idea for Ô Batignolles: Croissants by Courier. What do you think?
Details
The "Champagne and Croissants" brunch is available on Saturday and Sunday from 11am – 3.30pm
$89++ inclusive of free-flow Champagne and Croissants, $29++ with soft drinks. A la carte menu also available starting from $8++
Ô Batignolles
2 Gemmill Lane
Singapore 069247
T: +65 6438 3913
W: www.obatignolles.com