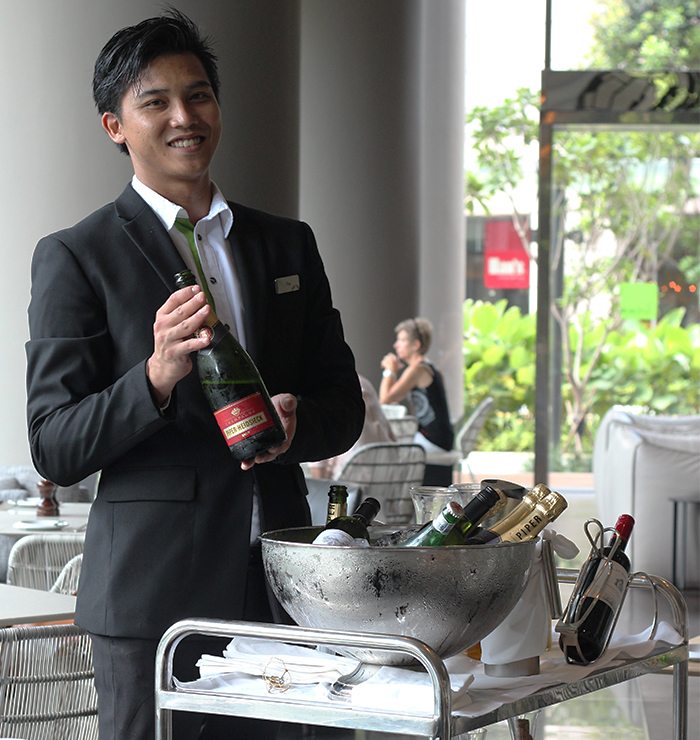 "May I offer you some champagne with your brunch? How about orange juice?" That's exactly what I like to hear when rewarding myself with a decadent Sunday brunch. And the champagne is not the only thing that is decadent about Lime's Sunday Brunch. Wait until you hear about food, you will wish you didn't have that big dinner the night before.
They call it a "Brunch", but it's really more like a "Brunchinner". Dishes that would span over breakfast, lunch and dinner yet served from 12 until 3pm. For breakfast dishes you could start with Poached Eggs with Balik Salmon & Truffle Hollandaise Sauce from a live station, a few pastries and maybe some fruit. For a lunch selection, how about a nice bowl of Lobster Bisque with a side of assorted salads, baguette with duck confit, parma ham, smoked salmon, gravlax and a few samples from the selection of twelve European cheeses?
You'd be full already right? But that is only the beginning. Select from the many food stations including the cold seafood station with clams, mussels, prawns and oysters on ice alongside assorted sashimi.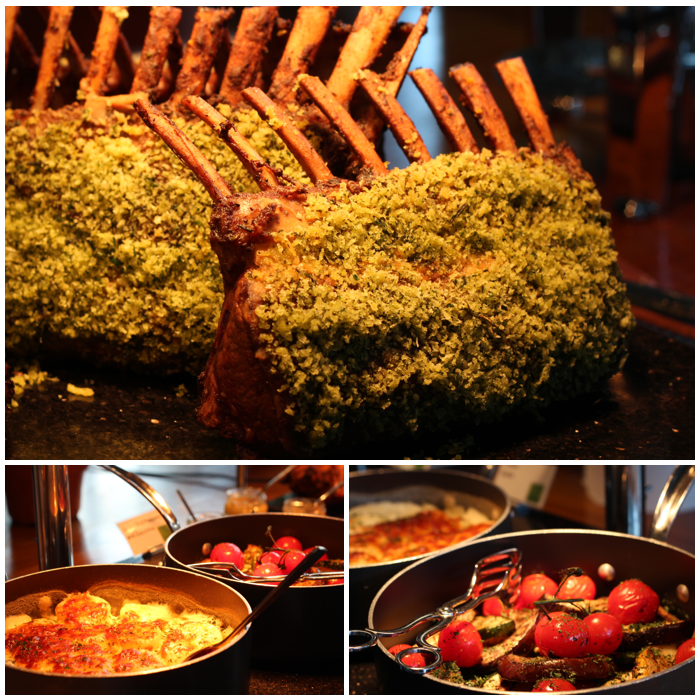 A roasting station with US Prime Ribs, Potato Gratin, Grilled Vegetables, Cajun-styled Roasted Chicken, Lamb Rack, Whole Red Snapper and a friendly gentleman ready to slice whichever meat you fancy.
At the next counter lies a row of hot dishes ready to be scooped up. Choose from Tiger Prawn Meuniere, Herb-Crusted Cod with Thyme Sauce, Lamb Shank, Beef Cheek in Red Wine and Ratatouille.
Then there are the live stations. The "Chef's Wok Creation" is where you can choose the seafood and vegetables you want and have the chef fry them up in your choice of sauce. Either Sambal Chilli, Kung Po Sauce, or Ginger and Spring Onions.
Wanting to try the "Chef's Wok Creation", I ask the chef which sauce he recommends. "If you like spicy, the Sambal Chilli is very good" he replies. To which I shrug "Sure I'll try that". He looks at me curiously and asks "Do you like spicy?" I hesitatingly nod my head. Meaning "sometimes". When someone asks if you like spicy, it's usually best to answer honestly. Although I like to try spicy foods, I can't say I handle them too well. So if your response to "Do you like spicy foods?" is "Yes! The spicier the better. I love it when my tongue feels like it's on fire!" go for the Sambal Chilli sauce. Otherwise, I'm sure one of the other sauces would be more suitable. Hopefully one day I will learn it's okay to admit I can't take spicy foods.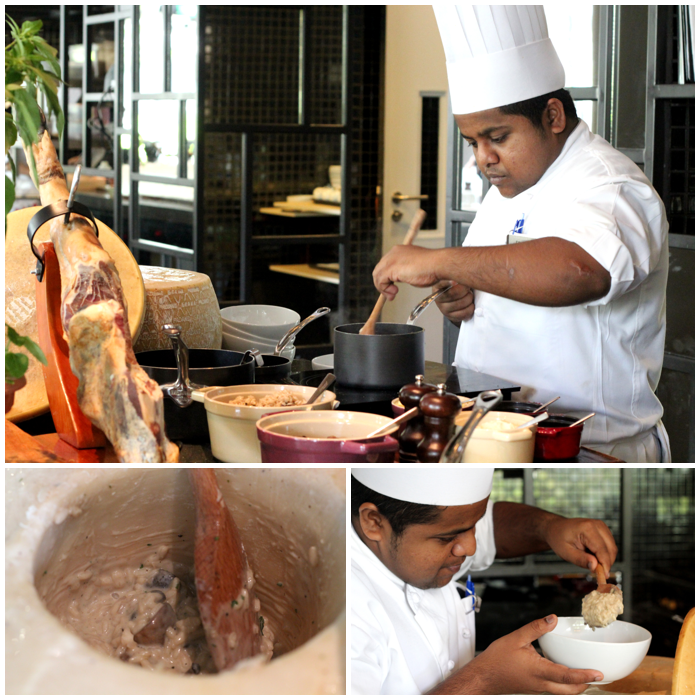 The next live station is one of the Sunday Brunch's most decadent, a Mushroom Risotto. I watch on as a chef sautés the risotto and mushrooms with a bit of seasoning and sauces. Stirring the risotto in the pan until it is cooked just right, then places it in a carved out hole in the centre of a huge wheel of Parmigiano Reggiano cheese. Mixing it around, it picks up just the right amount of cheese flavour. He tops it off with a few slices of Jamón Ibérico. Now that is decadent.
The last two live stations make fresh Penang Assam Laksa and Pan-seared Foie Gras. I hear many have raved about the laksa, I just can't find room to try to try either. Well, I'm really saving room for dessert!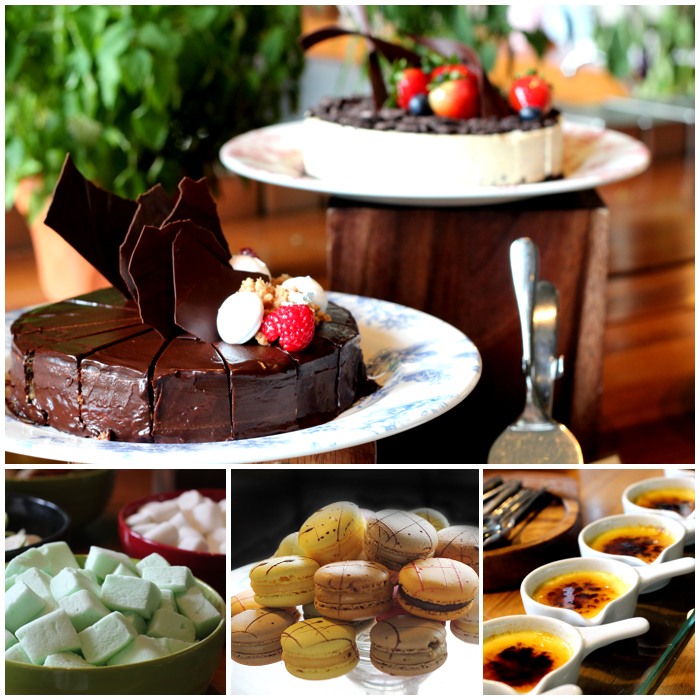 My favourite part of buffets is always the dessert station. Where else can you try small pieces of several kinds of dessert? This way I get a fix for all of my dessert cravings at once. Envision trays of macarons, tiny crème brûlée, little fruit tarts, small glasses of moose, ice cream, a chocolate fountain with fruit and marshmallows for dipping and layers of whole fruit tarts and cakes. That is the dessert station.
I try to get a bit of everything and end up with macarons (which are AMAZING), crème brûlée which I am told is a crowd favourite and could see why, a piece of opera cake and a few marshmallows covered in liquid green chocolate.
Every thing exceptional. A surprise must try from the dessert station is the lime marshmallows. They are like spongy pieces of delicious key lime pie.
At the end of it all, I feel like I have had my breakfast, lunch, dinner and dessert in one meal. A very satisfying and decadent meal. My idea of a perfect Sunday indulging in great food and drink in a beautiful atmosphere.
How do you like to reward yourself on a Sunday afternoon?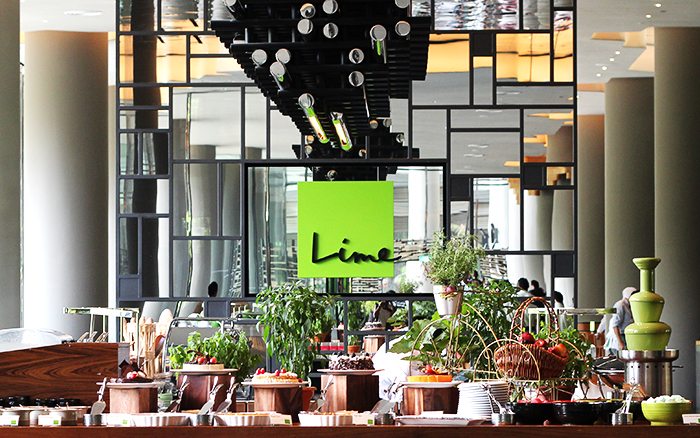 Details
Available every Sunday from 12pm to 3pm.
$68++ per person includes juices, soft drinks, coffee and tea.
$98++ per person including free flow champagne and selected house wine, fresh juices, soft drinks, coffee and tea.
Lime
PARKROYAL on Pickering
3 Upper Pickering Street
Singapore 058289
T: +65 6809 8888
W: PARKROYAL on Pickering
This was a hosted tasting. As always, opinions are our own.