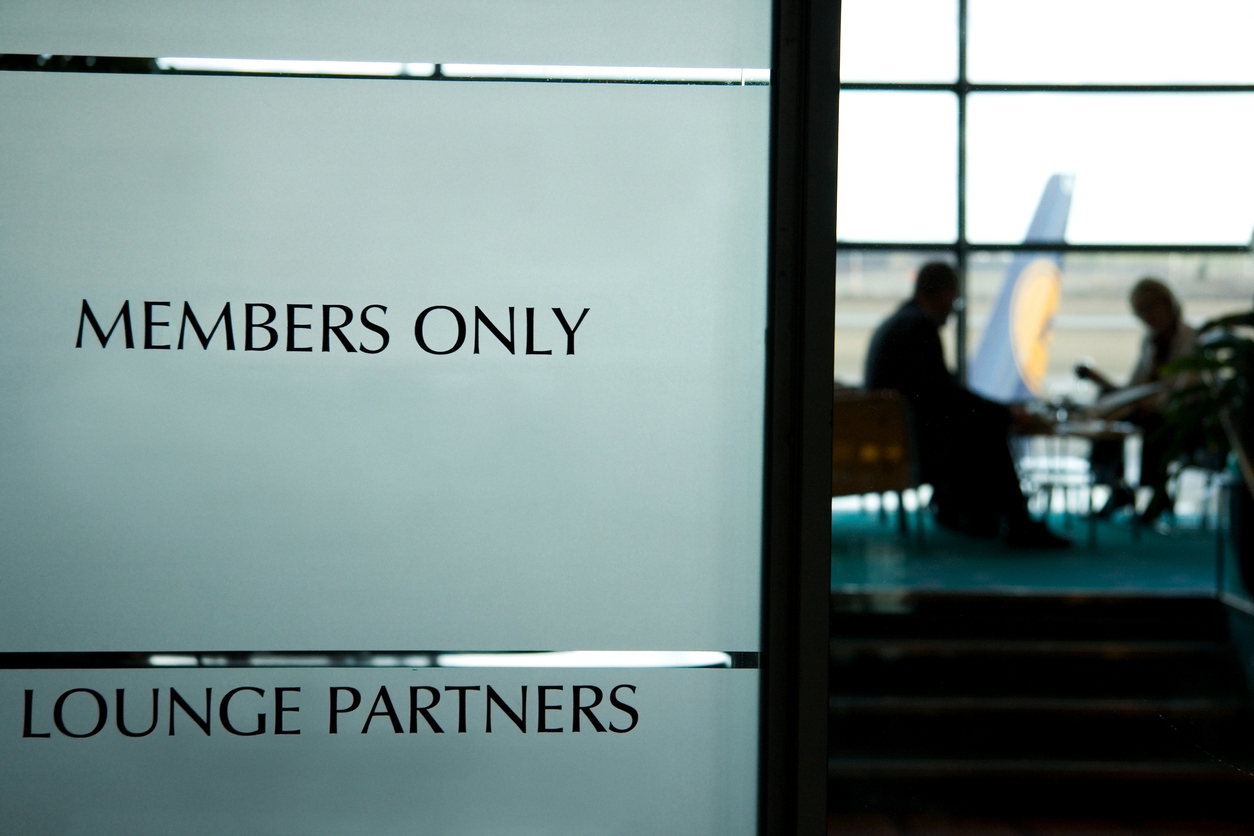 We see you, weary traveler: the one rolling your suitcase by the airport lounge, sneaking a peek as the door closes, wishing you too could score some free drinks and snacks, charge your phone, take a shower, and plop down on a comfy sofa. But alas, you aren't flying first or business class, nor do you have elite status with their rewards programme.
Fortunately, there are now several ways to get access to exclusive airport lounges. Read on to find out how you can join the cool kids in the lounge.
Get a Day Pass
This is the most accessible way to get into a lounge. Numerous airlines sell day passes which give travellers access to lounges, often even if you're not flying with them. The thing is not all of the lounges do, but don't let that stop you from asking.
If they won't sell you a pass at the door, go to loungepass.com, which sells passes to hundreds of lounges around the world. Keep in mind that some lounges restrict the amount of time you can spend at the lounge (it's often three hours) and some only offer passes to passengers travelling within that country. Day passes usually cost between $29 and $75 per entry.
Buy a Lounge Membership
If you fly often, and you fly through airports with lounges, a lounge membership may be a great investment. How does this work? You can purchase membership with a specific airline or through a third party vendor. Airlines memberships give you access to any lounge operated by that airline as well as access to many partner lounges, regardless of which airline you're flying that day.
Most memberships allow you to bring your spouse/domestic partner and your kids or two guests, sometimes at an additional fee. Memberships cost between $100 and $700; however, they tend to pay for themselves quickly for those who would otherwise be buying first or business class tickets or day passes.
Priority Pass
Priority Pass is a third-party lounge membership which offers access to over 1000 airport lounges worldwide for an annual fee. You can choose from four different membership levels. At US$399 a year, the Prestige membership gets you unlimited access to all of Priority Pass' lounges; the Standard Plus, which costs US$249 per year, gives you ten passes, with additional passes costing $27; the Standard membership goes for $99 and enables you to pay just $27 each time you access a lounge. The Select level is only available to those with an American Express Platinum or Centurion Card.
Priority Pass includes many of the airlines' own lounges, too. There is also a smartphone app you can download that helps you find a lounge when you're travelling.
Use a Premium Credit Card
When you're shopping for a credit card, strongly consider a travel card and look at their benefits; some premium cards offer complimentary access to airline lounges. Not only do travel cards often provide access to lounges, they will also help accrue air miles and will sometimes offer other travel perks like travel insurance and travel concierge services.
Singapore residents can consider one of the many travel cards available that include the Citi PremierMiles Visa Card, ANZ Travel Visa Signature Credit Card, DBS Altitude Visa Credit Card, American Express Singapore Airlines KrisFlyer Ascend Credit Card, Standard Chartered Visa Infinite Credit Card, and HSBC Visa Infinite Credit Card. These cards offer between two and an unlimited number of access passes per year.
Upgrade Your Ticket
Flying budget airlines doesn't have to feel so 'budget'. Many of Asia's budget airlines offer upgrade packages which can include lounge access. On Scoot look for the 'Scoot in Style' package when flying from Singapore and on JetStar look for the 'Economy Starter Max' or 'Business Max'. AirAsia even has its own fancy lounge at klia2 International Departure which is available to Premium Flatbed and Premium Flex guests travelling out of Kuala Lumpur or for RM 79.00 for walk in guests.
Ask To Be a Traveller's Guest
If you can't buy a day pass, and don't have a lounge membership, or premium credit card, then there is one more option: someone can add you as their guest.
So, channel your inner lost puppy and…okay, no, that's probably not the best strategy. But if you're feeling up for it, it's worth a shot to stand outside a lounge (especially if you appear professional and friendly) and ask travellers going in if they'd be willing to bring you in as a guest. People like doing kind things for others, even strangers, and the worst that can happen is they'll say no. And the best thing that can happen is several hours of comfort!