For travelling foodies, food is an important factor. Penang ranked 6th as a food destination in 2015 through a Facebook open poll by CNN Travel. Culinary gems like Penang char koay teow (wok-fried rice noodles) and Asam Laksa (noodles with fish in a spicy, tangy broth) can be found in the heritage pockets of Pulau Tikus, Chowrasta and Cecil Street.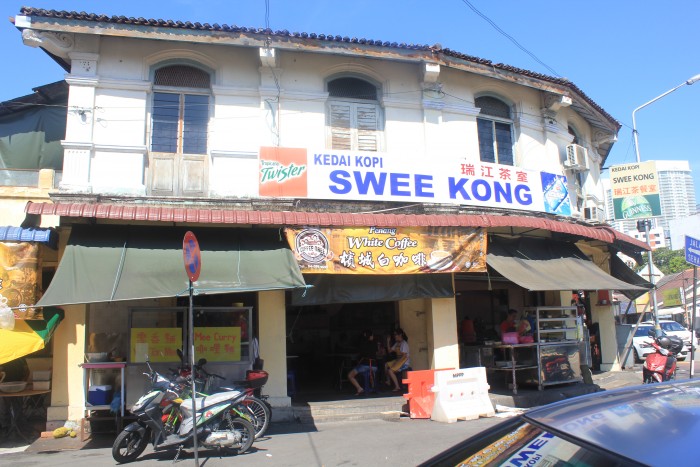 Pulau Tikus
Located within George Town, this morning wet market is a cacophony of sights, sounds and smells. It's bustling, humming and jammed packed with locals – housewives haggle with fruit and vegetable vendors for the best bargains; hawkers dish up ethnic specialities from mobile food vans and Penangnites jostle for seats in a coffee shop for breakfast. Meals start from RM3.00.
The name Pulau Tikus (Rat Island) is a misnomer! Neither is it an island nor is it infested with rats or mice. Actually, it's named after a rocky isle north-east of Penang, shaped like a mouse!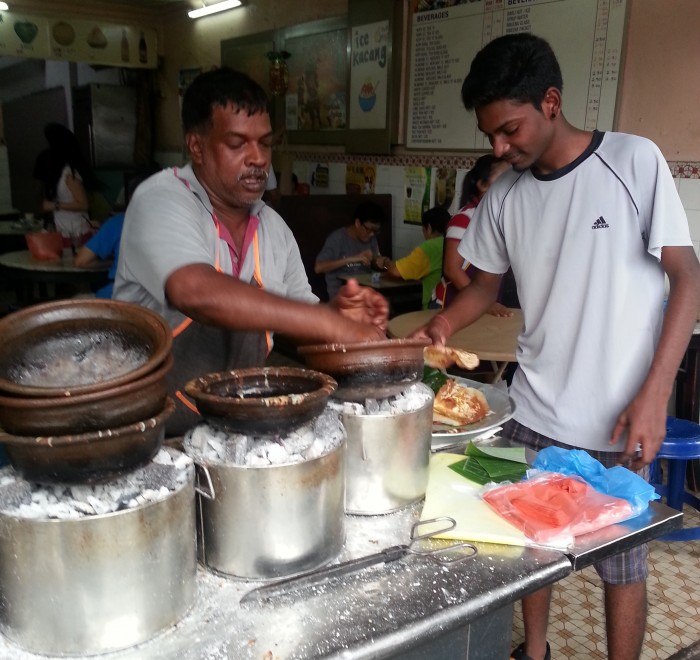 Head straight for Swee Kong coffee shop on Solok Moulmein road, opposite the Pulau Tikus police station. Order Ravi's claypot apom manis (sweet pancake). This is possibly Penang's best known Indian pancake. It's an early start for Ravi who braves the charcoal heat from as early as 6.00 am. They get sold out by 9.00am! Tip: For above 10 pieces, pre-order by calling him on +012 470 7039.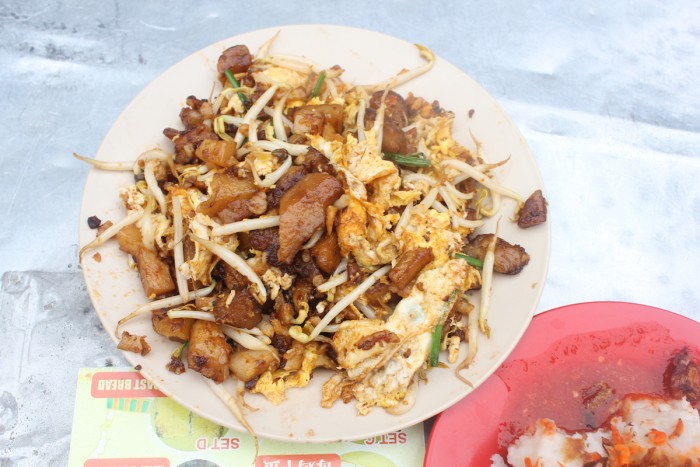 Cross over to a shop named 77 local yard. Here, savour Penang's specialty Hae Mee (prawn noodle soup) the Hokkien Char (stir-fried noodles with assorted meat and seafood) or Curry Noodles. From the food vans, there's Chinese apom (pancake with assorted fillings like banana, chocolate, ham or cheese) and char koay kak (Penang's version of Singapore's panfried radish cake), among others.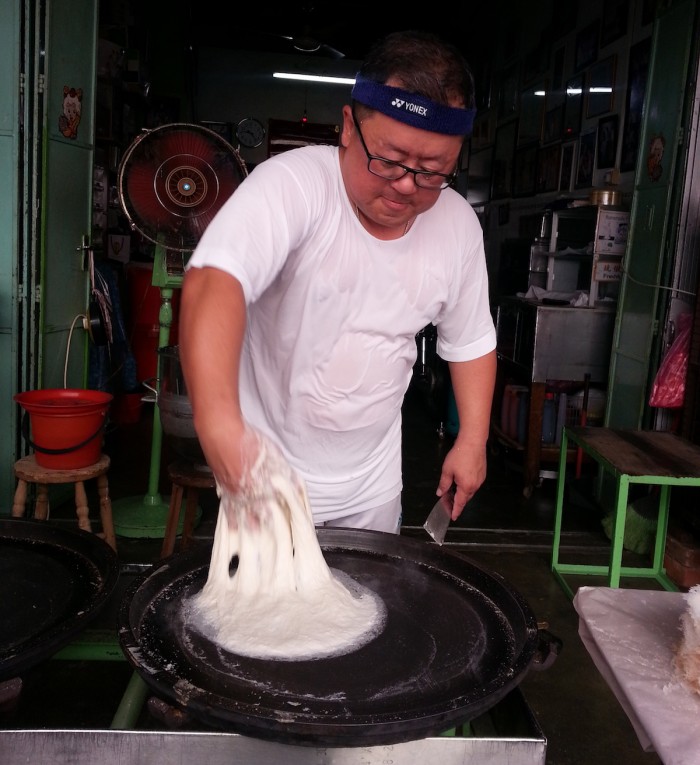 Chowrasta Bazaar
Chowrasta means four-cross roads in Urdu as the pioneer traders were mainly South Indian Muslim traders. Built in 1890, this market is well-stocked with goods and products sold by Penangnites who have taken over the businesses spanning 100 years. Given a multi-million dollar facelift in 1961, Chowrasta remains popular with locals as bargaining is still very much part of the local shopping experience. Here, you'll find a vanishing trade – the popiah skin maker, toiling tirelessly to produce wafer-thin spring roll skins. He also makes scrumptious crumbly peanut candy.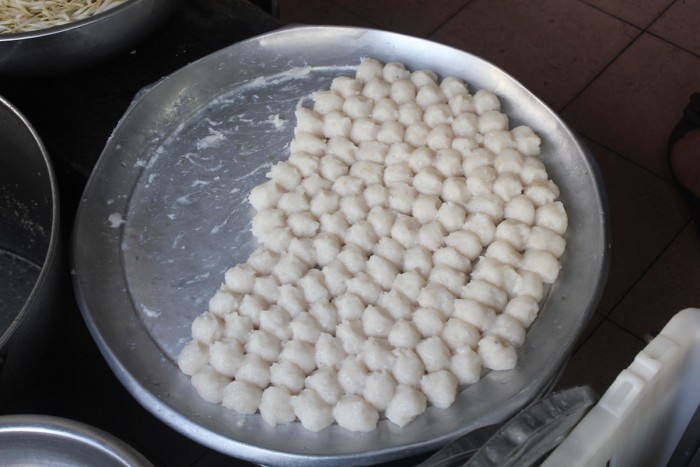 Cecil St Food Centre
Just 15 minutes from the city centre, this is Penang's largest hawker centre cum wet market that's largely patronised by locals. It's a one-stop shopping and food venue plying all manner of goods – from clothing and cuisine (traditional snacks) to live chickens and even a jeweller and an ageing cobbler. Boasting old world charm, this market opens from 11 am to 7.00 pm. Good pit stop for popiah (spring rolls), Penang char koay teow, duck meat koay teow th'ng (rice noodles in soup) and pasembur (Indian vegetable salad with cuttlefish in a sweet and sour sauce). The roast pork, char siew and pork knuckle (found on the fringe of the wet market) are absolutely shiok (delicious)!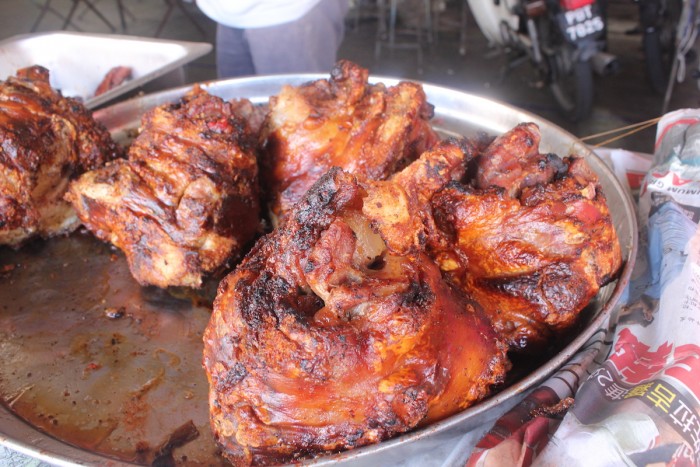 Travel Notes
Direct flights on AirAsia, Silk Air, Jetstar and Tiger Air from Singapore Changi Airport to Penang take 60 minutes. Check rates here. To get into George Town, a 30-40 minute cab ride costs RM50.00. To go on a guided food trail, try out one of these Penang Culinary Tours.
Where To Stay
Expect legendary service at Eastern and Oriental Hotel Penang's grand dame built during the colonial era in 1885. Its location within the UNESCO-heritage site of George Town makes it accessible to shopping and major attractions. Every aspect of this luxurious waterfront property from its setting, furnishing and amenities right down to its service exudes refined pampering. Rates start from MYR502 per night.
Shangri-La Rasa Sayang Resort and Spa is sprawled along Penang's sun-kissed Batu Ferringgi Beach, 30-minutes from George Town. This 5-star hotel offers stunning beach views and houses a spa outfitted with private villas as well as the award-winning fine-dining Ferringgi Grill restaurant. A daily complimentary shuttle service takes guests to George Town. Room rates start from MYR648 per night.
About Evonne Lyn Lee
Southeast Asia holds Evonne's fascination! She travels to gain insights into the region's rich culture and cuisine and befriends locals to connect with people. Passion fuels whatever Evonne sets her mind to. Aside from freelance writing, she keeps busy developing recipes for a cookbook, snapping photographs and sprouting herbs.