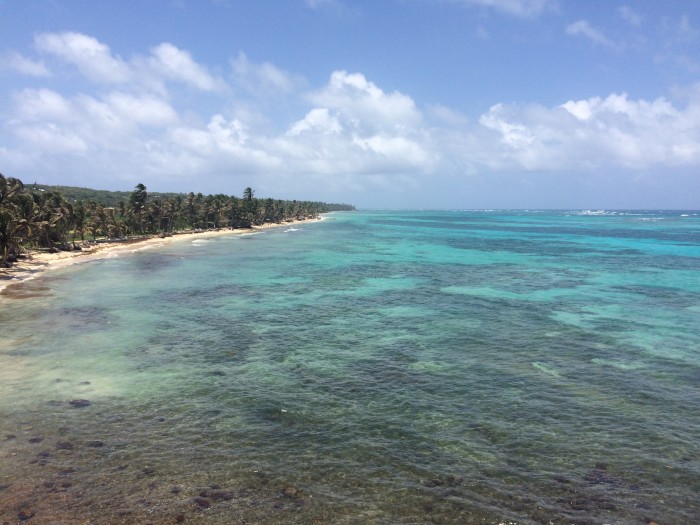 Picture perfect is the only way to describe this tiny idyllic island off the coast of Nicaragua known as Little Corn. Here you'll find long stretches of clean white sand, turquoise waters and not a car in sight. The waters are crystal clear and teaming with coral and underwater wildlife. Best of all you'll almost always be able to find a quite patch of sand to call your own. Here's my guide to visiting Little Corn Island.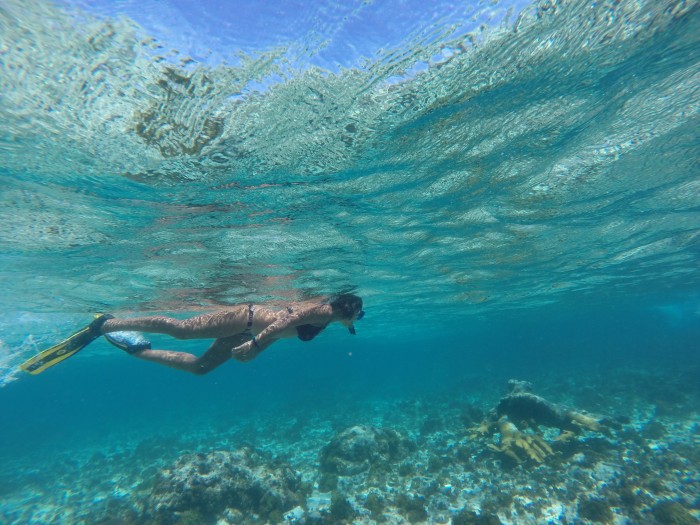 Things to do
The #1 thing to do while on Little Corn Island is to slow down, switch off and let yourself get lost in the slow island life. This is Caribbean living at its finest. No pounding dance music, no drunken tourists passing out and puking in the sand, just cruisey friendly locals and expats enjoying some of the best beaches in the world.
A must do is a walk over to Otto Beach, this is hands down one of the most gorgeous beaches I've ever come across! If you stay on the opposite side of the island it's about a 15 to 20+ minute walk, on the way look out for small fallen juicy mangoes (just before the baseball diamond) they make for a good snack for the walk.
Another big draw to the island besides sun worshipping, is snorkelling and diving in the crystal clear waters and nearby reefs. Our highlight was a night snorkel with flash lights where we spotted a colourful octopus and a couple turtles. Then we switched off the flashlights and floated in space amongst the star like bioluminescence!
Other activities include kitesurfing, yoga, stand up paddle (SUP) boarding or combine the two and try SUP yoga with Funky Yoga And SUP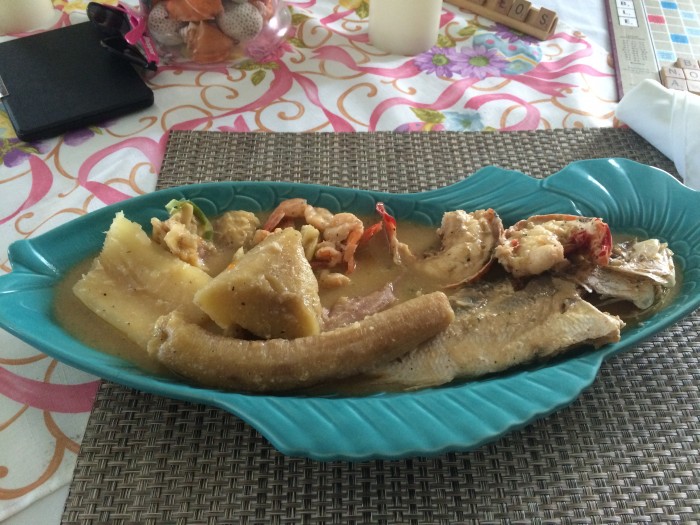 Eating
Along the main drag when you come into port you'll find all the popular hangouts for food and drink. Tranquilo cafe is probably the most popular watering hole with locals, expats and travellers congregating nightly for a few drinks, good food and entertainment. For Italian grub and tasty desserts head to Cafe Desideri. They have free wifi so if you are in urgent need of getting your internet fix, this can be a good place for a nice coffee and internet session (although remember you're on an island and internet speed can really vary).
For something slightly snazzier, head down to the beach to Turned Turtle part of Little Corn Beach & Bungalow, where you'll find ocean front dinning, delicious cocktails and tasty 4 course meals that won't break the bank .
A must try local dish while on the Corn Islands is Rondon. A coconut based soup filled to the brim with fresh seafood, banana, yucca and other veggies. It takes a while to prepare and usually needs to be ordered in advance. For great local cuisine and fresh seafood check out Darinia's Kitchen, Rosa's, & Miss Bridget's.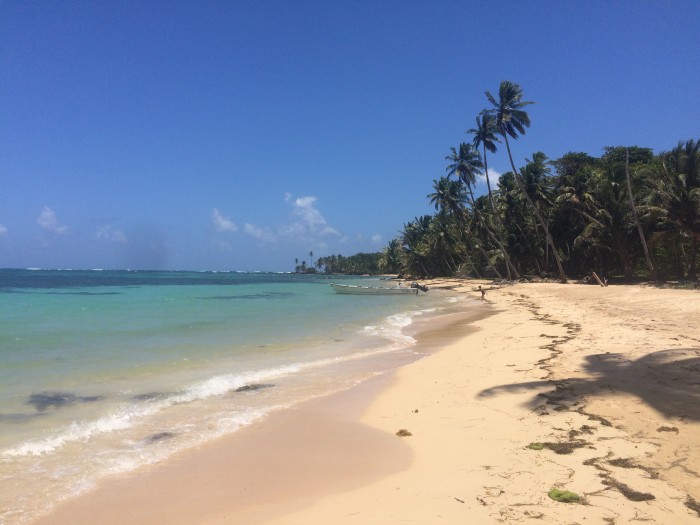 Accommodation
Here you'll find a great range of budget accommodation from cheap and cheerful hostels to simple beachfront huts. If you're after 5 star luxury, Yemaya is the only option with 16 luxurious cabins facing out to the most beautiful stretch of beach on the island with access to resort amenities such as yoga, kayaks, paddle boards and snorkelling.
Elsa's and Grace's Cool Spot are on the same stretch of beach on the opposite side of the island from where you dock. Rates here start at around $20 for shared bathroom and around $40 for very simple (wood hut, toilet, cold shower but so much character I loved it!) beach front huts with private bathroom. For a cliffside spot with epic views check out Casa Iguana (also worth walking to for the views if you're staying elsewhere). The Lighthouse Hotel is another good option which sits atop a hill, has great food, an area to practice yoga and is a short stroll from the nicer beaches.
If super basic isn't your thing, then check out Little Corn Beach & Bungalow. These are a good option if you want access to nicer accommodation and amenities, prime beachfront real-estate and delicious food (Turned Turtle see below) right on your doorstep.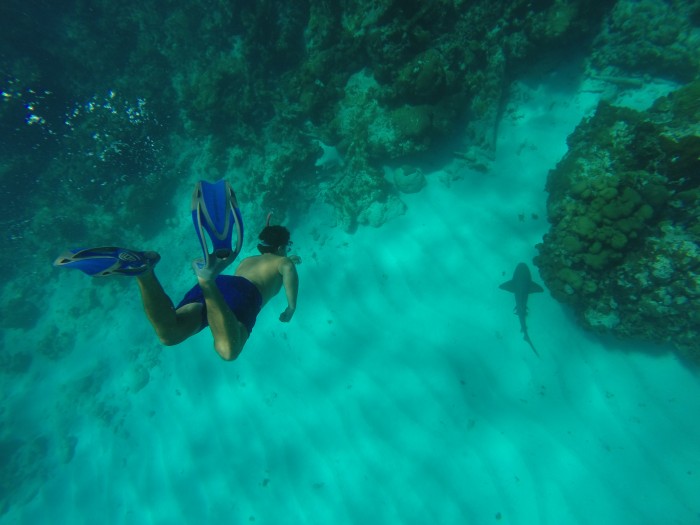 Things you need to know
Bring all your major necessities to the island with you such as contact solution, medications and anything else that can be hard to get your hands on. There are corner stores to get pain killers, sunscreen, bandages and other bits and pieces but they'll be pricey in comparison to mainland. Be sure to bring bug repellent there can be a fair few mosquitos and sand flies at times, although if you stay on a breezy side of the island you won't notice them as much.
There are no ATMs on Little Corn so it's best to bring cash over but if you do end up running out then you can usually get cash out at a couple of the bars with a surcharge.
It can be easy to get accommodation once you arrive as long as it's not peak season like over Christmas and Easter holidays. Most of the hotels can not be found on websites like Expedia.com (but some you can) so you're better off searching the web calling around or just showing up.
Remember this is a proper tropical island, things run slower, the power can go out at times (most places the power is off during the day), internet isn't reliable, and you won't find air conditioning. But this is all part of the charm that is extremely rare in this day and age and something I seriously hope doesn't change over time.
Getting to Little Corn Island
First, you'll need to find your way to Managua, Nicaragua. You can easily get there by international flight most likely connecting in a big city somewhere in the USA or if you are travelling in Central America you can get there by bus. From Managua, book a La Costena flight to Big Corn for around $163 USD return. The flight is only 1.5 hours by propeller plane which can be a bit scary for the not so enthusiastic flyer but the views are pretty awesome.
Once you land in Big Corn, grab a taxi (around $5) to the wharf (about 5 minutes away) and book your boat to Little Corn (around $7). There are two boats per day which coincide with plane arrivals so be quick to get there if you're on an afternoon flight to ensure you don't miss it. The boat ride is only 20 or so minutes but can take up to an hour depending on ocean conditions. It can be an extremely bumpy ride, so prepare to get wet especially if you're stuck in the back.
**Side note: Flights in Nicaragua can be fairly unreliable, double check departure times with the airline and arrive early for flights. Here you might show up for a flight and find out you don't have a seat or like us show up to a closed airport for a pre booked flight and discover the flight came an hour early and has already left! (This happened in the jungle not on route to little corn and really all we cold do was laugh because really what do you expect)
There is a way to bus and boat to the Corn Islands but it's a long, long, LONG trip and I've heard it's a pretty awful trip for the price you're better off flying.