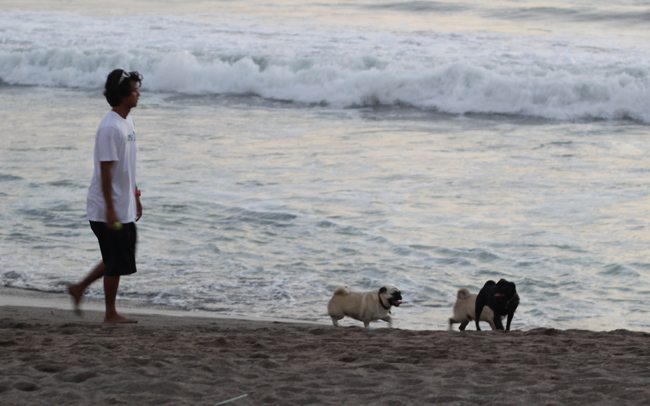 Bali might be the island of the gods, but you can live like the gods for a lot less than you think. These days, you don't even have to fly a budget airlines to get to Bali on the cheap. KLM recently started offering airfare as low as S$204 round trip from Singapore to Bali. Once you factor in not having to pay extra for luggage, food and beverages, it's often cheaper to fly KLM. That's not even including the perks of wine with your meal, and an entertainment console full of movies and games. It will be very hard to fly budget again.
With the excessive supply of hotels and villas in Kuta and Seminyak, there are good deals to be had, especially if you visit during the off season. The key to sticking to a tight budget is finding cheap accommodation. We were lucky to find a new hotel chain called Grandma's Hotel. During our visit, a room was only 330,000 rp (aprox $37 USD) a night. The hotel is brand new, clean, in a the center of Seminyak and includes free Wi-Fi. What more can you ask for in a budget hotel?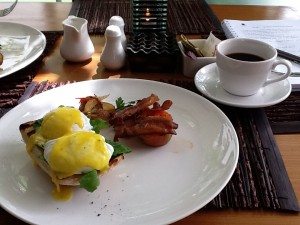 With accommodation taking up so little of the budget, there's enough money to enjoy Bali including nice dinners, drinks and massages. For dining, the restaurant next door to the Seminyak Grandma's Hotel, Il Cocco, is excellent. Breakfast for 2 is just over 100,000 ($11.00 USD) and the eggs Benedict in this beautiful restaurant are great. Jalan Laksmana, is a great street for dinning and shopping, including the surprisingly affordable Italian restaurant Ultimo. Just remember to make a reservation.
A great tip if you are staying Grandma's hotel or not, is the spa at the top of the hotel, De Nyuh Spa. This hidden spa is well worth a visit as it is clean, nicely decorated, the services are good at the rates are cheap. Only 85,000 rp for a 1 hour massage, that's only a fraction more than the grungy massage shops found around Bali.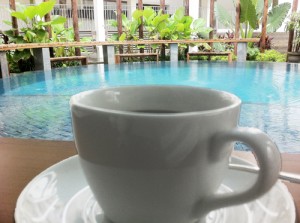 The nice thing about staying in the center of Seminyak, is the beach is only a few minutes walk away, and there are beach clubs with pools popping up every where, replacing any need for a hotel with a pool. Seminyak beach is less crowded than Kuta and still has large waves for surfing. Loungers line the beach and can be rented for only around 20,000rp a day. Once you are set up, someone will be happy to take your order for cold Bintang, and some times fresh juice and food depending on where you are located. You can enjoy a drink on the beach with the best view, for easily a quarter of the price for a drink at a resort or beach club.